FREE EVENT: Fri., May 2 — Art
While he calls his new show of artwork Junk Collector and Scrabble King, you know Robert Pollard better as the singer and prolific songwriter behind cult-favorite indie rock band Guided by Voices. He's also a life-long collage-maker whose work has been featured in a hardbound Fantagraphics collection and in Manhattan galleries — as well as on GBV album covers. Junk Collector opens at the Irma Freeman Center for Imagination tonight as part of the Penn Avenue Arts District's Unblurred gallery crawl. Pollard, who lives in Dayton, Ohio, will attend the opening (which features musical guest ATS), but there's much more to this crawl. Across the street from IF, at Most Wanted Fine Art, check out two new shows: (topo)GRAPHIC vs APP-lication, a study in contrasting painting styles by Darrell Kinsel and Richard Jackley, and Criminal Damage, a mixed-media show celebrating street art, curated by Tara Fay Coleman. Up toward Negley, Pittsburgh Glass Center opens Breaking Through: Moving 4ward, a showcase for emerging artists Lisa Demagall, Laura Beth Konopinski, Anna Mlasowsky and Nadine Saylor. Up and down Penn, an additional 20 venues feature more art, live music and more. Also look for the Garfield Night Market (food, crafts) and, late night at Brillobox's Pandemic, global-dancehall beats and Montreal-based MC Boogat. Bill O'Driscoll 7-10 p.m. Fri., May 2 (times vary by venue). 4100-5400 Penn Ave., Bloomfield/Garfield/Friendship. Most events are free. 412-441-6950 or www.pennavenue.org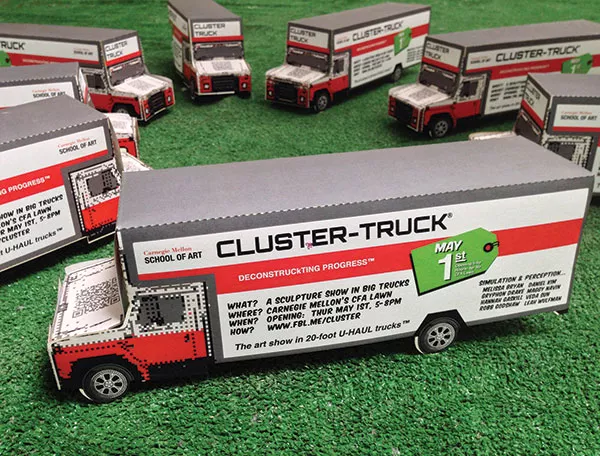 Thu., May 1 — Art
It makes sense that the eight sculpture students in Carnegie Mellon's "Simulation and Perception" class are exhibiting their work in 20-foot U-Hauls: Nothing provokes thought like driving an orange-and-white behemoth for miles on end. The students' work will inhabit that same space when Cluster Truck debuts with a one-night showing on the College of Fine Arts lawn. Students were each given their own trucks and asked to design around a theme of their choosing. At tonight's reception, they'll field questions about their art and the mechanics of U-Haul exhibiting. Angela Suico 5 p.m. 5000 Forbes Ave., Oakland. Free. 412-268-2409 or www.cmu.edu/art
Thu., May 1 — Talk
In 2010, fed up with bad eating habits and poor health on his home turf of South Central Los Angeles, Ron Finley started planting curbside strips with fruits and vegetables. Now, thanks to a wildly popular TED Talk, his volunteer group LA Green Grounds is nationally known, and so is his gospel of gangsta gardening. "Growing your own food is like printing your own money," he says. "Gardening is the most therapeutic and defiant act that you could do, especially in the inner city. Plus, you get strawberries." Tonight, the Heinz Endowments hosts Finley at "Planting Seeds of Change," a community dialogue at the Hill House Association's Kaufmann Center. Bill O'Driscoll 6 p.m. (refreshments at 5:30 p.m.). 1825 Centre Ave., Hill District. Free. Register at www.heinz.org.
Thu., May 1 — Comedy
Not only does Pittsburgh now have its own Fringe Festival (covered elsewhere in this section), but come August, we'll get the Pittsburgh Comedy Festival. That event, created by Brian Gray, holds it launch party tonight, at Arcade Comedy Theater. Comic and WDVE regular Mike Wysocki emcees; the evening's entertainment include Arcade house improv troupe Player One; storytelling troupe Mondo, featuring Ali Spagnola and a team of improvisers; and standup comics Jeff Konkle, Terry Jones and Sally Brooks. BO 7 p.m. 811 Liberty Ave., Downtown. $20-25 (includes two drink tickets). www.pittsburghcomedyfestival.org
Thu., May 1 — Stage
Pittsburgh Irish & Classical Theatre resurrects the world's best-known play about the afterlife. It's the first professional staging here since 1971 of Blithe Spirit, Noël Coward's comedy set in the 1930s. The classic finds author Charles Candomine, in need of material for a book, attending a séance by clairvoyant Madame Arcati. When Arcati reaches Charles' deceased wife Elvira, his former lover wreaks havoc on his second marriage. Mary Rawson stars as Arcati. Alan Stanford directs a cast that also includes Daina Michelle Griffith and Dan Rodden. The first performance at the Charity Randall Theatre is tonight. AS 8 p.m. 4301 Forbes Ave., Oakland. $25-38. 412-561-6000 or www.picttheatre.org
Fri., May 2 — Art
While his gallery is among the longest-running in town, owner Steve Mendelson has been plying the trade even longer: Mendelson Gallery was in Paris, for instance, before it settled in Shadyside. Along the way, there were shows featuring everyone from local luminaries Thad Mosley, David Lewis and Rob Rogers to Man Ray; shows highlighting erotic art and edible arts; and countless other events. Tonight, Mendelson celebrates his "Forty-Year Love Affair With the Arts." Sip some wine and enjoy works by many of the gallery's long list of artists. BO 5:30-8:30 p.m. 5874 Ellsworth Ave., Shadyside. 412-361-8664 or www.mendelsongallery.net
Fri., May 2 — Words
It's a Madwomen in the Attic kind of week. Tonight, the venerable Carlow University-based poetry initiative holds a book launch for Voices From the Attic: Volume XIX, a party and fundraiser at WYEP Community Broadcast Center hosted by Jan Beatty and Sarah Williams-Devereux. And on Tue., May 6, Williams-Devereux joins Kayla Berkey, Bonita Lee Penn and six other Madwomen on stage in Oakland to kick off the annual Hemingway's Summer Poetry Series, which includes an open mic and a book-signing. BO 7:30-10 p.m. (67 Bedford Square, South Side; $10; beattyjp@aol.com). Hemingway's: 8 p.m. (3911 Forbes Ave., Oakland; free; Jbauer103w@aol.com)
Fri., May 2 — Stage
"Comfort Zone" was popular enough as a one-act at the 2012 Theatre Festival in Black & White that local playwright Marlon Erik Youngblood expanded it into a full-length work. Comfort Zone, which explores how a shooting affects a community, features a cast including Kevin Brown and Cheryl El Walker; Mark Clayton Southers, whose Pittsburgh Playwrights Theatre Co. stages the work, also stars. Mark Whitehead directs. Tonight's opening-night fundraiser includes a post-show talk featuring Youngblood, Alliance for Police Accountability activist Brandi Fisher and former Allegheny County coroner Cyril Wecht, plus a reception. BO 8 p.m. Continues through May 24. 937 Liberty Ave., Downtown. $20-25 (May 2 fundraiser: $35). www.pghplaywrights.com
Sat., May 3 — Stage
A "jigsaw puzzle of a play" is how Tracy Brigden, the director of Michael Hollinger's new comedy Hope and Gravity, describes the show, which peers at nine characters and their individual but connected stories. One event triggers a series of encounters, like an "impromptu house call" and an "unlikely hotel hookup." See how they piece together when the show has its first performance tonight. Hope and Gravity is Hollinger's third show at City Theatre, which also launched his Opus and Incorruptible. AS 5:30 p.m. Continues through May 25. 1300 Bingham St., South Side. $15-55. 412-431-2489 or www.citytheatrecompany.org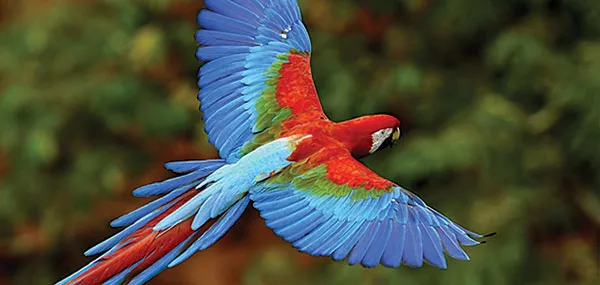 Sun., May 4 — Stage
Video, puppetry, live music, dance and ... birds? That's not a combination you see every day. The Pittsburgh National Aviary's "For the Birds" features all of these things in celebration of International Migratory Bird Day. The birds will interact with the dancers and puppeteers at the Helen M. Schmidt Flight Zone Theatre. Directed and created by Carnegie Mellon students Daniel Allende and Tucker Marder, the show debuts today, with another performance on May 11. Come an hour early to explore the aviary for the show's cost of admission. AS 6 p.m. Also May 11. 700 Arch St., North Side. $10. 412-323-7235 or www.aviary.org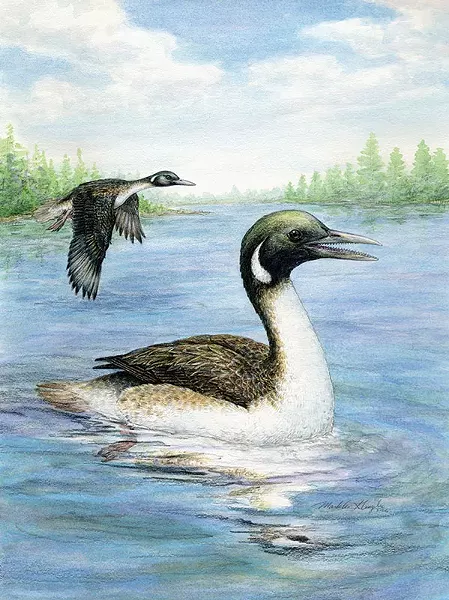 Illustration by Mark A. Klingler.
Mon., May 5 — Talk
"Where do birds come from?" kids might ask. But scientists wonder, too. One expert in the field is right here in Pittsburgh: Matthew C. Lamanna, assistant curator of the Carnegie Museum of Natural History's Vertebrate Paleontology section. Lamanna and his teams have scoured the world for fossils, and tonight, at the Carnegie Science Center's Café Scientifique, he presents his findings from evidence dating back 100 million years ago and more. (Pictured is a life reconstruction of gansus yumenensis.) The talk and informal discussion, "The Origin of Modern Birds: New Evidence From the Cretaceous of China and Antarctica," is free, with food and drink available for purchase. BO 7-9 p.m. North Side. RSVP at 412-237-3400 or www.CarnegieScienceCenter.org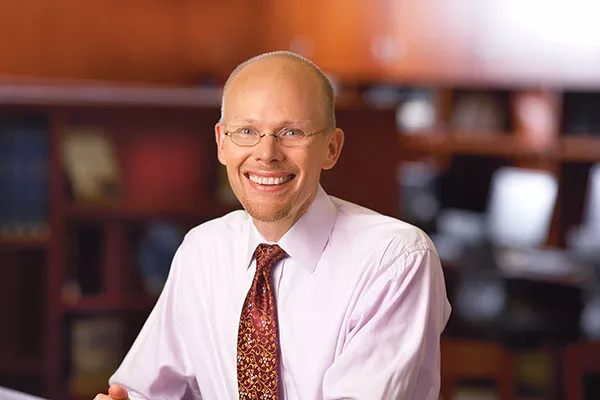 Wed., May 7 — Talk
Today the ACLU begins its free, four-session Civics for Grownups series at Squirrel Hill's Carnegie Library. First up is "What Were They Thinking? The Constitution and Bill of Rights," led by Anthony Infanti. An associate dean at the University of Pittsburgh Law School, Infanti will examine the "strengths and weaknesses of the Articles of Confederation," explain how the Constitution shapes our government and discuss "how our form of government changed from the Articles of Confederation to the U.S. Constitution." Participants receive a free pocket Constitution. AS 6:30 p.m. 5801 Forbes Ave., Squirrel Hill. Free. 412-422-9650 or www.carnegielibrary.org/locations/squirrelhill