SPOTLIGHT: Thu., April 4 — Stage
Cynthia Croot is a writer, stage director and humanitarian activist who's even represented the U.S. abroad, on a 2004 delegation to Syria. But she found her latest project in her backyard. Croot, a Pitt assistant professor of theater arts, was inspired by City of Asylum/Pittsburgh, the independent local incarnation of an international initiative to shelter writers persecuted or threatened in their homelands. COAP, founded by Henry Reese and Diane Samuels, housed its first writer, Chinese dissident poet Huang Xiang, in a house on the North Side in 2004. Several more writers from around the world have followed, even as COAP itself has become a cultural force, hosting literary and musical events. "I was moved that Pittsburgh played such an important role in the lives of these writers, and I wanted to do something to honor their stories," says Croot. Croot, who has international directing credits, used interviews of and writings by Huang, Burmese journalist and poet Khet Mar, El Salvadoran novelist Horacio Castellanos Moya and the current writer-in-residence, Venezuelan novelist Israel Centeno, to craft their theatrical portraits. Further development of the stage work City of Asylum was done in collaboration with the production's student cast (pictured). The show's world-premiere run at Pitt Rep includes 10 performances at the Charity Randall Theatre. Bill O'Driscoll Thu., April 4-14. Stephen Foster Memorial, Forbes Avenue at Bigelow, Oakland. $12-25. 412-624-7529 or www.play.pitt.edu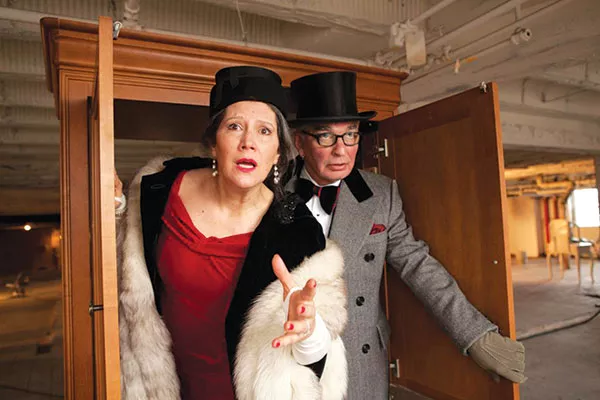 Photo courtesy of Heather Mull.
Thu., April 4 — Stage
Quantum Theatre breaks more new ground in an old building. The company's latest is Dream of Autumn, the world-premiere English-language production of this 1999 work by acclaimed contemporary Norwegian playwright Jon Fosse. Works like Dream — about two old acquaintances (perhaps lovers?) meeting in a graveyard — have earned Fosse comparisons to Beckett. U.S.-based Fosse champion Sarah Cameron Sunde directs a cast including Martin Giles, Karla Boos, Laurie Klatscher, Gregory Lehane and Jennifer Tobin. The show's staged in the former Park Schenley Restaurant, in Oakland's grand old Royal York apartments. The show opens tonight. Bill O'Driscoll 8 p.m. 3955 Bigelow Blvd., Oakland. $18-48. www.quantumtheatre.com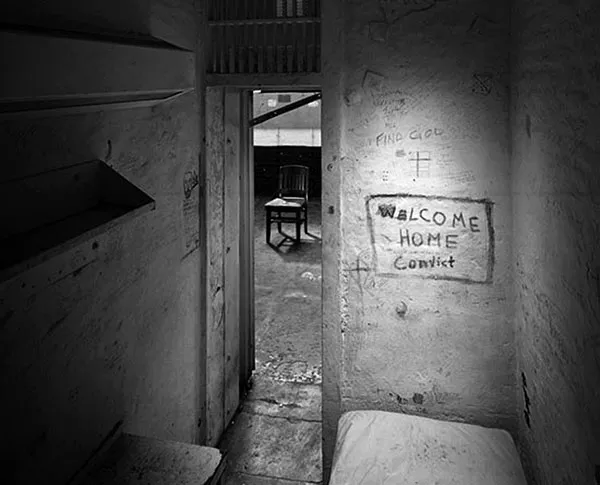 Fri., April 5 — Art
The now-reopened Western State Penitentiary is the focus of Pittsburgh artist Mark Perrot's photography exhibit E BLOCK, new at Filmmaker Galleries. Perrot's photos explore the eponymous block where first-time offenders and parole violators are held before being classified by the system. The images center on the graffiti and etchings in the cells, portraying prisoners' earliest thoughts. Tonight's the opening reception; an artist talk and book signing are scheduled for May 10. Jeff Ihaza 6 p.m. Exhibit continues through June 15. 477 Melwood Ave., Oakland. Free. 412-681-5449 or www.pfm.pittsburgharts.org
Fri., April 5 — Stage
Perhaps the city's most artistically ambitious annual fundraiser is Bricolage Urban Scrawl. The Bricolage stage troupe enlists six playwrights to each take a 90-minute city-bus ride, then starts a 24-hour clock during which six one-act plays based on those experiences must be written, cast and staged. Each year, many of Pittsburgh's top writers, directors and actors participate. The clock on the eighth annual BUS starts ticking tonight, when there's a reception and actor parade for those who spring for a top-tier VIP ticket. The six plays are staged tomorrow night, at the New Hazlett Theater (with another VIP reception and afterparty). BO VIP reception: 7-10 p.m. (937 Liberty Ave., Downtown; $150). Performance: 8 p.m. Sat., April 6 (6 Allegheny Square East, North Side; $40-75). www.bricolagepgh.org
Fri., April 5 — Art
The one-inch button is a staple in the worlds of punk rock and activism. Tonight, as part of the Unblurred gallery crawl, The Mr. Roboto Project hosts Inch by Inch, Block by Block, an exhibit of more than 3,000 of these understated buttons. These donated buttons — recycled and recognizable leather-jacket and backpack accessories span a wide spectrum of uses. Also on display are new buttons designed by local artists that guests can enter a contest to win. In the spirit of recycling, visitors are encouraged to bring unwanted pins for a "take a pin, leave a pin" area. Tonight's opening reception features live music by local acts Unstitched and Onodrim. JI 7 p.m. 5106 Penn Ave., Bloomfield. Free. www.therobotoproject.org
Photo courtesy of Sascha Vaughn
Fri., April 5 — Dance
What happens when you cross RuPaul with Carol Burnett and classical ballet? You get the world's most beloved ballet-parody drag company, Les Ballets du Trockadero de Monte Carlo. Founded in 1974, the New York-based Russian-style troupe with the French name brings its award-winning humor to the Byham Theater for a Pittsburgh Dance Council show. The Trocks have delighted audiences globally with their faithful renditions of ballet classics and contemporary works — performed by classically trained male dancers in every role — while spoofing ballet's conventions, accidents and pretenses. The early practice of non-Russian dancers adopting Russian stage names is mocked with monikers like Nadia Doumiafeyva and Mikhail Mypansarov. Tonight, the troupe performs the Spanish-themed "Paquita," with music by Ludwig Minkus; founding director/choreographer Peter Anastos' clever sendup of George Balanchine's "Concerto Barocco," entitled "Go For Barocco," to music by Bach; and its signature work, "Swan Lake Act II." Steve Sucato 8 p.m. 101 Sixth St., Downtown. $19-48. 412-456-6666 or www.trustarts.org.
Sat., April 6 — Screen
The Banff Mountain Film Festival returns to the friendly confines of the Byham Theater. The touring fest collects slickly made shorts about everything outdoors, from wildlife and conservation to extreme sports in spectacular locations. (Expect plenty of rock-climbing.) The year's selections — with distinct programs tonight and tomorrow — explore stunt-biking on old industrial sites, kayaking over waterfalls, encouraging African Americans to visit national parks, and more. Presenter Venture Outdoors and Bike Pittsburgh are offering a free bike valet (plus a free beer and snack for bikers who buy tickets in advance). BO 7 p.m. Also 5 p.m. Sun., March 7. 101 Sixth St., Downtown. $12-24. 412-456-6666 or www.ventureoutdoors.org
Sat., April 6 — Art
The Gallery 4 marks its third anniversary with Salon Show 2013. It's the Shadyside venue's annual showcase for up-and-coming artists. The open submission process is complete, and now you can see whose work was deemed appropriate for the gallery's sometimes-funky, sometimes-edgy aesthetic. The show also includes new stuff from older hands including Brian Holderman, Matt Hunter, Shervin Iranshahr and Anthony Purcell. Tonight is the opening reception. BO 7-11 p.m. Exhibit continues through April 27. 206 S. Highland Ave., Shadyside. Free. 412-363-5050 or www.thegallery4.us
Sat., April 6 — Burlesque
Kids, you might not recall the days when you couldn't find a burlesque troupe in this tahn. Probably hafta to go back to ought-1 or ought-2 — 2002, that is, not 1902. Lately, though, the burlesque revival has saucy dancers from near and far — and often their sideshow or neo-vaudeville brethren — on local stages almost monthly. April's highlight is Le Femme Mystique Burlesque's Tease, "a theatrical, exquisitely costumed extravaganza" tonight visiting Cattivo to celebrate burlesque's pre-World War II heyday. Performers include U.K.-based star Peggy De Lune, "boylesque" performer Smokin' McQueen and Cleveland's Bella Sin. Pittsburgh's own Phat Man Dee hosts. BO 10 p.m. 146 44th St., Lawrenceville. $10-15. www.bellasin.com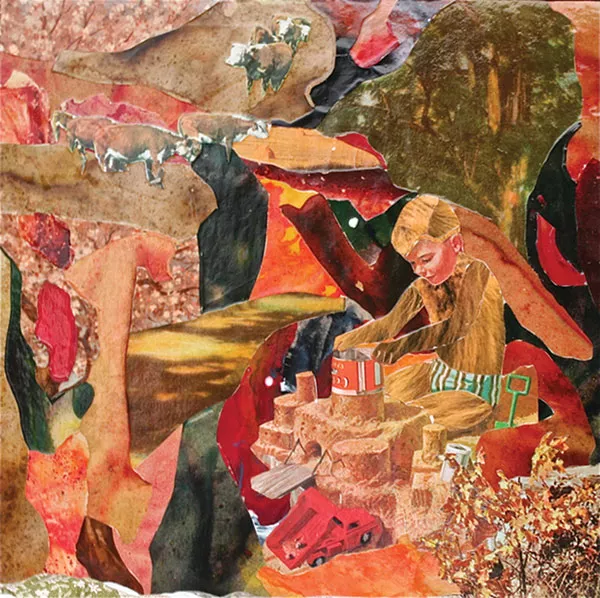 Sun., April 7 — Art
Pittsburgh-based artist Tate Hudson brings his mixed-media collages to Box Heart Gallery with his exhibit Shed. Hudson grew up shuttling between Norfolk, Va., and what he calls the rural/backwards hills of West Virginia. He blends painting and collage (mining imagery including his own photographs,) and views collage as a means of "assembling awareness." Box Heart hosts an opening reception today. JI Noon-3 p.m. Exhibit continues through April 27. 4523 Liberty Ave., Bloomfield. Free. 412-687-8858 or www.boxheartgallery.com
Tue., April 9 — Music
Top-selling singer and pianist Diana Krall visits Heinz Hall tonight. No, it's not one of those shows where a touring vocalist fronts the Symphony. Krall's here on the heels of her latest album, Glad Rag Doll, featuring songs from the early 20th century. Expect an intimate, small-combo setting, as on the well-received record. BO 7:30 p.m. 600 Penn Ave., Downtown. $39-139. 412-392-4900 or www.pittsburghsymphony.org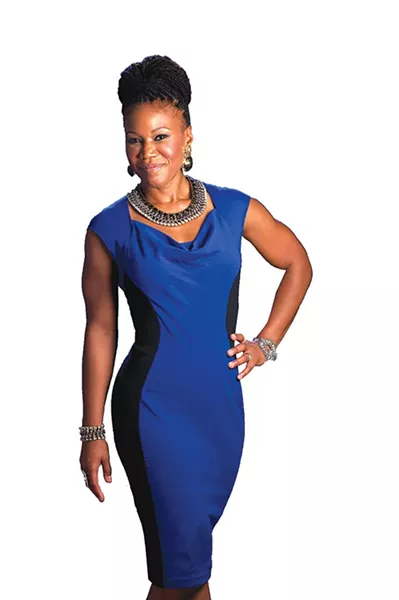 Thu., April 11 — Words
One of the big stars of the urban sustainability movement speaks here tonight. Majora Carter rose to prominence by advocating for — and achieving — green development in her South Bronx community, everything from job training to a new riverfront park. The consultant, real-estate developer and broadcaster, known for her TED Talks, remains a sought-after speaker nationally on topics like harnessing the power of gentrification to actually improve poor neighborhoods, not just repopulate them with richer people. She's at Carnegie Library for the Inspire Speakers Series, a collaboration of Phipps and the Green Building Alliance. BO 5:30-8:30 p.m. 4400 Forbes Ave., Oakland. $25-45. www.go-gba.org