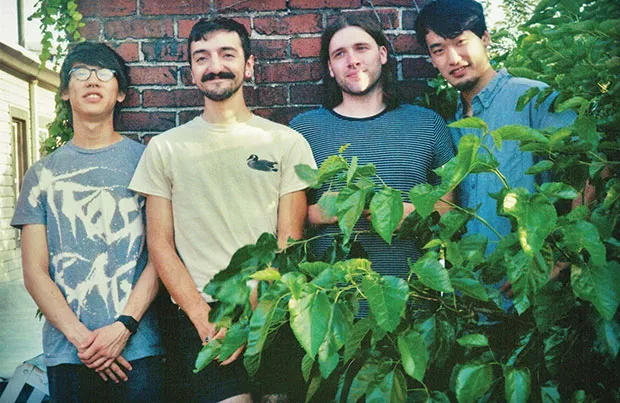 Photo courtesy of Sam Treber
Short Fictions
Short Fictions writes the kind of music that you air-drum to in your bedroom. And when you have a chance to hear it performed live, you can't help but sing your heart out and pile on the mic with everyone else at the gig. Its latest release, The Heart Is a Kaleidoscope, available now on Pittsburgh-based Crafted Sounds, is a math-pop journey with emo honesty and indie-pop sophistication.
Connor Murray, of Crafted Sounds, and Sam Treber, guitarist and vocalist of Short Fictions, met at a house show. Murray was recording the event on a VHS camcorder, and Treber was recording on a cassette tape.
"We obviously just clicked," laughs Treber. Thanks to Crafted Sounds, the album was released on vinyl. Murray put a lot of attention to detail into the packaging: "It's too legit to quit!" says Treber.
The album art features a vibrant view through a wet windshield; it sits proudly on the locals shelf at Juke Records, a record store in Bloomfield.
"[Juke has] been really cool about supporting local stuff," says Treber. "We just played a show there, and it was so cozy."
A passion for supporting the local-music community is also part of Short Fictions' DNA. The members of the band are active in the DIY scene, playing and booking shows. The recent EP-release show was an intimate affair, and all the door proceeds went to the Hispanic Federation to aid victims of Hurricane Maria in Puerto Rico. The members of the band give as much love back to the scene, as they receive from others who are a part of it.
And the love they receive from the community is palpable. Just watch the way people in the audience sing along to "Ellen (A Song About a Book)."
"Whenever people started singing along [at the release show], my heart jumped," says Treber. "It was really special."