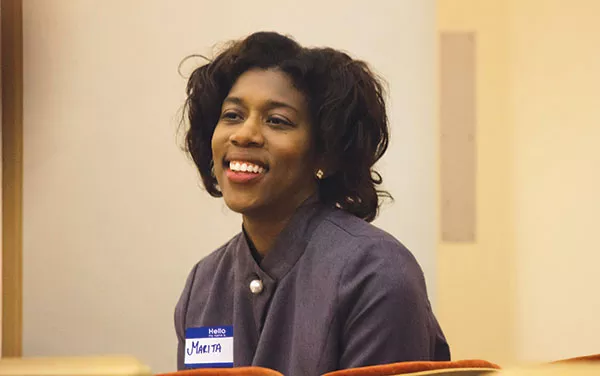 Photo courtesy of Marita Garrett
It's a blustery night at the Church of Christ Scientist, Eastridge Center, on the suburban edge of Wilkinsburg. Scurrying out of the cold, people shed overcoats and scarves, pile plates high with wings 'n' veggies 'n' seasonal cookies.
Bustling about, meeting and greeting, bestowing hugs, freshman Wilkinsburg Councilor Marita Garrett surfs the crowd. Tall, regal, an absolute natural, she seems to know everyone in the room. "Thank you for coming out," she beams, "for braving the elements. For another of our Community Conversations. For fighting blight. For making Wilkinsburg a better borough."
Only a year into office, Garrett's set about tackling Wilkinsburg's myriad woes head-on, along the way building a powerful, activist constituency.
"I've always been active," Garrett says. "When I was 6 my mother took me into the voting booth. I didn't wait for her — I hit the lever. That started it for me. I knew then that voting had power."
Moving from Akron a dozen years ago when Mom took a job at Duquesne University, Garrett enrolled at Sewickley Academy. Bright and bored, she jumped early to Pitt. Taking a psych degree, and a job in UPMC's Alzheimer's outreach, Garrett "found it applicable to political life," she says. "I have to listen to all sides — and not react. And I have to think, 'What made this person say this thing or act that way?' That skill's aided me to hear all sides."
Moving to Wilkinsburg five years ago, she became frustrated with the problems that seemed to fester: weed-choked vacant lots; dilapidated abandoned houses — breeding grounds, she says, "for crime and critters." With a full 8 percent of the 10,000-unit housing stock abandoned, and 40 percent of properties not generating taxes, clearly something needed to be done.
Last year, with seats up for school board and borough council, Garrett showed up one day intending merely to pass out fliers and make calls for this or that candidate. Discovering that no one was rushing headlong to run in her ward — First Ward, one of three in the borough — she said, sure, why not?
Lining up signatures to get on the ballot, pounding the pavement for eight weeks, March through May, canvassing, she and her surrogates knocked on every door — 6,000 of them — in the district, asking for support.
"I saw so many things that I wanted to do," she says. "I told people, 'This is a two-way open conversation. You need to let me know what's happening. Your voice must be heard.'"
Elected, she's proved tireless, working with the new leadership on the school board and council, seeking ways to collect delinquent taxes, create viable data on abandoned and vacant properties, improve the Penn Avenue business corridor.
And, of course, fight crime. For fear of stray bullets, one family told her, they sleep every night on the floor. "That is not the way it should be," Garrett says.
She's had her frustrations, finding that many in government don't tackle problems. Worse, they stand in the way. From unscrupulous landlords to callous public officials to apathetic residents — she's met the entire Dickensian cast.
And is not daunted.
"Politics is every day," Garrett says. "It's all about effectiveness and being at the table. Right now, we need change and changemakers. We need more young people. We need more diversity, in both gender and race."
Filling all those requirements, Garrett's in for the long haul. Taking as her role model the late Shirley Chisholm, a seven-term New York City Congresswoman, and the first African-American woman so elected, Garrett would like to play on a national stage. "Service is the rent we pay here on Earth," she says. "Everyone needs to give back in some way. I ask myself, 'How can I help the community I live in? How can I empower it?'"
But Washington is some 250 miles and, by her own timetable, a good decade away. Garrett is sufficiently wise — and patient — to understand that change comes hard. Right now, Wilkinsburg has rabid raccoons and wandering sewage, and something's got to be done.
Something is another cold night out, another Community Conversation. The racially mixed crowd at Eastridge Center, five dozen or so, are generally a bit grayer, gray enough to own their homes and be concerned about investments and upkeep.
"Tonight's topic," Garrett gestures, "is Building a Better Community Through Code Enforcement."
Wise, an enabler, a sponsor, she introduces Daniel Friedson, the borough's code-enforcement director, and steps offstage.