Growing up in Green Tree, Dr. Ron Paul was a milkman, making deliveries to houses from his family's local dairy operation.
It's not hard to believe, even looking at him now at age 72: You can picture his mature face and skin-on-bone physique clad in the trademark white pants with a thin black leather belt, white shirt and white hat. And in any case, it's much easier to imagine him delivering glass bottles to families in Dormont and McKees Rocks than delivering a radical, energizing political message to the masses.
But there he was, standing in the conference room of the Cranberry Township Sheraton on Aug. 3.. "Like me, I'm sure that you worry about your personal liberties," Paul told a capacity crowd. "We believe that America was designed to promote liberty and self-reliance, but today we feel threatened and rightfully so.
"Because living under the conditions of war is the time when we feel the most threatened. Whenever our leaders tell us there's going to be a declaration of war, you'd better look out because that usually means it's going to be a declaration of war against our liberties."
Ron Paul has come a long way from his Green Tree childhood. It's a distance that you can't measure just in miles -- even though he's now a congressman from Texas -- or prestige, though he has achieved national celebrity by running for president of the United States as an Internet insurgent. It's a distance best measured in the ideas he touts, some of which would barely be recognized by many of those living in his old hometown.
He wants to do away with the income tax. He wants to end the war in Iraq and the war on drugs, while radically rethinking the "War on Terror." He opposes the government enforcing any law, or offering any service, that is not explicitly prescribed in the U.S. Constitution and the Bill of Rights. At home and abroad, he opposes even the most benign government intervention in people's lives.
Though his voter-registration card says "Republican," he prides himself as being a libertarian or constitutionalist. And judging by the crowd in Cranberry, he is the leader of an online army of mostly young, mostly white voters looking for a candidate to throw their megabytes behind. And their dollars too: Paul had a campaign war chest of about $2.4 million in early July, according to ABC News. With that money he plans to travel around the country, enter debates and send a very simple message to the government: Get the hell out of our lives.
"It's not Dr. Paul himself that is gaining the support," says Brian Kelly, an 18-year-old Philadelphian who traveled to Cranberry for Paul's August speech. "It's his message that is energizing everyone. It's his message against the war and big government that has spread across the Internet and is growing everyday by leaps and bounds."
Cyberspace has long provided a home to those whose beliefs fall out of the mainstream. For those looking for a candidate to call their own, the Ron Paul message came floating by and they grabbed it in droves.
"I'm joining their revolution," Paul says. "They're not joining mine."
As a child, there were no thoughts of revolution in Ron Paul's head -- not even the industrial revolution. The steel mill-lined rivers we all associate with the past wasn't the Pittsburgh Ron Paul knew growing up in the 1930s and '40s. Green Tree then was a lot of farmland, not the suburban hamlet of today.
His family owned the Green Tree Dairy, where he and his four brothers all worked. Each filled the role of milkman at one time or another. Ron started working there when he was 5. "At age 5 I was an inspector of milk, making sure the bottles were clean and spotless and ready for delivery," says Paul, by phone in his soft-spoken aw-shucks manner. "When we went to school in Dormont, all the kids called us farmers, although it was really just a milk operation with no cows."
From there, Paul went to Dormont High School, where he met his wife, Carol Wells. They would be married after he graduated from Gettysburg College. He went to medical school at Duke, and after a stint in the Air Force, he settled in Lake Jackson, Texas, in the late 1960s where he worked as an ob/gyn.
As he began working in medicine, he also started reading economics books that dealt with free-market ideas and very simple principles -- like "don't put out more than you take in." That simple lesson, he says, is one the federal government has forgotten. "We're going to go broke in the country," Paul said at the Cranberry rally. "We are heading for a financial crisis that will destroy the dollar."
He credits former President Richard Nixon's decision to abandon the gold standard as one of the driving forces that got him into politics. Prior to 1971, every dollar of U.S. currency printed was backed by an equal amount of gold, which the holder of the note could redeem at any time. Today, the dollar's value changes relative to other currencies.
"We're just printing money out of thin air, and that's strictly prohibited by the Constitution," Paul says.
In the next few years, Paul deepened his reading on economics and decided to take action. In 1976, he ran in a special election for the seat representing Texas' 14th Congressional District: a heavily agricultural 10-county region of southeast Texas which encompasses Galveston and the Gulf Coast.
Paul won that first campaign, though he didn't hold the seat long: He lost the general election the following fall, and has been in and out of Congress ever since. He served three terms beginning in 1979, then went on a decade-long political hiatus, In 1997, he returned to office after defeating a Democratic incumbent who had recently changed his party registration to Republican.
During his years in the House, Paul has been on more than his share of losing 434-1 votes, thanks largely to his habit of opposing any measure not specifically allowed for by the Constitution.
He's drawn the most attention for opposing the war in Iraq from the Republican side of the aisle. "A lot of people come up to me and they say, 'What about you taking this position against the war in Iraq? You're a Republican and Republicans are supposed to be for war," Paul said at the Cranberry rally. "Baloney."
Paul sees the conflict in historical terms -- as the result of American meddling in parts of the world it doesn't belong. "The Iraq war didn't start in 2003, it began in the early 1990s . . . We [Americans] do not need pre-emptive war."
But Paul's wariness of government action goes well beyond Iraq. In recent years, it has also meant votes against the anti-terrorism PATRIOT Act, all farm-subsidy bills, AMBER Alert laws, and government funding to provide health coverage for uninsured children.
Some of those votes are easier to understand than others. Strange as it is for a Republican to oppose the war in Iraq, or for a rural Congressman to vote against farm subsidies, it's even harder to understand opposition to a program like the AMBER Alert. Why vote against a measure intended to mobilize communities as quickly as possible when a child goes missing?
Because it's a state issue, Paul says, and he doesn't pick and choose when to apply his constitutional standard. Even if a measure is harmless or beneficial, if it grants powers not set out in the Constitution, then it's the jurisdiction of state governments.
The same goes for abortion, a topic that divides libertarians in much the same way it divides the rest of the country. As Paul put it in his interview with CP, "Abortion is not a privacy issue or a choice issue; it's a states'-rights issue." But it's clear how Paul would vote on the matter if he were a state legislator: "The fetus is clearly a life," he said. "If you harm or injure a fetus you can be charged with a crime in this country under state laws. Abortion is the same thing."
Such positions have won him opposition, as well as praise, even on the Internet, where Paul's backing is strongest.
Earlier this year, for example, South Sider Maria Lupinacci authored a post titled "Ron Paul Sucks" on the blog she co-writes, "2 Political Junkies" (2politicaljunkies.blogspot.com).
"Yeah, yeah, Republican candidate and darling of the Libertarian wing Ron Paul is good on Iraq," Luppinaci's post concedes. "But I just want to remind anyone who cares about women's reproduction freedom that he is anti-choice . . . I expect more from 'freedom-loving, keep-the-government-off-of-me' Libertarians. But, too often I find that the same Libertarian males who kick and scream over the thought of the government taking one thin dime of their money have no problem whatsoever with the thought of that very same government crawling up into a woman's womb." Lupinacci also questioned the wisdom of trusting issues like gay rights and even product safety to the states, and concluded:
"I say: Fuck Him."
Paul accepts such criticism as his due.
"There's a big difference in paying a lot of lip service to supporting the Constitution and actually going out and supporting it with your vote," says Paul. "The Constitution stands for something and I will support it. I'm not going to go out there with my vote and go along just to get along."
To some voters, that stand may come across as almost heroic. For all their carping about the war in Iraq, after all, even many Democrats have blanched at actually voting to withdraw funding. At the same time, Paul's stance on immigration -- he supports a hard-line stance of sealing and monitoring borders -- is well to the right of policies endorsed by the Bush administration. For all of his no votes, Paul did vote In favor of a plan to build 700 miles of fence along the Mexican border.
Luppinacci surmises that "the idea of Libertarianism is immensely appealing to many younger voters who feel fed up with both Republicans and Democrats. They like the idea of 'getting the government off our backs.'" She suspects that Paul also appeals to voters in both parties who may feel alienated on one or two hot-button issues. "You have anti-war Republicans who feel that they have no other Republican candidate who agrees with them. Add to that anti-war Dems who are also anti-choice."
And add to that libertarians who see in Paul a chance to reach a national audience that hasn't heard much of their message.
"He's definitely the best candidate out there right now for this country," says Mark Rauterkus of the South Side, a vice chair of the local Libertarian Party and a fixture on local ballots. "I think he's a libertarian through and through, and I am certainly supporting him."
Paul is counting on that support in this, his second presidential campaign. In 1988 he grabbed just shy of a half million votes on the Libertarian Party ticket. He's running as a Republican this time around, though he still fancies himself more of a Libertarian or Constitutionalist.
Bill Steigerwald, a Libertarian and columnist for the Pittsburgh Tribune-Review, says Paul got noticed during a May 15 debate for his take on the 9/11 attacks. Consistent with his belief that Americans shouldn't be meddling overseas, Paul said: "They attack us because we've been over there. We've been bombing Iraq for 10 years . . . I'm suggesting that we listen to the people who attacked us and the reason they did it. They don't come here to attack us because we're rich and we're free. They come and they attack us because we're over there."
That drew a rebuke from Republican frontrunner Rudy Giuliani, the former mayor of New York City.
"That's really an extraordinary statement," Giuliani replied. "As someone who lived through the attack of September 11, that we invited the attack because we were attacking Iraq -- I don't think I've ever heard that before, and I've heard some pretty absurd explanations for September 11."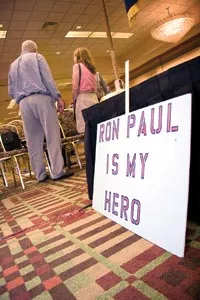 Giuliani received thunderous applause from the crowd, and pundits proclaimed him the debate's winner, in part because Paul gave him the chance to invoke his 9/11 credentials. But Paul, arguably, came out a winner in the exchange as well.
"Ron Paul didn't exist in this race until that day," says Steigerwald. ÒNext thing you know he's doing [The] Colbert [Report] and The Daily Show.
"I like him because he's the most anti-Bush Republican running. He's bashing the Republicans more than the Democrats are. He's showing that he's a Republican in party registration only."
Paul will likely appeal to a certain segment of Republicans who are upset at the way some party leaders, including President Bush, have strayed from hardcore conservative values, such as smaller government, as well as Bush's "soft" stance on illegal immigration.
"Ron Paul is not afraid to speak his mind and stand by his principles," says Tom Kawczynski, the founder of the Pittsburgh and Western Pennsylvania Ron Paul Meet-up group. "I believe in Ron Paul, and I believe that he can win.
"This is a different kind of organizing and campaign effort, one where the networks cannot play king-maker. Because of Dr. Paul's online campaign, I think traditional polling is no longer accurate."
Kawczynski says his 235 members make the local meet-up group one of the largest pro-Paul organizations in the country. There are also several smaller chapters in places like Beaver and Washington counties.
Most of Paul's momentum, though, has been coming from cyberspace.
Paul is the most watched presidential candidate on YouTube, recently edging out Democrat Barack Obama. On the social networking site MySpace, he is the leading Republican with 59,640 listed "friends"; Giuliani has only 7,700 (though Paul still trails Obama's whopping 173,000). Paul has won numerous online straw polls as well: In one such poll, sponsored by Pajamas Media, Paul has won each of their polls since mid-June. As of Sept. 2, he had a monstrous 63 percent of the vote.
Online polls are, however, notoriously unreliable. And in a more traditional mid-July Gallup poll, Paul garnered support from just 3 percent of respondents.
"Paul has a great appeal on the Internet, much like Howard Dean did," says Steigerwald. "But he's only polling traditionally at 1 to 2 percent. He's counting his polls and his Facebook friends and all of that stuff, but that doesn't mean he's going to get votes."
And as Paul says, "That's the key, isn't it?"
Local GOP consultant Bill Green attended Paul's Cranberry appearance in early August. He likened the experience of walking through the Sheraton parking lot as "going to see Jerry Garcia . . . I don't know that it will amount to much more than a few feel-good affirmation rallies, but he's obviously touching a chord.
"His supporters seem to be a collection of people who can't find any other place to go," says Green. "Certain things he says appeal to certain people, and they sometimes belong in very different groups . . . A lot of people from a lot of different backgrounds are going to say, 'Hey, he's talking to me. Somebody is finally talking to me.'
"Checking out the cars, I noticed license plates from about a dozen different states, they caravanned in just to see him," Green adds. "They're true believers. They are the same 'super patriots' that Pat Buchanan attracted."
Indeed, as diverse as Paul's supporters may be in other ways, they are almost all white. Of the several hundred supporters at the Cranberry rally, only a half-dozen were African American.
And Paul's seeming indifference to crises in Africa, as well as the rest of the world, may make it hard for him to attract many more in the future. Paul supports withdrawing from the United Nations and opposes not just war but any government intervention overseas -- even for humanitarian purposes in places such as Darfur (he was the only Congressman to oppose the Darfur divestment act), where ethnic conflict has displaced millions of Sudanese.
His backers have picked up the theme. If you ask Chris Heit of Somerset -- who wears a white "Ask me about Ron Paul" T-shirt to rallies -- whether intervention is ever warranted, he'll say, "Non-intervention is non-intervention.
"We stepped in to help end apartheid, but what did we do?" Heit asks. "South Africa is one of the most dangerous places in the world for whites."
On the Internet, meanwhile, things can get ugly. Among the online places where you can find support for Paul, for example, is the Web site of former KKK head David Duke; one article there complained of a "Clear Media Conspiracy Against Ron Paul." Another white-supremacy site, Stormfront.org, has numerous posts supporting Paul's campaign, for reasons you aren't likely to hear during a stump speech.
"Ron Paul would collapse the Jewish infrastructure in this country," writes a poster known as Cheimon.
Writes Scotsman 4096: "For every day that goes by thousands of Mexicans cross our border and change this country for the worse, and each good candidate we fail to stand behind will have a lesser and lesser chance of winning as time goes on. We are on the edge of the knife people -- we're either going to buy ourselves a time-out to make a few babies and get our s*** together with Ron, or we're going to go with the status quo and have 40 million Mexicans to consider next round."
To be fair, candidates can't control who supports them, or who posts items on a Web site. But Paul has drawn some racial controversy in his past. As has been documented in several stories, including a July 22 New York Times Magazine piece, a newsletter once published by Paul had several racist comments including that the black male population of Washington, D.C. was "semi-criminal or entirely criminal." Paul explained that he didn't write those passages himself; however, he has refused to name the staffer who did.
More generally, blogger Lupinacci says, Paul's indifference to human suffering is the natural result of putting abstract principles above people. "I think his stance against sending troops to Darfur is perfectly in keeping with his libertarian philosophy about caring more about tax burdens than any burdens, including genocide, that actual people have to face."
Some libertarians, meanwhile, say Paul isn't libertarian enough, or that on hot-button issues -- abortion, gay marriage and immigration -- Paul is nothing but a Republican in reformer's clothing.
Paul's stand on immigration, for example, strikes some as odd, given libertarian support for a free-market economy. Paul's belief that gay marriage and abortion should be determined by the states, meanwhile, doesn't satisfy libertarians who think the government has no place interfering with people's medical decisions or in bedrooms.
In the July issue of Reason magazine, a house journal for the Libertarian movement, Brian Doherty wrote an article whose headline asked: "Is He Good for the Libertarians? Why some libertarians don't want to join the Ron Paul revolution."
"Paul's concern with immigration is of a piece with his right-populist strains, an obsession with 'sovereignty' that feeds his fevered opposition to international trade pacts and the UN," Doherty argues. "Combined with his strong emphasis on trash-talking the Federal Reserve and advocating a return to gold, it's the sort of thing that strikes many other libertarians as, if not inherently unlibertarian, sort of cranky and kooky."
Moreover, Doherty doesn't see the man of staunch principle that other Libertarians do. Paul "doesn't always call himself libertarian, selling himself sometimes as a constitutionalist or small-government conservative depending on his audience." And, Doherty charges, "Paul undoubtedly falls short of his reputation as a hardcore, no-compromise-ever libertarian constitutionalist. For example, he happily inserts earmarked pork spending that benefits his district in spending bills, to keep them happy -- and then votes against the bills, to keep his free-market constituents nationwide happy . . .Sure, he's trying to have it both ways. Something about Paul that sometimes evades both his fans and opponents: He's a very, very successful politician."
A lot of Paul's opponents are hitting on his district earmarks. Paul, an outspoken critic of government spending, has requested more than $400 million in government "pork" for his district.
The projects, according to the Houston Chronicle include $25,000 for the Brazoria County Sheriff to establish a "Children's Identification and Location Database"; $8 million for marketing wild American shrimp; $2.3 million for shrimp fishing research; $5 million to expand the cancer center at Brazosport Hospital; $4.5 million to study the effects of the health risks of vanadium; $10 million to repair the Galveston railways causeway bridge; and $2 million to repair the Galveston trolley.
You'd have to look awfully hard at the Constitution to find the clause authorizing the federal government to study and market shrimp. Paul says he opposes all such earmarks, but if they have to exist, why shouldn't his district benefit from them as well?
"The process of taking this money from my constituents and all Americans is wrong," Paul says. But, "If applying for highway funds or whatever is the only way right now that I can get the money back to the people, then that's what I'll do. I'm surely not going to turn it over to the executive branch. It belongs to my constituents. They deserve to have it back."
Nicholas Kyriazi, a registered Libertarian living on the city's North Side, acknowledges some reservations about Paul. "Where's the crime in open borders? Taking a job from someone else is not a crime," Kyriazi says. "With marriage, it's not the government's place to tell any two people they can't get married; their only purpose is to record the marriage." And he says that, while with a Libertarian Party candidate "you know how they stand on each and every issue, " Paul's GOP affiliation means "some people do have a problem with Ron Paul, because you don't necessarily know that.
" [T]hat being said, a lot of what he stands for is in line with the Libertarian Party principles," Kyriazi continues. "I would vote for him if he got the Republican nod. Quite honestly, as the primary draws near and it [looks] like Paul had a chance of getting the nod, I would change my party registration to Republican to help him get elected."
"In the grand scheme of things, are we looking for a pure saint or someone who has stuck up for most of his principles?" Steigerwald, of the Tribune-Review, asks. "You've got a guy who is 90 percent a good, strong Libertarian candidate. Support him. Unfortunately, most Libertarians are principled to their own deaths. They'd rather throw themselves on their principled swords than to give their support to a guy who supports 80 to 90 percent of the things they'd love to see changed."
Besides, if Paul weren't a "very, very successful politician," as Doherty charges, no one would be talking about him in the first place.
Green points out that no politician will get very far without the ability to compromise. Paul has never been and will never be a favored son in the GOP. Yet, he is returned to Congress year in and year out, and he does manage to accomplish things for his district. That doesn't mean he's copping out on his beliefs, Green says. It simply means for all of the heroic labels some of his supporters bestow upon him, he is still undoubtedly a politician.
"He's not running as an independent or a Libertarian; he's still running as a Republican," says Green. "He espousing his views and voting his own mind, but he's still smart enough to stay affiliated with a major party.
"If you can compromise and get 80 percent of what you want, why wouldn't you? . . . [I]n the end it all comes down to winning races, and you can't do that if you're not willing to compromise on some level."
Of course, you can't write about Ron Paul without observing, much to the chagrin of his supporters, that he is not going to win. Paul himself admits that he's Òa skeptic, definitely more of a skeptic than my supporters. A lot has to happen. We need to raise at least $4 to $5 million and we have to win something. We have to win in Iowa or New Hampshire to have a real shot at it.
"But even if we don't win, we're getting our message and our philosophies out there, and that's very important."
Steigerwald says that Paul wins just by showing up.
"Ron Paul isn't running a giant campaign machine," he explains. "He's getting along with six or seven key people, and he's got a couple of million dollars. He can run forever if he wants to, and I think he wants to."