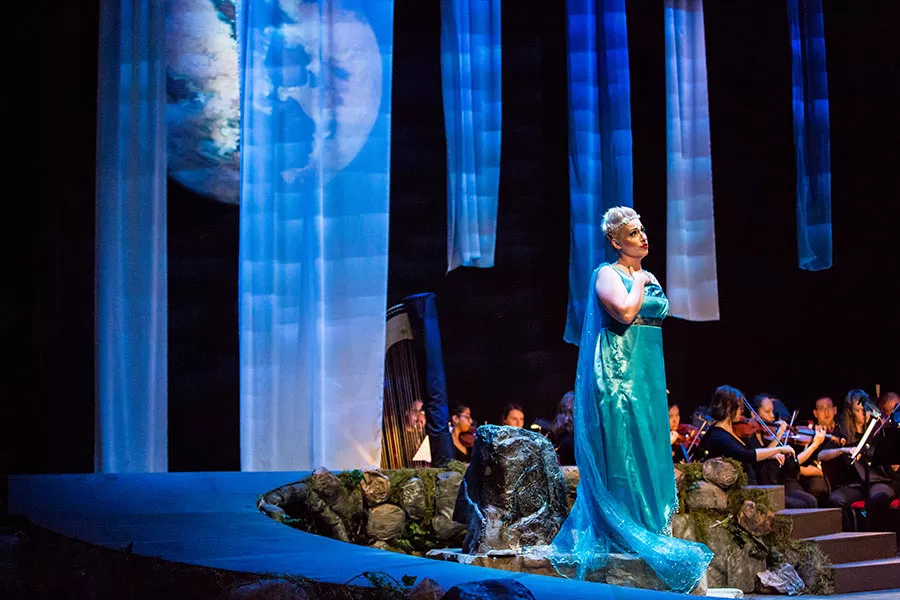 Photo courtesy of Alisa Innocenti
The title character in Antonín Dvořák's opera Rusalka is a water-nymph who wants to become human. She's immortal, and lives a safe life in a lake with her family and a cast of other nymphs, sprites and goblins. But after falling in love with a human prince, she decides she'd rather be a mortal human than a lonely nymph. She goes to a witch and … you can probably figure out the rest.
"[Rusalka] is basically the story of The Little Mermaid as most of us know it, without the Disneyfication," says Resonance Works founder and artistic director Maria Sensi Sellner, who will conduct performances of the opera on May 11 and 13 at Charity Randall Theatre. "It actually is not derived from the Hans Christian Andersen story, but they both come from the same mythology."
As tends to happen with fairy tales unburdened by Disneyfication, Rusalka is a dark, layered and complex story that wrestles with some heavy philosophical concepts: how human and supernatural worlds help and harm each other; questions about how much a person should give up for love; and the cosmic illogic of immortality. The latter serves as a jumping off point for the plot. To Rusalka, immortality is nice and all, but humans get to have souls and die and go to heaven. It sounds like a way better deal, so off to the witch she goes.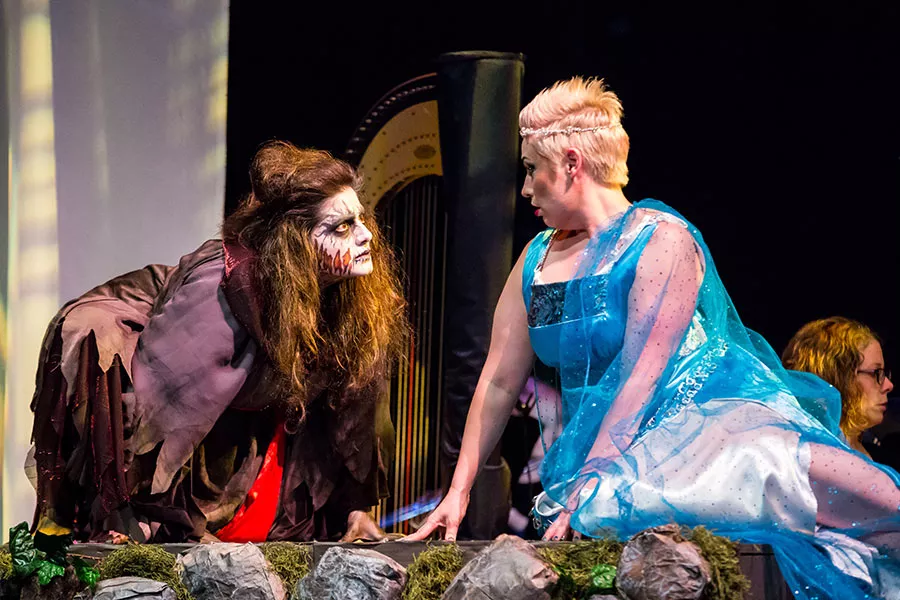 Photo courtesy of Alisa Innocenti
Sellner chose Rusalka to close out Resonance Works' fifth season after learning that it had never been staged in Pittsburgh before. The opera is not all that obscure (Rusalka's "Song to the Moon" aria is one of the opera's more famous contributions to the canon), but Dvořák doesn't necessarily rank in a genre dominated by Western European composers like Wagner, Mozart, Verdi and Puccini. The Czech-born Dvořák was deeply committed to honoring and evolving the traditional folk styles of his homeland (what was then the Austrian Empire). Sellner also points out that there's a notable New World (Western) influence in his style due to a three-year stint as the director of the National Conservatory of Music in New York City. The result is a compositional style balanced by idiosyncrasy and familiarity.
As staged by Resonance Works next week, audiences can expect an uncommonly intimate performance, since Charity Randall has a capacity of only 400, which is pretty paltry by opera standards. Sellner and the orchestra will be situated on the same stage as the singers — no pit — so there will be nothing between the audience and the performers.
"You don't feel the vibrations in the same way [in a big theater]," says Sellner. "It'll be an immediate and up-close experience."