There was just over a minute left in the first quarter of the Steelers' first preseason game when backup quarterback Byron Leftwich got leveled.
Philadelphia Eagles cornerback Dominique Rodgers-Cromartie had just committed a textbook illegal hit — launching from his feet, shoulder-first into a defenseless player's head — on the Steelers backup quarterback. It's the sort of move that receives an instant flag from the officials.
But the penalty wasn't automatic. It wasn't until Leftwich was rising to his feet, several seconds later, that one of the NFL's replacement refs tossed a flag.
Still, the right call did come — which, unfortunately, is more than can be said for a lot of calls in the first two weeks of the NFL preseason. 
Contract talks between the league and the NFL Referee's Association, which represents the officials, have apparently come to a standstill after 10 months. At issue are salaries and the NFL's desire to add three more officiating crews and replace the referees' pension plan with something more resembling a 401(k). In June, the NFL locked out its referees over a labor dispute, and hired replacement officials, some of whom have never officiated beyond the high school level. One official even brings experience from the Lingerie Football League. 
Hiring replacement refs has already prompted concern for player safety — left-leaning sports columnist Dave Zirin denounced it as "dangerous, amoral, and shows [NFL Commissioner Roger] Goodell to be a hypocrite" — and the game's integrity.
"The real question is why has the NFL maintained its 'take it or leave it' stand and refused to change its position on the core economic issues," the NFLRA demanded in a statement. "It certainly is not because they can't afford it. NFL revenues increased from $6.5 billion to $9.3 billion during the last contract period and are expected to increase … to $14 billion."
"We've offered raises of 5 to 11 percent," countered NFL Vice President Ray Anderson to a reporter from the Atlanta Journal-Constitution. "Just because the owners can afford to pay more doesn't mean you do it. You've never paid for an NFL ticket to watch somebody officiate a game."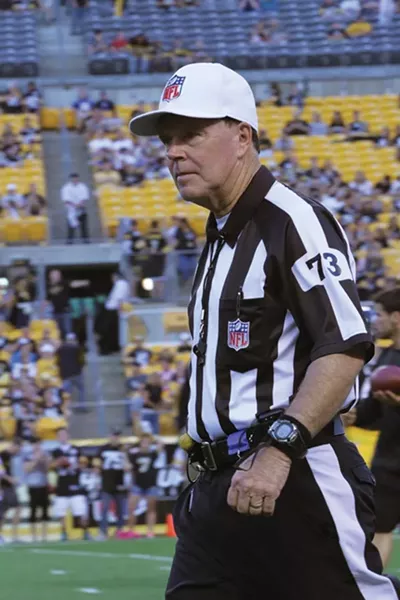 Replacement referee Craig Ochoa
Certainly if they had paid to watch the officiating, fans would be demanding a refund after the first two weeks of the pre-season. 
The replacement experiment had an ominous beginning: Replacement referee Craig Ochoa, formerly of the Lingerie League, incorrectly announced the winner of the coin toss in the season-starting Hall of Fame Game between Arizona and New Orleans. Some of the blown calls since then have been even more egregious. For example, in a game between the Buffalo Bills and the Washington Redskins, a kick from Bills' punter Brian Moorman was clearly downed on the 4-yard-line; the referee ruled it a touchback in the end zone and placed the ball at the 20. Bills coach Chan Gailey had to throw a challenge flag to stop the play.
"Overall the officials did a good job for the first week of preseason, and they will get better," NFL spokesman Greg Aiello told reporters. "There were some mistakes, as there are every week of every season. We have been training the replacements for two months very intensively. They will continue to improve."
For the most part, players and coaches have been mum on the replacement officials — in part because the NFL has urged them to remain silent. The league sent out a memo, first reported by CBS Sports, asserting, "It's imperative that your entire organization welcomes these officials. …  [W]e remind you that club personnel should not engage in public discussions about the lockout. … Please share these expectations with your coaches, players and operations staff so that all may contribute to the success of our officials on the field in 2012."
Some Steelers players didn't mind talking about the replacement officials — though none of them expressed much concern about the matter. 
 "They threw a flag for a personal foul and gave me the 15 yards and I think that was appropriate," Leftwich told City Paper at training camp a few days after the hit he took from Rodgers-Cromartie. "These guys have had one game, we're judging them on one game so we need to give these guys a break right now. 
"That said, you do hope [the NFL] can get something done and we can get the real guys back. But if not, we've just got to go out there and play. We need to worry about the football and not concern ourselves too much with the referees."
His teammate, cornerback Ike Taylor, took a similar tack during a recent afternoon at training camp.
"It's a hard enough job for NFL referees to make these calls at game speed," Taylor said. "But this is what we have going on right now. So regardless of what league they came from, they're going to have to be prepared to make these calls in the NFL.
"At the end of the day, I'm just going to go out and play football and let them make the calls."