The 30th annual Pittsburgh International Lesbian and Gay Film Festival, now known as Reel Q, runs Fri., Oct. 9, through Oct. 17. It features 16 narrative and documentary films, three programs of shorts and opening- and closing-night parties.
The opening-night film is Out to Win (7 p.m. Fri., Oct. 9), Malcolm Ingram's new inspirational documentary which examines the au courant topic of how, when and should professional athletes come out as gay. Interviewees include trailblazers such as NFL star David Kopay and tennis champs Billie Jean King and Martina Navratilova, as well as contemporary athletes such as the WBNA's Brittney Griner and the NBA's Jason Collins. Homophobia is still a major factor in sports, but change is happening. Ingram will lead a Q&A after the screening.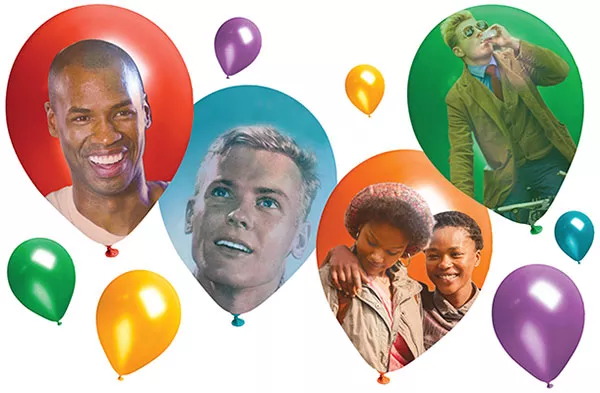 From left: Out to Win, Tab Hunter Confidential, While You Weren't Looking and Guidance
Things are complicated in Catherine Stewart's lively and provocative While You Weren't Looking (5 p.m. Sun., Oct. 11), a South African drama that raises issues of sexuality, gender, race and class. A middle-aged, well-to-do, mixed-race lesbian couple hit a bump in their relationship, just as their 18-year-old daughter gets flirty with a gender-fluid girl from the poorer township.
In the 1950s, blond and buff movie star Tab Hunter was the ideal young man, every girl's dreamboat date. But beneath the wide grin, Hunter suffered as a closeted gay man, "rewarded for pretending to be someone [I'm] not." Hunter recounts his life, a mixture of success and regret, in Jeffrey Shwarz's doc Tab Hunter Confidential (7:30 p.m. Mon., Oct. 12). Ironically, Hunter survived being semi-outed (Confidential mag revealed his attendance at a "limp-wristed pajama party"), but lost career traction in the late 1960s, when actors became less clean-cut.
Former child actor Pat Mills writes, directs and stars in the irreverent Canadian comedy Guidance (9 p.m. Fri., Oct. 16), about a washed-up child star and deeply closeted gay man who pretends to be a high school guidance counselor. Sure, the kids enjoy partying with him, but it's a subterfuge guaranteed to unravel quite spectacularly and hilariously.
Also screening during the festival: Margarita With a Straw, in which two women surmount cultural differences and physical disabilities; Caspar Andreas' latest, Kiss Me, Kill Me; Baby Steps, in which two men take in a baby; Liz in September, a Venezuelan ensemble drama about a group of vacationing lesbians; and, for closing night, the director's cut of 54, Mark Christopher's 1998 drama set in the infamous New York City nightclub.
All films screen at the Harris Theater, Downtown. Single tickets are $9. Opening night is $15 and includes a party at Bricolage. Closing night is $15 for film and dancing at the Arthur Murray studio. Passes and student discounts are also available. See www.reelQ.org for complete schedule and more information.