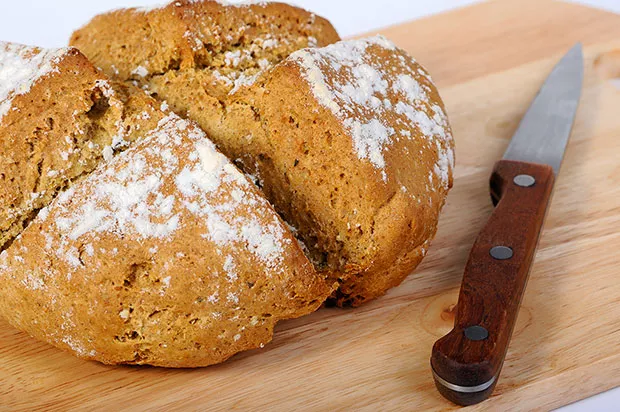 More than 30 million Americans claim Irish ancestry. Yet we celebrate that heritage by swilling green beer and eating corned beef and cabbage. Green beer is actually loathed by the Irish, while corned beef and cabbage is merely America's attempt at Irish cuisine.
I first experienced authentic Irish food at a pub in Dublin. After a 10-hour flight, all I wanted was Guinness. I had no idea what good Irish food was, so I ordered the stew. My expectations were low, but out came a rich stew with slow-cooked potatoes, carrots and lamb in a caramel-colored broth; alongside was brown soda bread, with ultra-yellow butter. The stew's broth was heavenly and the bread, while it looked boring and heavy, was light with complex flavor.
A traditional Irish stew is a great way to appreciate Irish cuisine, but it slow-cooks for hours and can take a few attempts to get right. Soda bread can be prepped and baked within an hour. It's the easiest way to appreciate Irish food that Irish people actually like. Sláinte.
Ingredients:

2 cups whole wheat flour
½ cup white flour
1/8 cup rye flour
1/8 cup steel-cut oats
½ tsp. baking soda
½ tsp. salt
1-2 cups full-fat buttermilk
½ tsp. caraway seeds
Butter for greasing and serving (Kerrygold is best)
Instructions:

Preheat oven to 350 degrees. Grease a baking sheet, set aside. In a large bowl, mix flours, oats, baking soda and salt. Make a well in center of the mixture. Pour in 1 cup buttermilk. Stir with a spoon from the center to outside in a spiral motion. The dough should be soft, not too wet. Add more buttermilk if dry, until dough forms easily.

Turn the dough on a white-floured surface, and shape into a round about 3 inches thick (the less you knead it, the better.) Sprinkle and lightly press caraway seeds onto dough's surface.
Transfer dough to baking sheet and cut a 1-inch-deep cross in the top. Bake for 30-40 minutes. When done, a toothpick placed in the center should come out clean. Tapping the bottom of the loaf should produce a hollow sound, like playing the bodhrán, an Irish handheld drum.