Outlawry has never been a good life's pursuit -- try asking James Dean, Jesse James or even Jeffrey Lee Pierce. But since they rest mute in early graves, I'd suggest listening to just about any Supersuckers song. Take "Born With a Tail," "I Was Born Without a Spine," "How to Maximize Your Kill Count," or even "Alone and Stinking." Then swallow the fact that The Supersuckers somehow staked a 20-year career on such half-kidding, calamitous punkabilly.
In the early days, Tucson, Ariz., didn't take kindly to bassist Eddie Spaghetti and his dust-punk pals playing alt-metal at the local watering holes. So in 1989, The Supersuckers packed their rock raincoats for Seattle. When the singer quit, Spaghetti took over on vocals, gigging relentlessly with guitarists Ron Heathman and Dan "Thunder" Bolton until Sub Pop offered a record deal in 1992, resulting in The Smoke of Hell.
Piloting his crude vessel through the alternative-rock boom, Spaghetti became a kind of journeyman Dylan for the slacker generation: a jack-of-all-trades tattooed with ace of spades, dragging pop culture through piss troughs to clean off all the shit. After Spaghetti met Willie Nelson, the band's sound changed with the 1997 release, Must've Been High, a back-porch-country album laced with enough opiate twang to cure any grunge hangover. Though it marked the fourth and final effort on Sub Pop, it soon became the band's bestselling album.
A return to form followed in 1999, with The Evil Powers of Rock n' Roll, a rambler of a record that got lost in the major-label shuffle. Underground bands laid off by Interscope don't usually engage in philanthropy, but The Supersuckers discovered new reasons to rock for no profit: the West Memphis Three, Arkansas teen outcasts misjudged as murderous outlaws. The three unfortunately remain behind bars on a suspicious conviction, as chronicled in the 1996 documentary Paradise Lost. In 2000, Spaghetti co-produced a benefit compilation, Free the West Memphis Three, and has put on charity concerts ever since.
After starting their own label, Mid-Fi Recordings, The Supersuckers hit the highway like non-stop nomads, performing an estimated 200 gigs a year with their recidivist rock circus, documented in 2002's wonderfully informal Must've Been Live.
These outlaws might well be, as they claim, "the greatest rock 'n' roll band in the world" -- if not for the fact that nobody but The Supersuckers have the balls to claim such a title, then because they've forged a heroic body of work hailing the anti-heroism of rock 'n' roll with whiskey and winks galore. The title is always up for grabs anyway, and as long as The Supersuckers keep contending for the honors, their fans will keep attending to honor them with hoots, hollers, heckles, hands-as-horns and a whole lotta "hell yeah."
The Supersuckers with Eddie Spaghetti and Jordan Shapiro. 10 p.m. Fri., Feb. 8 (doors at 9 p.m.). Altar Bar, 1620 Penn Ave., Strip District. $13. 412-263-2877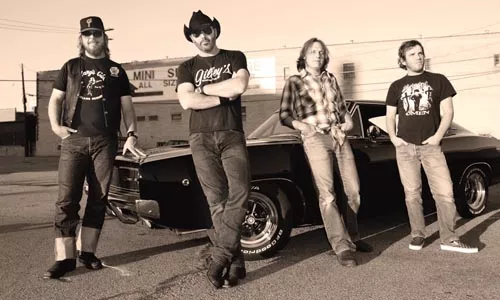 Contenders: The Supersuckers