Page 2 of 2
By the early 2000s, food manufacturers weren't guessing anymore. "You have integrated your supply chain, and have a vast computer network ensuring you are getting your supplies just as you need them, so you aren't blowing needless money on refrigeration/storage," writes the food bank's Murphy.
Simultaneously, Americans gravitated toward fresher foods, and production of canned goods across the board plummeted to about 10 billion units per year, Fraser says.
"It really felt like the bottom dropped out," Scales says. "We have significantly less donated product from when I started in 1996. ... It's caused us to buy a lot more food."
Scales' colleagues say she's made the shift to produce the food bank's top priority. To pull it off, she has brought in people like Don Ziegler, a consultant with GENCO, a company that helps businesses operate more efficiently.
"It's really just applying the rules we use in a commercial venue to a nonprofit," Ziegler says. "We're looking to change the whole inventory system. Produce really hasn't been a mainstay of that."
One of the changes he's hoping will take hold early this year is a web-based system that will let the food bank manage its produce inventory in real time. That will improve the current model, where food-bank staffers must constantly check to see what is in stock and update a website accessible to member agencies.
Beach, the produce coordinator, says the new system should create a more equitable distribution of produce, since the food bank will be able to track what produce is going to a given agency.
But even with a new inventory system, there are significant infrastructural hurdles.
"Our building wasn't built to handle produce," Beach says. She has limited cooler space and can't always store fruits and vegetables at the optimal temperature.
"And that's just on our end." Many of the pantries operate in church basements or other buildings that "may or may not have any cooler space," Beach says.
Perfecting the supply chain is only half the battle. The food bank is also working to "market" produce to food pantries and offer education to families who might not otherwise use produce regularly.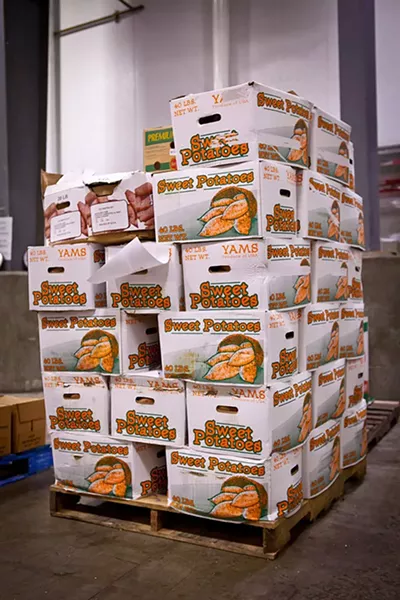 Judy Dodd, a registered dietitian and professor in Pitt's School of Health and Rehabilitation Sciences, explains that low-income families know they should be eating better, but often don't have the tools or the access.
"The people I work with know what they should be eating," says Dodd, who has consulted for Giant Eagle, the food bank and the WIC program. She adds that risks for health problems from heart disease to stroke are lessened by more healthful diets. "But I think about a mom with two kids ... How much time is [she] going to take? She needs the recipes, she needs the ideas, she needs the equipment. ... It [isn't] enough just to put [produce] on their plate."
Jesse Sharrard, the food bank's food-safety and nutrition manager, understands this challenge — especially when the food bank gets something "weirder."
Like the time it got 2,000 pounds of chestnuts and he had to come up with visual step-by-step cooking instructions.
Sharrard is also banking on initiatives like "Kids Cook," an interactive after-school and summer program, to get younger family members thinking about produce.
"When it comes down to it, we have an easier time getting kids to participate in a long-format class like that — parents typically are busy," Sharrard says. The idea is that by influencing kids' eating habits, not only will they have the ability to cook healthier food for themselves, they can influence the diets of their parents and relatives.
There are some signs that people are responding well to the food bank's emphasis on produce.
The food bank's mobile produce pantry, "Produce to People," which operates in 16 locations each month, distributed food to 9,450 households in November — the highest monthly posting in its roughly eight-year history.
And while the shift to produce will likely have a public-health upside, food-bank staffers are careful not to be too sanguine.
"There are always educational gaps to look at," Murphy says. But, he adds, "A lot of people are really hungry for fresh food — they're excited to have access to it."