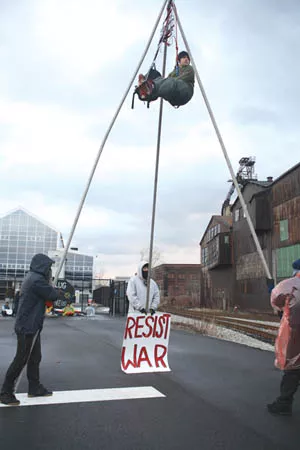 POG members at a 2007 protest at CMU's Robotics Engineering Center.
The anarchist Pittsburgh Organizing Group has disbanded. And with it, say other local activists, have gone some of the most effective methods of public protest. At least for now.
"They were undoubtedly targeted for all the wrong reasons and blamed for more than they earned," says Beth Pittinger, head of the Citizen Police Review Board, which fielded complaints about local police who responded to POG protests over the years. "Sometimes stark drama gets our attention better than an orchestrated press conference or political pandering."
Officially leaderless, POG was formed in 2002. In a final unsigned communiqué, the current members say that "the local and global terrain has changed while we have not been able to develop new approaches that justify our existence as an organization." The group also cited the emergence of other like-minded groups and projects for people to join.
The statement revealed that the group had considered disbanding in 2009, before the G-20 Summit here drew it back in. But POG flatly declares its belief that "people are joining our group because of our past rather than our current activities. We are not breaking new ground or initiating interesting efforts."
Doing so has always been POG's goal, says Marie Skoczylas, a POG member for the life of the group. Skoczylas says she hopes POG's legacy will be that it "inspired some locals to break out of narrow, predictable organizing patterns … [because] our movements have to remain innovative, avoid ritualization, and keep contention contentious."
POG first drew widespread attention for its 2005 campaign against military recruitment. For months, members and supporters held weekly pickets of a military recruiting station in Oakland. One group member fasted for nearly a week on the sidewalk out front; POG later announced that it intended to cage recruiters inside the station -- the only time the group drew significant counter-protests. In 2007, members chained themselves at entrances to Carnegie Mellon University's National Robotics Engineering Center in Lawrenceville, objecting to the school's large Pentagon contracts for weapons research.
Neither city police, CMU nor local military recruiters would comment on POG's demise.
POG's message and tactics, however, spread to other cities. In 2006, for example, it held a convergence of anti-military recruitment activists from around the country. Its activities also drew FBI surveillance, activities which featured in a headline-making federal Inspector General's report about federal surveillance of left-leaning groups.
The group teamed as well with Garfield's non-violent Thomas Merton Center to hold what were likely the largest anti-war demonstrations in the city since the 1960s. The two groups also worked in parallel during the G-20 summit. While the Merton-organized, city-permitted protest drew a much larger crowd, it was overshadowed by an earlier, unpermitted protest in Lawrenceville by anti-authoritarian groups, of which POG was the main local face. While the daily media spent months speculating wildly about potential protest tactics, POG members spent that time going door to door, talking to neighbors about what they were about to witness and why POG felt it was important.
Long-time local activist Vincent Eirene recalls his experience marching with POG during the G-20. "When I was in [other] cities where people were fighting globalization," he says, "there would come a defining moment where we'd be face to face with the police, and the protesters would charge the police." During G-20, "instead of the folk who organized -- a significant part being POG -- charging the police, they spread into four different streets and talked to people about why we were there."
"Even though we organized different actions around the G-20," says Merton's Anti-War Committee chair, Pete Shell, "we coordinated well, agreeing not to interfere with each other's actions or denounce each other publicly."
POG broke with the Merton Center last year, however, when Merton moved into a building owned by the Bloomfield-Garfield Corp. POG had previously accused the corporation of gentrifying the East End, and of working with police in ways that repressed political dissent.
"I actually think the TMC was relieved when POG broke all ties with the Center," says POG member Francine Porter, local coordinator of Codepink Pittsburgh. "I used to sit at TMC meetings and listen to activists criticize POG for breaking windows and overturning Dumpsters, and I used to think that these [protests] were anemic compared to the United States invading others countries and killing innocent men, women and children."
Tim Vining, who began the Merton Center's cooperation with POG when he headed the former from 2001 to 2005, says POG's "loving actions of solidarity" drew a younger crowd to the Merton Center.
POG "comforted the afflicted and afflicted the comfortable," Vining says, borrowing a Finley Peter Dunne quote about the role played by newspapers.
Weeks ago, Vining's partner, Stephen Donahue, returned to Pittsburgh for POG's annual Anarchist Picnic -- another group effort to maintain an accessible public presence. He credits POG with challenging other activists. Donahue points to the Pink Bloc of gay activists -- some of whom had POG ties -- who joined the city's annual Pride parade and "forced the Pittsburgh gay leadership to look at issues of class and gender in that movement. It really shook the gay establishment up."
And shaking up the establishment was POG's goal.
"Civil disobedience always scares local politicians, and the mere rumor that POG might be up to something sent shivers through local security people," says the CPRB's Pittinger. "POG may be history, but the ideals that gave POG identity thrive. And I bet we see a similar collective emerge, just to keep us honest."