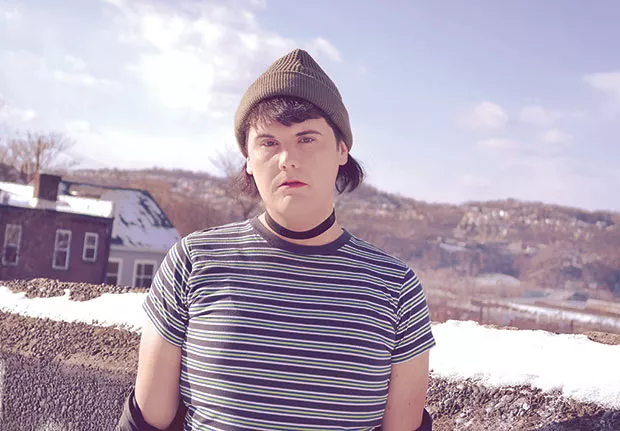 Photo courtesy of Audrey Romero
Fern Burgess, of Just Fern and Softgirl
The title of Just Fern's full-length All the Space I've Taken Up can be traced to a single moment in Illinois, as she and her band lay in a Zen garden.
"We were a little more than halfway through the tour. We'd played a show every night so far, and it was the first silence we'd had," explains Fern Burgess, a Pittsburgh native who is also in Softgirl. "I was lying there, and I was thinking about all the space I've taken up, the space that I'm taking up now, and all the places I've been to, where I've been a body in space. You can't even begin to visualize how that affects the world."
All the Space I've Taken Up is an album that reflects the feelings that had been swirling within Burgess, from 2015 to up to just a week before the album was released last November. As a result, it's deeply personal — painfully sad at some moments ("Julian") and bittersweet at others ("Let's Rob A Bank"). There's heartbreak and longing, loathing and self-destruction, dysphoria and self-love.
The music is packaged in bursts of catchy surf rock, psychedelic-tinged strolls and poppy melodies, all tethered together by Burgess' appreciation of the Beach Boys and The Beatles, as well as an unbreakable punk spirit.
"What blew me out of the water when I put out this record was how many people connected to the themes [of self-care, gender, inequality] and have told me that these songs have touched their lives and made them better," Burgess says. "That's nutbars! Like, that's a level of influence I can't even begin to understand."
The songs on the record reflect on and speak to struggles that Burgess has since moved past but nonetheless felt important to share.
"I think to make good art in any medium you have to look inside yourself, because nobody is going to look inside you for you," says Burgess. "That's how you discover things about yourself."
Burgess is committed to making vulnerable, honest art, but she says one of the darker songs on the record, "Julian," did give her pause.
"I spent a good six months debating whether or not 'Julian' was going to be on there. I wrote it earlier [in 2017] about a version of myself that was really depressed three or four years ago. I wasn't sure if it was too dark without a disclaimer that I don't feel that way anymore," she says.
"I ended up leaving it on there, and that's the song I get the most messages about."
Now that the record has been out for a few months, Burgess is busy putting out music videos like the recently released self-directed and -edited video for "Ember," as well as diving into writing new songs.
"The songs I'm writing now explore my relationship with how I feel personally, and the things that I go through, and the world. That's something I've never really written about before, so that's been a learning experience," says Burgess.
"I'm really excited about it."