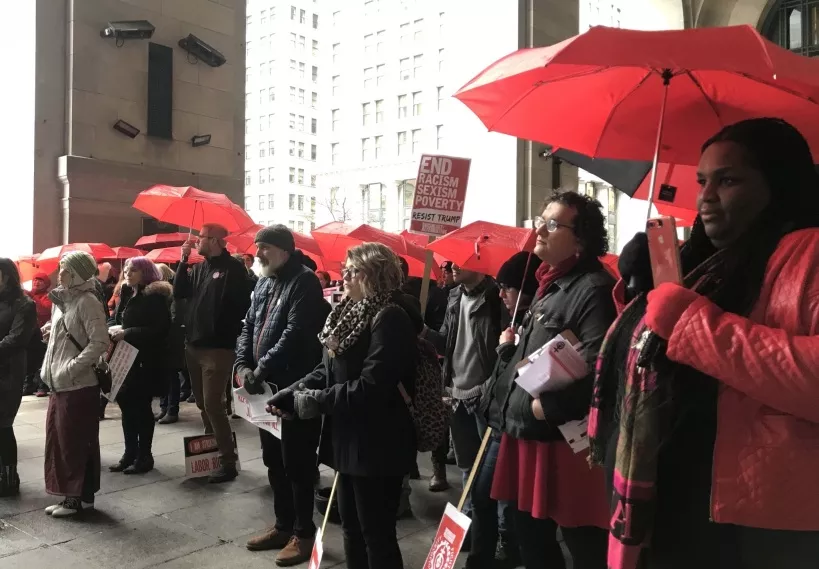 CP photo: Janine Faust
A crowd of more than 70 gathered for the International Women's Strike in Downtown
"A Woman's Strike for the 99 percent" took place March 8, with millions of women worldwide leaving the workplace and taking to the streets to demand better treatment for some of the world's most marginalized groups.
Pittsburgh was no exception.
The International Women's Strike took place again this year on International Women's Day, a day sponsored by the United Nation since 1975 with the purpose of celebrating women's achievements and calling for greater gender equality worldwide.
The IWS is a network of women seeking to give a voice to marginalized women and fight for social issues, including environmental and reproductive justice, labor rights, and an end to imperialism. The first strike was held on March 8, 2017, and has since spread to more than 50 countries.
The International Women's Strike Pittsburgh 2019 started off in front of the City-County building Downtown Friday afternoon. Like many women marching in Spain, South Korea, and throughout the U.S., Pittsburgh attendees wore red to show solidarity with the other women and allies who were striking. More than 70 people participated in the strike
Their demands included fighting back against sexual violence and harassment,
Medicare for All
, demilitarizing the police,
decriminalizing sex work
, building better public housing, and ending the privatization of water utilities.
The rally featured speakers from various organizations. Attendees held signs with slogans such as "Socialist feminism is the answer" and "End racism, sexism, poverty: Resist Trump."
Dena Stanley,
founder
of TransYOUniting, an organization that provides support to trans people in Pittsburgh, gave a brief speech asking women of all background to unite and work together for better future, regardless of ethnicity, race, sexuality or gender identity.
"We are all human," she told the crowd.
Gabrielle Monroe of SWOP Behind Bars, an organization that provides incarcerated sex workers with resources, called for an
end to sexual assault of sex workers by police and prison guards
, as well as the documented police practice of initiating sexual contact as a way to arrest sex workers.
"When they're wearing the badge, they need to keep their hands off," she said.
Monroe also discussed women's right to consent to sex, as well as her right to change her mind. Towards the end of her speech, she recited a poem made up of accounts of sexual abuse and slut-shaming, asking attendees to open the red umbrellas she handed out if a story resonated with them.
Dozens of red umbrellas were open within the first few accounts, which included people recalling abuse at the hands of relatives or significant others, as well as being shamed by friends or family for having healthy, consensual intercourse.
"To stop slut-shaming and to stop this hate, we need to understand sex is not the problem - violence and hate is the problem," Monroe said.
Cori Frazier of the Pittsburgh Center for Autistic Advocacy talked about her experiences as a woman with autism, and how disabled people, in general, are not usually viewed as equal members of society.
"We like to tell the story of disability as tragedy," she said. "We're not understood as parents or partners."
Frazier also discussed how women with disabilities are
more likely to suffer from sexual assault
,
struggle for safe employment
or be
misdiagnosed
. She related how she has been considering having children, but worries about how a daughter of hers with autism would be treated.
"We deserve the full breadth of the human experience," she said.
Laura Perkins, the emergency response organizer for
Casa San Jose
, a regional Latino community resource center, called on Pittsburgh to do more to help Latinas, especially undocumented immigrants, who face discrimination due to their native language or race.
"These women are missing out on opportunities that should be available to all residents," Perkins said.
Perkins also called on Allegheny County District Attorney
Stephen Zappala
to refuse to cooperate with U.S. immigration agency ICE, and for the Department of Homeland Security to be abolished.
"Pittsburgh prides itself on being welcoming. I ask, who are we welcoming?" she asked.
Following the rally, the attendees marched through Downtown, led by the May Day Marching Band. Chants included "We cannot survive on $7.25" and "We are unstoppable, another world is possible."
Krystle Knight, 33, a march attendee from Swissvale, said she came out because she wants women everywhere to realize that their problems are intertwined and that they need to band together to fight against issues such as racism, capitalism, and climate change.
"The only way we can lift ourselves up out of our struggles is if we are united," she said.