Bob Banerjee knows he's an odd one -- a Celtic fiddle player of Indian descent. That diversity of influences is the source of many of his jokes and the conceit behind his folk-rock group, Corned Beef & Curry. But when he takes a fiddle solo, or straps on a guitar and cranks out a Beatles song, the quality of his playing quickly overtakes the novelty.
On a recent Monday night at the South Side's Club Café, the fiddling and 7-Eleven jokes are just part of his duties. He's also hosting AcoustiCafe, a long-running weekly open stage, hosted by a rotating cast of area musicians.
Over the years, AcoustiCafe has attracted some bigger names: Members of Dashboard Confessional, Anti-Flag, Swell Season and others have stopped in to play. But anyone can take a turn on the stage -- provided they arrive early enough to get on the list.
"I'm determined to get through as many people as we can tonight," Banerjee announces at the start of the night. Like many hosts, he's sprinkled the playlist with ringers, and is fitting the other aspiring musicians in around them, "according to my infinite wisdom, because I'm Indian."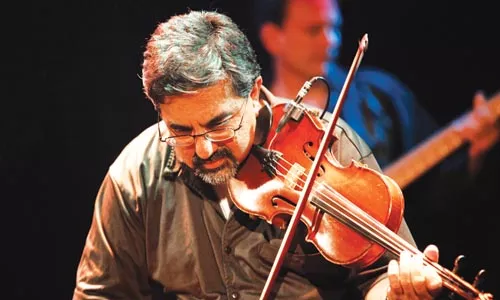 The night's emcee, Bob Banerjee backs up many of the performers on fiddle, mandolin and guitar. "Be kind and mindful, be creative, try to get out of your box if you're a singer-songwriter," he says.
"My philosophy is, this is a great opportunity, if you're a singer-songwriter, to involve other people in doing your stuff," Banerjee says.
Banerjee then invites up a percussionist and a bassist, and starts a jam in which he, in his infinite wisdom, includes a few notes of "The Steelers Polka."
The next four hours pass quickly as dozens of performers, singly and in groups, play two songs apiece.
"This is an exceptionally lenient, supportive crowd," Banerjee says. (Click here for a sampling of other open-mic nights around town.) "These are the best Pittsburgh musicians and listeners that you'll find." And there's no denying that AcoustiCafe does offer a higher musical standard than the words "open stage" usually bring to mind: earnest coffeehouse strummers that have you eyeing the exit, or smoky blues jams that only work with beer.
Joel Lindsey (left) helped re-launch AcoustiCafe in 2007 and now hosts Tip Jar, a satellite event. He heads up the band Boulevard of the Allies, which includes percussionist Chris Massa and bassist Jim Kurasch, and gets many in the audience dancing or singing along.
But what really sets AcoustiCafe apart may just be that it's the best environment for Pittsburgh musicians and listeners. The night's combination of open stage and curatorial hosts ensures both a solid brand and spontaneity, a stable roster of reliable musicians and the potential for creative chaos.
And Club Café itself is well known for featuring high-profile touring singer-songwriters. When area musicians play the same stage for a large, appreciative audience -- it's a taste of that success, even if they are playing for free.
As frequent performer Joel Lindsey notes, "There's a glamour to that place."
Jimbo Jackson is a favorite with AcoustiCafe audience members -- many of whom have learned the words to his songs. Not bad for a guy who learned to play guitar in his 30s, and who ends a funky love song with a reference to head Transformer Optimus Prime.
A London musician who married a Pittsburgher, Lindsey moved here three years ago and quickly got involved with AcoustiCafe; he's been a regular host in recent years. Although he gigs widely, supporting himself through music, the open stage has "become my music home," he says.
Partly, he says, it's because the expectations are challenging even to a full-time musician. And partly, it's because the event offers a chance to network and socialize with other regulars, many of whom are active in the music scene.
"People commit themselves to it," Lindsey says. "It's also a bit like Cheers."
Morgan Erina, a recent transplant from New York City with a soft yet muscular voice, has found a musical home at the open mic. "Because I'm so new, most of my friends are from AcoustiCafe now," she says.
During an open-stage night, a lot of the socializing happens outside, under Club Café's floodlights -- where people can smoke, or just chat a bit more loudly. Pete Bush is among those taking in the warm night air. Sometimes he plays or hosts, but tonight, Bush is just here to listen and socialize. "If it's crowded and people want to get on, especially somebody who hasn't played before, I'd rather just support."
Bush usually performs with his band, The Hoi Polloi, a local group that is finishing up a new album. (Nearly everyone at AcoustiCafe, it should be noted, is about to release a CD.) The group stops by here after practice about twice a month, and Bush says AcoustiCafe is different from other open mics, due to "the support and the quality of talent that is down here," he says. "Not to get all corny."
When he hosts, with bassist Jesse Prentiss, "we do duo nights, so we try to encourage people to play together," he says. "We can get more people on that way, try to play each other's songs, do things a little differently."
Multi-instrumentalist Chuck Owston leads a fiery, medieval-sounding version of "Gallows Pole," a traditional song made famous, he notes, by Led Zeppelin. An AcoustiCafe regular, he's joined here by house percussionist Eric George.
When it was founded by singer-songwriters Mark Willson, Cherylann Hawk and Jerry Baum, AcoustiCafe took on the motto, "Hardwood music for a steel-string city."
In the late 1990s, Willson was traveling back and forth between Pittsburgh and New York City, and spending a lot of time in Greenwich Village folk clubs. "The talent level was very similar" to Pittsburgh singer-songwriters, he recalls, but while musicians in New York could earn some kind of living, in Pittsburgh, "these guys were all playing coffee shops for tips."
AcoustiCafe was modeled on other successful open stages in New York and elsewhere, with the goal of getting these lone musicians into a more cohesive, influential group -- "to get them talking and playing together," Willson says.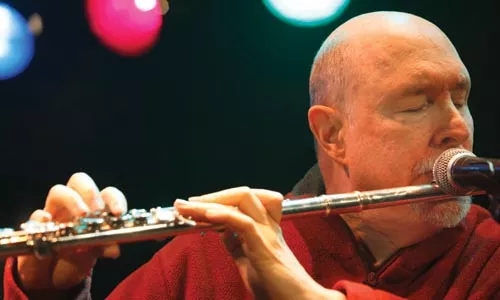 Eric Kloss, a blind jazz flautist, brings the house down with virtuosic, abstract renditions of familiar melodies, backed by Bob Banerjee's guitar. He introduces "Somewhere Over the Rainbow," murmuring, "Let's close our eyes and go there."
The nonprofit organization's early phase included four open stages in addition to Club Café's. It also organized other occasional free or benefit programs and events, while providing regional musicians with a grassroots network, resources, cross-promotion through a website and newsletter, and -- of course -- stage time. Eventually the workload got too heavy for those running it, including Willson, who already had a full-time job as a technology professional. AcoustiCafe went on hiatus in 2004.
AcoustiCafe came back in 2007, with help from new blood: local musicians Lauren DeMichiei, Paul Tabachneck and Heather Kropf; newcomer Joel Lindsey; and publicist Maree Gallagher. The new incarnation of AcoustiCafe has also begun to branch out. For the last two summers, organizers have partnered with the Three Rivers Arts Festival to host their own smaller stage; over the next few months, the organization is presenting a Beatles Tribute Night (Nov. 12 at Hard Rock Café) and a special Christmas show. Organizers have also offered school programs through Lincoln Park Performing Arts High School and others. Lindsey, meanwhile, has just opened a weekly satellite stage at Lawrenceville's Espresso A Mano coffeehouse, called "Tip Jar."
Familiar faces and signature songs predominate at AcoustiCafe, but there's always room and a supportive audience for someone new. Crystal Morgan has performed at Club Caf as a vocalist; here, though, she plays guitar in public for the first time.
Despite the expansion, AcoustiCafe "isn't really a structured organization," says DeMichiei. She prefers thinking of it as a musicians' collective with goals of mutual respect and community. "We don't have official meetings or anything like that," she says. Organizers did try having a more formal structure, she says, but now "It's very loose."
DeMichiei began playing at AcoustiCafe around 2002 -- one of her earliest public-music ventures in Pittsburgh. The experience has helped her over the years, as she went on to form the rock band Lushwell, active throughout the mid-2000s, and now performs solo and in the band Dawn Canon with husband Joe Serkoch.
"Performing for a room full of peers is a much different experience than a typical show audience," she says. "It's a lot more pressure, but you definitely see growth as an artist and performer."
Comedians aren't the rule at AcoustiCafe, but a Taylor Swift joke can be a nice break from heartfelt ballads. Placone says he's weirded out when friends bring their children to his barbecue: "My friends know it's time to leave the party when I shit my pants and start crying."
Willson, meanwhile, prefers to take a back seat, scheduling hosts. "My role is to be more of a cheerleader," he says. On a larger scale, he feels the music scene has an important part to play in Pittsburgh's future, and the nature of the evening keeps that mission fresh. "There's always new people coming in," he says.
One of them is Morgan Erina, a lifelong New Yorker who moved to Pittsburgh four months ago, to develop a music project with Anti-Flag's Justin Sane.
At first, "Justin kinda forced me to go" to AcoustiCafe, she says. But she's hardly missed a week since. Apart from a sense of community, she's also found the night a great way to establish herself as a musician in a new town; for others in the same boat, "I definitely would recommend going."
Compared to New York's open stages, she says, the people at AcoustiCafe are warmer, and care more about the music. "You see the same faces every week, and that's what I like."