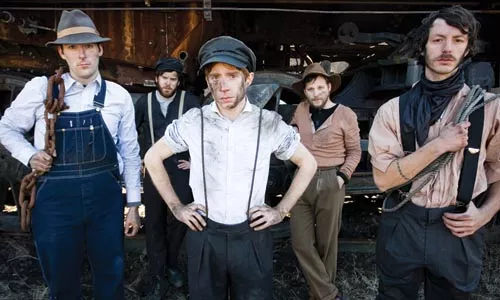 The past and the present: Dr. Dog
Dr. Dog's Frank McElroy has given some thought to what might constitute the Philly psych-pop band's ideal itinerary. "I'd like to open with a mariachi band, then have a magician and then have Dr. Dog. And then we'd invite some local dignitary, maybe the mayor, to give a speech to close out the show."
The guitarist seems pretty smitten, too, with the concept of a two-week Pennsylvania-only tour, "whenever there'd be time for that." It would, of course, involve lots of Amish pies and scrapple, which McElroy laments he hasn't had for, like, ever. Translation: It's been a couple of weeks. But that's damn long enough for the musician who insists he's got "some close ties with some big scrapple people," whatever that means. Probably just that his taste in pork products and friends is as excellent as his taste in music.
The fact is, McElroy was a huge Dr. Dog fan -- a super-fan, really -- before he was asked to join the line-up back in 2005. (The guitarist he replaced left to practice law.) At that time, Dr. Dog had been handpicked to open for My Morning Jacket, but hadn't yet released its breakout album, Easy Beat, on Park the Van.
Since then, Dr. Dog's been busy swatting off crushes from major glossies; touring with the Strokes, the Raconteurs and Clap Your Hands Say Yeah; and being ripped apart with laughable relish by Pitchfork, which never seems to "get" the jammier acts so popular with the dilated-pupil Relix crowd.
Dr. Dog is often compared in the same breath to The Beatles, The Band and The Beach Boys -- "all the bands that begin with B," as Wilco's Jeff Tweedy wrote in his 2007 New York Times piece that famously mooned over the quintet. Listening to last year's much-lauded album, Fate, you get the sense this is what rock is supposed to feel like: grueling, studied, sweaty, spacey. With its kaleidoscopic harmonies and sepia-toned sunshine, Dr. Dog certainly pulls off that "Who is that? It's good"-Beta Band effect. Every track sounds instantly familiar and warmly sentimental, but still challenging and modern.
A lot of this has to do with the production process, which McElroy describes as a reconciliation between the past and the present. Dr. Dog embraces the limitations of recording on tape ("it forces us to make decisions and stick to them"), but is keen to use the latest software to gently maximize the mix.
What results is a collection of technically masterful, fuzzed-out tracks that could easily score a slow-mo scene in a Wes Anderson movie -- the highest compliment, surely, for any band as delightfully, poignantly nostalgic as Dr. Dog.
Dr. Dog with Drink Up Buttercup and Da Comrade. 9 p.m., Wed., April 29 (doors at 8 p.m.). Mr. Small's Theatre, 400 Lincoln Ave., Millvale. $15. All ages. 412-821-4447 or www.mrsmalls.com