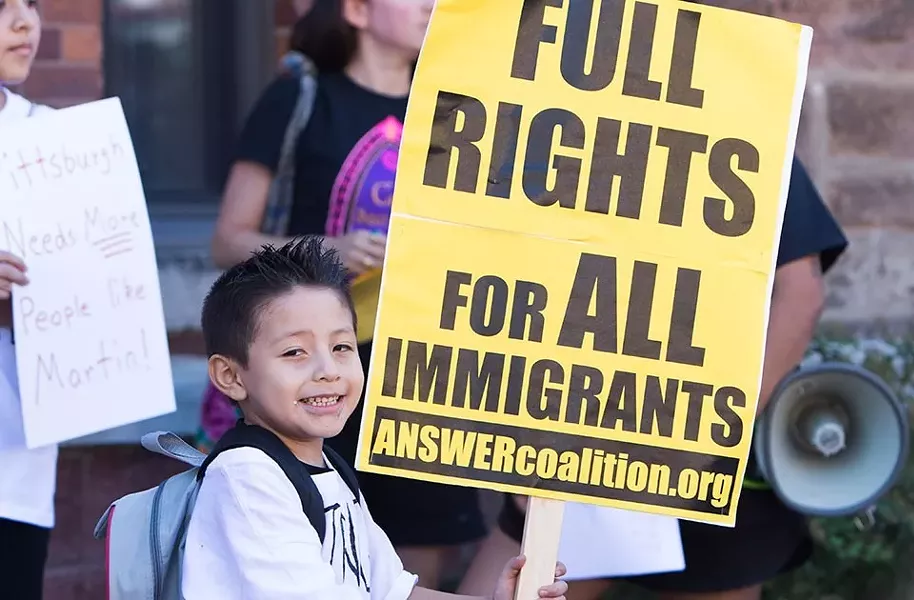 CP photo: Luke Thor Travis
The U.S. House will soon vote on the American Dream and Promise Act — a bill that would provide permanent protection to those taking advantage of the Obama-era Deferred Action for Child Arrivals (DACA) and Temporary Protected Status (TPS) programs. As the vote approaches, some of the bill's supporters want to emphasize the economic reasons to let DACA and TPS holders stay in the U.S., along with the humanitarian ones.
The immigration advocacy group New American Economy released a study today detailing the amount paid in taxes by DACA-eligible immigrants and TPS holders in 2017, including more than $40 million paid by DACA-eligible immigrants, aka
Dreamers
, in Pennsylvania.
"The deportation of both TPS and DACA holders would represent a blow not only to the immigrants themselves and the millions of Americans who are their family members, friends, employees, and co-workers, but to the U.S. economy more broadly," reads the introduction to the study.
The number of immigrants who have applied for and received DACA status since the implementation of the program in 2012 is about 700,000 nationally. But the
NAE study
looks at all 1.3 million DACA-eligible individuals in America, including those who have not yet applied for the program.
With 13,495 DACA-eligible immigrants, Pennsylvania falls near the middle of the 33 states that are a part of the study. And while they aren't bringing in billions of dollars in income like the Dreamers in immigrant-heavy states like California and Texas, Pennsylvania's Dreamers paid $43.1 million in taxes in 2017. Overall, Dreamers and TPS holders paid $5.5 billion in taxes in 2017.
According to the study, Pennsylvania's DACA-eligible immigrants took in a total income of $247.6 million in 2017. After paying $22.4 million in federal income taxes and $20.7 million in state taxes, they were left with $204.4 million in leftover income or "spending power."
Though NAE also looked at the taxes paid by the 318,000 TPS holders in America, Pennsylvania has a low number of TPS holders and was not one of the states analyzed in that portion of the study.
"For years now, Dreamers and the communities that depend on them have been trapped in a terrible limbo, wondering if they'll be allowed to stay in their homes," said John Feinblatt, New American Economy's president, in a press release. "It's long past time for Congress to end this destructive uncertainty and pass the Dream and Promise Act."
Pennsylvanian Dreamers also rank high in state and local taxes per immigrant. Dreamers in the Keystone State paid an average of about $1,534 in state and local taxes in 2017. That is the eighth-highest total by state, with Massachusetts DACA-eligible immigrants averaging the most at about $2,343 each.
Pennsylvania's high figure could be connected to the high education levels of Pennsylvania immigrants, as Pittsburgh has the
most educated immigrant population
of any large metro area in the country.
H.R. 6, the bill to provide a path to citizenship for Dreamers and TPS holders, is co-sponsored by nearly every member of the Democratic coalition in the House, including local U.S. Reps Mike Doyle (D-Forest Hills), Conor Lamb (D-Mount Lebanon), and the rest of Pennsylvania's Democratic Congressional delegation. Other Democratic local and state officials, including Gov. Tom Wolf and Pittsburgh Mayor Bill Peduto, have
voiced support for the bill
.
No Republican lawmakers have signed on to cosponsor H.R. 6. And while the bill is expected to pass the House, it will face an uphill battle in the Republican-led Senate. The House Rules Committee will consider the bill Monday and likely refer it for a floor vote for Tuesday morning.