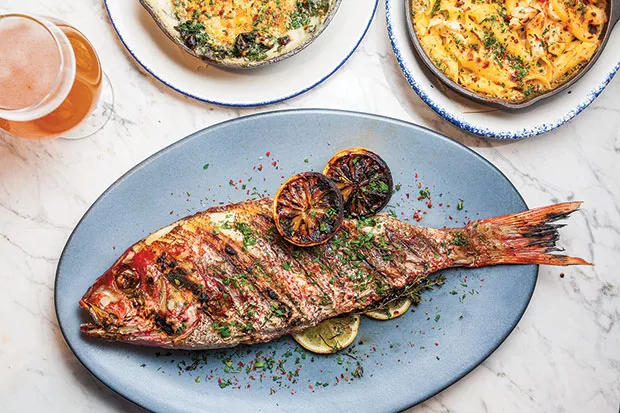 CP photo by Vanessa Song
Red-spotted snapper with crab mac-and-cheese and creamed-spinach gratin
Theme restaurants have come a long way from the Western-styled steakhouses and crustacean-encrusted seafood shacks of our youth, places where cultural fantasy came suspiciously close to substitution for quality. Then, as now, finer dining rarely indulged in themes more elaborate than "luxury," perhaps with enough specific decor to evoke the national origin of said luxury.
Or, The Whale, the improbably named restaurant of the equally eye-roll-inducing Distrikt Hotel (why, the "k"?) in the former Salvation Army gymnasium Downtown, is a decidedly literate take on the theme concept. From the subtitle of Moby Dick, the name is calculated to evoke the sea, of course, but also the colossal ambition of one of the main contenders for Great American Novel. Accordingly, a two-story whaling mural dominates the decor, along with striking swags of heavy ropes hanging from the ceiling; the rest of the interior, wisely, adopts the reticence of a Nantucket fisherman. Sections of the (leather-bound, antiqued) menu are taken from the book's chapter headings. Alas, neither "Squid" nor "Fast-Fish and Loose-Fish" made the cut. Those that did ranged from disconcerting ("Chapter 1: Loomings") to prosaic ("Chapter 2: Chowder").
Chef-owner Dennis Marron came to Pittsburgh to open The Commoner, but fairly quickly moved on to this next venture. His approach is in line with that of his contemporaries: selectively curated ingredients (the menu includes an extensive section crediting local purveyors) prepared using a lot of heat and fire, augmented with carefully crafted garnishes and sauces. It's a far cry from a 19th-century shipboard supper, and you'd better not have a deck hand's budget. Or, The Whale's prices are extraordinary, setting up an expectation that ingredients, recipe and execution must all be flawless.
Wood-fired octopus was a promising start. Dense chunks of tentacle were cooked to a firm texture with a bold char and surrounded by equally strong components: arugula, tiny roasted potatoes, Niçoise olives and grilled-scallion chimichurri. Smoky and substantial, earthy and briny, this was no delicate salad, but a substantial small meal in itself.
Angelique returned to the wood fire for her entrée, an exquisite filet of monkfish with roasted parsnips, Narragansett brown butter and preserved lemon. Honestly, it was the last ingredient that sold her on this dish, but its flavor was lost in all the savoriness of the succulent fish, the slightly bitter, autumnal tang of the parsnips, and their rich, almost gravy-like sauce. Nonetheless, it was delicious.
Seafood is offered in a range of preparations, but an entire chapter (4: "The Ship") of the menu was dedicated to towers — decadent plates of raw, poached and smoked items served in vertical stacks. A minnow-sized version can be had in the shrimp and crab cocktail. A half-dozen plump prawns reposed in a bowl of shaved ice with king crab and a dish of charred-tomato cocktail sauce. The prawns, perfect of texture, seemed to have been poached in a court bouillon, but a bit more salt could have brought out more flavor in them and the crab, as well. Charring highlighted the sweetness of the tomatoes, playing against the heat of the horseradish in an excellent sauce.
Cod chowder consisted of a small portion of broiled filet in a creamy, but not at all heavy, broth studded with crunchy sunchoke root, tender potato and delightfully chewy bacon. Classic New England-style chowders are sublime, but here Marron successfully upgraded every component while maintaining all the qualities that make a chowder a chowder.
Or, The Whale bills itself as "Farm and Fisher to Table," so Jason decided to look to the land for his entrée: short rib with red-wine glaze. Impressively presented with the deboned meat crossed over the bare bone, the rib was supple and rich with melted fat, but somewhat marred by the remnant of silver skin running down the back. But then, perfectly charred edges complemented the more tender center, almost like the burnt ends of great barbecue. A gremolata "crumble" was curiously nutty, and pickled husk cherry — like the preserved lemon in the monkfish — didn't offer quite the sweet-tart notes we'd hoped for.
Or, The Whale's service and presentation were top caliber, and despite the inherent pretentiousness (it must be said) of the concept, we found the experience more charming than cloying. The best bites, especially from the wood-fired oven, were transportive, but it's hard to accept anything less than perfection at these prices.