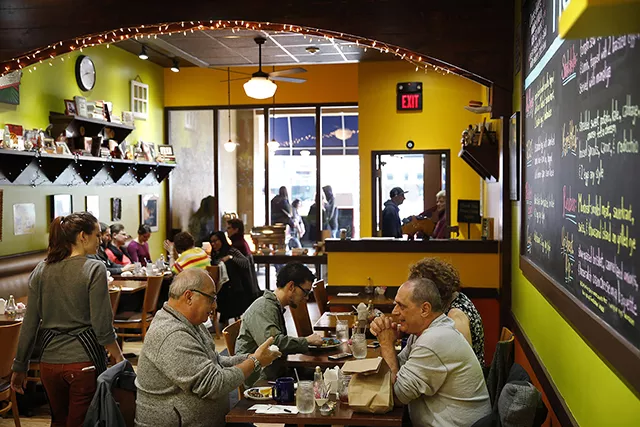 CP photo: Jared Wickerham
Guests dine at Nu: A Modern Jewish Bistro in Squirrel Hill.
"You pay and they bring you food."
My first attempts at describing Nu failed, as it was kindly pointed out that these steps happen at every restaurant. But Nu isn't "every restaurant."
Nu is the love child of a buffet and full-service diner: sit-down, plated meals with bonus bites from the "Nosh and Nibble" table. The small buffet features made-from-scratch bites, as the owners describe it, "a cocktail party without the booze." The restaurant shares a door and ownership with Pamela's P&G Diner in Squirrel Hill. The owners, self-proclaimed "Hybrid Jews," serve Modern Jewish cooking.
CP photo: Jared Wickerham
The menu at Nu: A Modern Jewish Bistro
The bistro is weekends-only, and I made it to Nu in time for Sunday Brunch (okay, more like lunch). Entering Nu is a bit of a maze, and it takes a second to figure out which doorway goes to Pamela's and which opens to Nu. Once I ended up in the correct restaurant, I was seated quickly.
Nu's decor is eccentric. Blue lights wrapped the wall behind me, without obscuring the egg and bacon portrait of Ron Swanson. Quippy signs hung on the wall, reading, "I don't need coffee so I can survive, I need coffee so all of you can" or "A recent study has found that women who carry extra weight live longer than men that mention it."
A chalkboard menu takes up the majority of one wall, listing the day's choices. There were eight total, a range of traditional Jewish cuisine and American fare. I chose the shakshuka, two basted eggs on tomato chili served with mamaliga. The minute my order was in, I headed to nosh and nibble.
CP photo: Jared Wickerham
Shakshuka
There seemed to be no rhyme or reason behind what was on the nosh table. It's purely what the kitchen wanted to cook that day. I loaded a plate with coconut shrimp, a corn biscuit, latke hush puppies, haluski and kielbasa, stewed tomatoes, challah bread pudding, and blueberry walnut cake.
Nothing on the nibble table was sub-par. It was traditional home-cooking, a spread comparable to my grandmother's house on Thanksgiving. The only issue: I couldn't keep noshing with an entree on the way.

Almost two plates into the small-scale buffet and my shakshuka arrived. The eggs were picturesquely placed on top of the tomato stew, finished off with a few green onions. I unceremoniously broke the yolks on both and mixed the dish together.
The shakshuka was simple. Mamaliga, a porridge made from yellow cornmeal, reminded me of fried grits. It was thick and crispy on the outside but creamy on the inside, with a little crunch from the cornmeal. The mamaliga was just the right consistency to soak up the tomato chili. The stewed tomatoes and onions were loaded with cumin, adding a smokiness to the eggs and mild porridge.
The owners of Nu bring you into their family, cooking what their parents and their parents' parents taught them. It's the ideal meal as temperatures begin to drop. It tastes like home.
And, in the end, I paid and Nu brought me food.


Favorite Features:

1. Free entertainment
As a clumsy person, I laugh at other's mishaps and expect the same in return. Because it's tricky to navigate between Nu and Pamela's, I spent the meal chuckling at diners looking for Pamela's sticking their heads through Nu's doorway. By the fifth very confused patron, I was pleasantly entertained.

2. The owners "love it all"

The Nosh and Nibble table never stays the same. The owners, who were taught by their parents to love all food, want diners to taste everything. It's not limited to Jewish or American cuisine but is the perfect mix between the two.

3. Table decorations

Remember the fun-shaped erasers from elementary school? So does Nu. The centerpiece of each table was an empty, screw-off lightbulb filled with erasers. It made no sense but somehow worked with the other strange decor.