The best books, says novelist Junot Diaz, make a reader an immigrant, negotiating the otherworld of the story. Diaz's own tales of generations of families stretch across the Caribbean, from the Dominican Republic to New York and New Jersey. They're Gabriel Garcia Marquez remixed with Biggie Smalls, complete with name-checks of J.Lo, Salman Rushdie and Maria Montez, and they stamp the reader's passport decisively.
Dominican-born Diaz, author of the short-story collection Drown and the new novel The Brief Wondrous Life of Oscar Wao -- which won the 2007 National Book Critic's Circle prize for fiction -- speaks at Carnegie Mellon University on Mon., March 31.
Diaz's characters share a sense of existing in two worlds -- as outsiders both to the dominant white U.S. culture and to the Caribbean island that was either their first home or their parents': a place whose lifeways pulse through their familial veins and dinner plates and where, often as not, summer visits to abuelas left behind can be transformative or tragic.
Diaz himself came to New Jersey at age 6. While most of his life has been lived in the U.S., the Dominican experience and the immigrant experience are never far away.
"Some young people, they see their parents doing this certain kind of work and it sticks with them forever, it becomes how they organize their selves," says Diaz, 39, speaking by phone from a hotel in Santa Monica, Calif. "I guess for me, what ended up is the sort of fascination with my first home, the Dominican Republic, and my memory of it is not something I could shake free from easily. I think why it happened is hard to tell, but that it happened is pretty clear."
His 1996 book Drown includes 10 short stories, following similar characters in a narrative arc that's much juicier if they're read together. In both of his books, Diaz employs multiple narrators, and multiple points of view, to tell the story of a mostly voiceless main character.
In Drown, the approach is most evident in "Ysrael" and "No Face," which together tell the tale of a masked Dominican youth whose face was eaten by a pig when he was a baby. The story is narrated, literally, from both outside and inside the mask, first by Yunior, a frequent narrator -- and a main voice in Oscar Wao -- who torments Ysrael, and then through the obscured visage of Ysrael himself.
"It's always the question of, 'What does it look like from outside the mask, what does it look like from inside the mask?'" Diaz says. "I thought it was kind of a useful way to make that explicit. I think if we saw ourselves through other peoples' eyes, honestly, it would be astonishingly different."
The technique resurfaces in Oscar Wao, with the putative main character, Oscar, speaking only in his letters. His sister and best friend tell his story, itself merely a thread in the sweeping epic of the de Leon family and the fuku, or curse, that dogs it for generations. The curse is assumed to result from a perceived -- or trumped-up -- slight from Oscar's grandfather against Dominican dictator Rafael Trujillo, whose era of absolute rule through torture and murder could be seen as its own fuku on the Dominican people.
Diaz's books cast the reader as immigrant in other ways. Both are peppered with Spanish words and phrases, and Oscar Wao makes liberal use of footnotes, beginning with, "For those of you who missed your mandatory two seconds of Dominican history ..."
"Any book worth its weight in planet-destroying paper pulp generally invites a number of tactical responses," Diaz says. You could read it with a Spanish-English dictionary and an encyclopedia in your lap if you wanted to, sure. But you might miss some of the music that way.
"In some ways a book is like a brand-new country, and every time you enter a book, you're entering this entire new world," Diaz says. "I think the best books ask the reader to be kind of an immigrant, to try to learn all the rules of this new world as best as possible. There's different kinds of immigrants: There's immigrants who go out there and try to learn every single new word they encounter, and there's other ones who are just like, 'OK, lemme pretend I have never left my home so I will ignore all these new words.' It's your book."
The title character in Oscar Wao is a painfully nerdy, fat, anti-macho sci-fi dork whose life ends in the kind of tragedy that haunts the whole clan -- though he's the only one who would think to describe it in terms of D.C. Comics ultravillain Darkseid. Oscar is not sure he buys the idea of fuku, and neither does Diaz.
"I thought it was a fun and useful way to write about both personal and national history, to sort of toggle back and forth in a quick and sort of compelling way," says Diaz. "I think the person who wrote this book really believes in curses. The person I am, who has to, like, get his socks washed ... I think there's so much less room for any of these amazing beliefs and I think that's sad. In the end I'm my best self when I'm in my work."
He's quick, however, to distinguish between himself and Oscar, despite their shared Dominican heritage, New Jersey youth and nerdery taken to an extreme (though Diaz says Oscar is far nerdier than he). "Despite the fact that there's all sorts of resonances, I would argue that less than 5 percent of the events have any analog in real life.
"It's too simplistic to think of a book that's like this in any way autobiographical. We're stuck in this age where the angle is how much of what we write isn't somehow real: Fiction has never shaken free from its disreputable roots of make-believe. But in this case, alas, much like my poor protagonist loves make-believe, this is very much a make-believe book."
Junot Diaz 7 p.m. Mon., March 31. McConomy Auditorium, Carnegie Mellon campus, Oakland. Free. 412-268-2105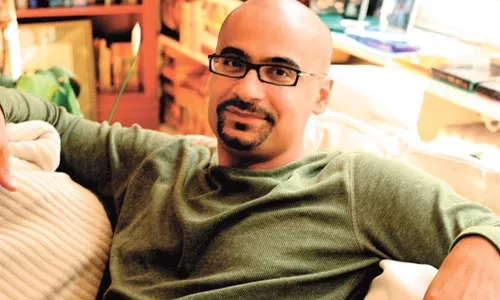 Courtesy of Lily Oei
Junot Diaz