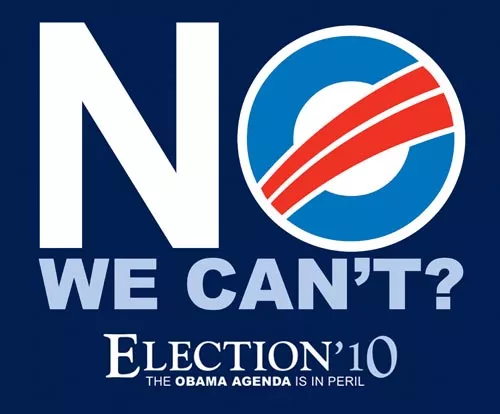 This may be the weirdest election in modern history. Amid the turmoil caused by Wall Street, voters are outraged by a bailout that will cost a fraction of what they fear, and for months have been leaning toward a Republican candidate, Pat Toomey, who once traded derivatives for a living. And months after an oil spill fouled the Gulf of Mexico, polls suggest the leading candidate for governor is Attorney General Tom Corbett, who wants Pennsylvania to be the only major natural-gas-producing state without a tax on fossil fuels to help clean up the mess.
The airwaves, meanwhile, are dominated by ads whose sponsors are often mysterious, or that target candidates who aren't on the ballot. Corbett, for example, has run spots that don't even mention Democratic rival Dan Onorato, blasting lame-duck governor Ed Rendell instead.
Republicans, not surprisingly, are playing on the fact that "people are angry at Rendell, but they can't vote against him," says Democratic political consultant Don Friedman. "They're angry at Washington and President Obama -- which they lump together -- but they can't vote against him, either."
Indeed, according to a recent Quinnipiac University poll, Obama has a 56 percent disapproval rating, most voters polled oppose his health-care reforms, and by an 11-point margin, they would prefer to have the GOP in charge of Congress.
They may get their wish. And we'll see if voters like the people they supported as much as they hated the candidates they opposed. But in any case, the outcome will literally reshape Pennsylvania's politics for a decade [see "Setting Boundaries"]. Maybe longer.
No one expects Democrats to be as excited as they were in 2008. A campaign like Barack Obama's comes only once in a generation. The real goal is for Dems to be as excited as they were in 2006, and even that will be a challenge.
That's the year Bob Casey trounced Rick Santorum's Senate re-election bid -- despite lots of grousing amongst Dems about Casey's pro-life stance and less-than-enthralling persona. If you'd have told those Dems that, four years later, they could vote for a pro-choice candidate who was a principled voice for gay rights and a solid progressive vote on economic and environmental issues, many would have been ecstatic.
Sestak is that candidate. But while polling out this week suggest the race is tightening, and pundits say the race is a toss-up, Toomey has been leading for months -- by 7 points in the recent Quinniac poll, for example.
Pollsters call that an "enthusiasm gap," though "anger gap" may be more fitting. In 2006, 55 percent of Casey backers told Quinnipiac they were voting against Santorum rather than for Casey. Only 30 percent of Sestak voters today, though, say theirs is a vote against the Republican. Obama's election may have been about hope, but this year the anger is on the GOP's side.
It's not that there isn't plenty to vote against. Just read Toomey's 2009 book, The Road to Prosperity. Toomey is so staunchly pro-trade that he favors off-shoring even some defense-related industries (except in some "very rare" cases involving, say, "sophisticated missile guidance systems"). As for workers whose jobs are shipped to China? Toomey pledges nothing except "a serious discussion" about how to help them.
And yes, Toomey does support "privatizing" Social Security, although he bridles at the word. Allowing workers to invest in stocks and bonds would be "empowering," he writes.
Would Toomey favor more oversight of Wall Street, to prevent workers from being fleeced? Here's a clue: One chapter of Road is titled "The Crash of 2008: A failure of government."
The question for wary voters, though, is who to distrust more: the guy who shored up Wall Street in 2008, or the guy being supported by Wall Street now?
Toomey's campaign ads denounce Sestak for supporting the Wall Street bailout, and for taking money from Wall Street. Sestak has garnered more than $135,000 in contributions from the financial sector, according to the Center for Responsive Politics. But Toomey himself has taken in four times that much -- nearly $590,000. Among his top contributors: bailout-fund recipient Bank of America.
By the way, that bailout cost a lot less than the $700 billion you hear in political ads. Much of the money was never used, and a lot has been paid back. In August, the Congressional Budget Office released projections showing that "the lifetime cost of the [bailout] has been reduced to $66 billion." By comparison, a bailout of the savings-and-loan industry begun during George Bush I's presidency cost more than $116 billion, according to a 2000 study by economists at bank regulator FDIC.
Put another way: The bailout will cost taxpayers less than half of what we'll spend just next year in Afghanistan and Iraq -- wars whose costs are barely mentioned.
And Toomey isn't alone in wanting to rewrite history.
Along with Toomey, Western Pennsylvania's three Republican House challengers -- Keith Rothfus, Mike Kelly and Tim Burns -- have signed a pledge "to sponsor and support legislation to repeal any federal health care takeover passed in 2010." Republican incumbent Congressman Tim Murphy hasn't signed the pledge, but did join a legislative effort to bring a repeal bill up for a vote.
It won't happen: Obama is unlikely to repeal his own reform, and even if Republicans gain control of Congress, they won't have veto-proof majorities.
But God knows Dems have plenty to answer for. For starters, their ads can be dishonest, too. (Don't be fooled by those scared-looking seniors talking about Social Security, for example: As Toomey's book makes clear, Republicans won't take away the benefits of anyone old enough to appear in campaign spots. It's your benefits and mine that are at stake.)
And as Friedman, the Democratic consultant, puts it, "This might be a much different environment if we had a president who was more populist, who insisted that bankers not get rich off of taxpayers."
So there are a few simple choices this year. That's why on the pages that follow, we've compiled charts explaining where candidates stand on the issues -- information compiled by City Paper staff based on candidate interviews, financial records, position papers and other public statements. And whatever else you can say about them, these are issues you can do something about, and candidates you can actually vote for. In some cases that's the best, and worst, thing you can say about them.