This past spring, when the locally headquartered American Eagle Outfitters announced with little warning that it would be hosting a two-day music festival in Pittsburgh, curated by Anthony Kiedis, the city's music-lovers did a collective double-take. After all, Pittsburgh's status as a secondary touring market would ordinarily make the appearance of even one of the New American Music Union's performers a big deal.
Although you'd probably be hard-pressed to find much American Eagle attire in the wardrobes of CP's music reviewers -- perhaps a Dumpstered hoodie in there somewhere -- we're pretty damn pleased about this turn of events. What follows is a series of quick sketches of what festival-goers should keep an eye out for at this grand occasion.
Just before press time, it was announced that the main stage -- where the following groups will perform -- has sold out. But brave late-comers can still take their chances with scalpers, and can catch the free second stage, a showcase of 15 accomplished college bands from all over the country competing for recording time. If you're looking for a dog in this fight, cheer on local pop-punk quartet Nothing Unexpected, whose members hail from Robert Morris University. Sample songs from second-stage groups -- and more info -- are available on the fest's Web page at www.ae.com.
Fri., Aug. 8
Tiny Masters of Today
The Hansons and the Hannah Montanas of the world bring with them a standard set of questions: Who's pulling the strings? How good can this be for these kids, really? Is this what they want to be doing? Tiny Masters of Today are a bit different: They're a garage band, singing their own songs, with titles like "Sticking It to the Man."
There's a certain amount of mystery behind brother-and-sister Ivan (age 14) and Ada (age 12), and their parents protect their privacy. But they've got plenty of attention: David Bowie sings their praise, and Karen O and Kimya Dawson have collaborated with them.
The pair cite the Ramones and the Stooges as influences (but also Belle & Sebastian and the Shangri-Las); what comes out actually sounds just as often like Le Tigre. It's clear these two are having fun with their music, doing their rebellious thing even though they're just on the cusp of having something to rebel against. They only have a lot more people watching than most of us did. -- Andy Mulkerin
N.A.S.A.
Though this DJ duo's name might first bring celestial bodies to mind -- and their music has the potential to put your body on another planet -- the acronym refers rather to "North America South America." It's an apt description for this collaboration between U.S. DJ and commercial-music producer Squeak E. Clean (Sam Spiegel) and Sao Paulo DJ Zegon (Ze Gonzales), who first bonded over their love for '60s and '70s Brazilian music.
Their yet-to-be released album brings those influences to the table alongside such collaborators as David Byrne, Karen O and Ol' Dirty Bastard. Live, expect this four-turntabled beast to get the party started with wild remixes and dizzying transcontinental grooves. -- Aaron Jentzen
The Black Keys
When it comes to blues-rock duos, The White Stripes make the rules of the household and The Black Keys are the bratty kids who break them.
Akron, Ohio's Dan Auerbach (vocals and guitar) and Patrick Carney (drums) have been bashing out some of the rawest, dirtiest neo-blues since The Black Keys' first album in 2002. Over the course of five albums, the duo has expanded from a garage-rock blues party to an indie lover's dream with the inclusion of DJ du jour Danger Mouse on its latest effort, the recently released Attack and Release.
But while the fanbase of the Black Keys has grown more and more eclectic, just like the duo's music itself, one thing has remained static: These Ohio boys know how to rock. While Carney pounds away like a hyperactive teen-ager on his first drum kit, Auerbach cranks out slow, plodding guitar riffs, his low, bluesy voice wailing melodies as catchy as his brilliant guitar work. Mix in producer Danger Mouse's slight electronic texturing and you've got music as barroom-ready as a half-drunk bottle of whiskey. -- Justin Jacobs
The Roots
With an organic vibe and a penchant for vegetarianism, The Roots are the band that people who normally hate rap can enjoy without feeling guilty. Often associated with the "conscious rapper" contingent -- MC Black Thought ranks up there with Common and Talib Kweli -- they've been acclaimed since the '90s as hip hop's premier live-music act, traveling with a full band including a more recently added brass player nicknamed "Tuba Gooding Jr."
After several gold records and a Grammy, they've softened their stance a bit, recently appearing on tours sponsored by cigarette companies and on frat-boy-infested campuses. But the dark tone of political resistance still remains on their latest album, Rising Down, which leans a bit more on synth-heavy beats as a necessary nod to today's street-savvy club jams. -- Manny Theiner
Sat., Aug. 9
The Duke Spirit
When watching the Duke Spirit, go ahead and try to look at anyone but singer Liela Moss. She has the kind of frenzied enthusiasm that makes the rest of her band look like a bunch of mannequins.
The group was born in 2003, and released its first full-length, Cuts Across the Land, in 2005. The songs were written in England, but recorded in Joshua Tree, Calif., with the unlikely help of desert-rock big-shot Chris Goss, better known for his work with Kyuss and Stone Temple Pilots. He also helped out on this year's release Neptune, which probably explains why songs like "The Step and the Walk" sound like "Town Without Pity" via Queens of the Stone Age.
The band has the Blondie look (meaning they're a bunch of well-dressed dudes and with a hot, blonde frontwoman), but the London band takes its cues from '60s British Invasion and, despite her frantic stage presence, Moss's soulful voice is more Petula Clark than Debbie Harry. -- Margaret Welsh
Black Mountain
Hailing from Vancouver, Black Mountain is lately the most recognizable part of the Black Mountain Army, a larger group of artists and musicians who identify as a collective, in the style of Constellation or Elephant Six. The band's most recent offering, In the Future, is a double LP issued on Jagjaguwar. On it, the group continues its trajectory of blues-inspired, percussive grooves. Synth-heavy and with psychey vocals, it's evocative of the very late '60s and early '70s, when so many bands that would soon chart their own original courses in rock were cutting their teeth with a more Chicago blues-inspired sound.
It's a sound that's led to some strange reviews -- how two critics could listen to the same record and come up with the phrases "stoner rock for the masses" and "thundering anachronistic prog-rock" is questionable. But Black Mountain's back-then sound is enough to capture some right-now attention. -- AM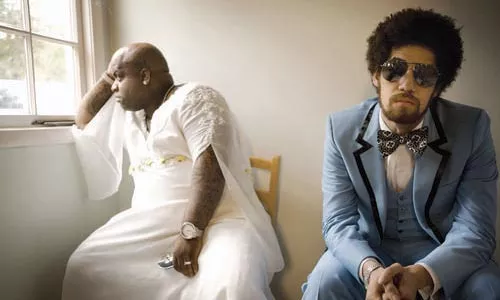 Gnarls Barkley
Musically mischievous duo Cee-lo and Danger Mouse one-upped themselves with Gnarls Barkley's second album, The Odd Couple, released last March. The ongoing collaboration between the singer/rapper and producer, mixing beats and samples from past and future eras with witty words and catchy tunes, reached colossal success in 2006 with the ubiquitous single "Crazy."
Seeing them live, you're guaranteed to experience something dynamic, funky and definitely a little weird. For example, in past performances, they did renditions of Duran Duran's "Hungry Like the Wolf" dressed as chefs, Mötley Crüe's "Dr. Feelgood" as doctor and nurses, Queen's "We Are the Champions" as gladiators, and Pink Floyd's "Another Brick in the Wall (Part II)" dressed in private-school uniforms. Does that make them crazy? Possibly. -- Cindy Yogmas
Spoon
Are you sick of hearing about how good Spoon is? Well, that's understandable. Last year's Ga Ga Ga Ga Ga, the band's sixth full-length record, seemed to turn up on almost everyone's year-end list, and we all know nothing breeds backlash like across-the-board critical acclaim.
That being said Spoon is, well, pretty good. These charming Austin boys can work the soulful, hook-soaked indie-rock like no one else, and singer Britt Daniel manages to strike a perfectly rock 'n' roll balance of snotty and earnest. Whether you're at the bar or cleaning your house, once the hand-claps kick in on "Don't You Evah," it's hard to keep from dancing.
Past live shows have included a full horn section, and on at least one occasion, David Cross doing the worm. While it may be that neither of those will happen at Saturday's show, you're pretty much guaranteed something you can shake your hips to. -- MW
The Raconteurs
Though they ostensibly grew out of a friendly jam session between long-time buddies, the Raconteurs have since become just as established as the members' previous musical projects. Jack White (White Stripes), solo artist Brendan Benson, Patrick Keeler and Jack Lawrence (both of the Greenhornes) were already successful recording artists before banding together in 2005. Naturally, they had a lot of hype to live up to, and the group's 2006 debut album, Broken Boy Soldiers, did just that -- picking up a Grammy nomination for "best rock album," and, in Mojo, a pick for "album of the year." Since then, the members have all relocated to Nashville, and last March, the band released its follow-up album Consolers of the Lonely. Live, the group is wired for full volume and power, cranking out solid and serious rock 'n' roll, which is just what you should expect. -- CY
Bob Dylan
What can you really say about Bob Dylan in 2008? Since he's the big gun they bring out when it's time to close down the festival it seems at least Anthony Kiedis still sees him as relevant. The fact that his most recent album, 2006's acclaimed Modern Times, made him the oldest musician to debut at No. 1 on the Billboard album charts (subsequently overturned by Neil Diamond), seems to indicate that, through all the ups and downs of his long, era-defining career, plenty of other people still want to listen when he's got something to say.
Todd Haynes' recent feature film riffing on the musician, I'm Not There, and new documentary and concert footage suggests there's still much to be discovered in the Dylan mine; the fact that at a recent Pittsburgh-area performance, Dylan's trademark mumbling declamations and radical reinterpretations made his classic material difficult to even identify, suggests he's still digging for some evasive glimmers in his own songs. -- AJ
New American Music Union. 5-11 p.m. Fri., Aug. 8 and 11 a.m.-11 p.m. Sat., Aug. 9. SouthSide Works, E. Carson St., South Side. Main stage: sold out. Second stage: free. www.ae.com