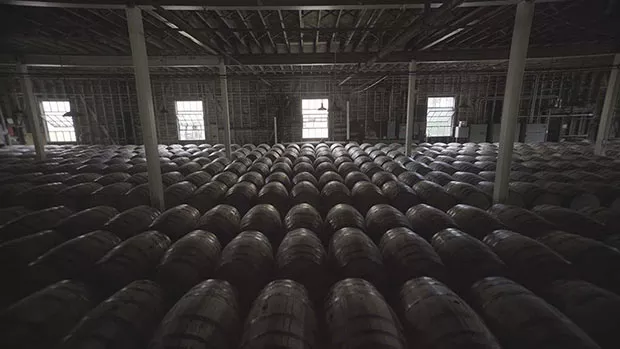 Vinegar Hill Creative
Neat: The Story of Bourbon
Although this region is the birthplace of rye whiskey, the Pittsburgh-based film production company, Vinegar Hill Creative, decided to explore the sweeter side of whiskey in its new documentary, Neat: The Story of Bourbon. Three years in the making, the documentary was released to iTunes last month. The process of creating the film was intensive, as the filmmakers familiarized themselves with the bourbon-making community in Kentucky.
The opening shots are stunning, depicting vast fields of corn (bourbon's main ingredient), the footage shot by a drone; heavy machinery; and clinking glasses; it looks like an extremely effective advertisement for the American Heartland. "We wanted to make a film that looked as good as bourbon tastes," says David Altrogge, co-writer and director. "Bourbon represents the importance of slowing down, the power of patience, and the importance of sharing something that takes a long time to craft with people you love. Bourbon heritage is American heritage."
And bourbon does have a colorful history and reputation for creating a fuss, whether it was the Bottled-in-Bond act of 1897, which was the U.S.'s first "truth in advertising" act, or the current craze for limited single-barrel batches.
Before diving too deeply into the history, the film first educates the viewer with the "ABCs of bourbon." In order to be classified as bourbon, the whiskey must be American made. The mash must contain 51 percent corn and come off the still at a distillation proof of 160. Then, the liquor must be aged in new American white-oak, charred barrels. This ABCs list goes all the way to the letter G. The filmmakers also visit a cooperage, where the barrels are made, giving the viewer an insight into the process that isn't shown as often.
In order to capture the scope of bourbon's reach and historical significance, the filmmakers consulted historians, distillers, writers, bartenders and enthusiasts. The star of the film, Freddie Johnson, is a third-generation worker at the Buffalo Trace distillery. His father rolled out the six-millionth barrel from the factory, and is also credited with identifying the best batches, helping to create bourbon's revival and the interest in single-barrel products.
The film also features the first female master distiller since the Prohibition, Marianne Barnes, of Castle & Key Distillery. Other notable bourbons, like Jefferson's Bourbon, Heaven Hill and Wild Turkey, are also represented. There's even an appearance from actor and bourbon enthusiast Steve Zahn (That Thing You Do!, Dallas Buyers Club), who adopts the role of a knowledge bourbon sipper, dispensing information and providing comic relief.
Keep an eye out for the announcement of the April premiere of Neat: The Bourbon Film, at a Pittsburgh venue. In the meantime, the documentary can be found on iTunes, Google Play and Amazon. For more information, see www.thebourbonfilm.com.