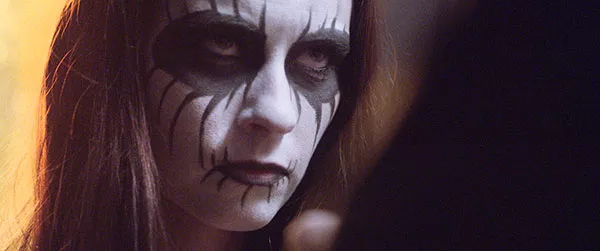 Face of pain: Hera (Thora Bjorg Helga)
Make no mistake: Metal music matters in Ragnar Bragason's drama, but at its heart, Metalhead is a surprisingly affecting film about grief and faith. Set in rural Iceland in the 1980s, the film opens with tragedy, when 12-year-old Hera witnesses her older brother killed in a tractor accident. A few years later, adult Hera (Thora Bjorg Helga) is still struggling. Her threats to run away peter out, and she's angry, anti-social and depressed. (Her somnambulant parents aren't doing much better processing the long-ago death.) She has stayed connected to her brother by adopting his metal fandom, from wearing black T-shirts to blasting the harsh tunes at the slaughterhouse where she occasionally works. Then, ironically enough, a new priest moves into town, and this family stuck in neutral begins to finally move forward, albeit on a rocky road.
Bragason's film is as deeply respectful of the often-dismissed music as it is of the town's more traditional institutions, such as religion and hard work. Hera finds comfort in metal's bleak and angry lyrics, but for her, the music is also an inspirational art form that gives her the tools to define herself and, hopefully, a future. Metalhead is one of those oddball films that defies categorization — it's deeply melancholic, but not without humor, and its framework of heavy metal works exquisitely as a universal exploration of letting go of grief.