Page 2 of 3
Tom Breiding, the musician-in-residence for the United Mine Workers of America and a lifetime honorary member of that union, knows how influential music can be. His songs helped bring attention to the plight of mine workers, helping them to win back pensions and benefits in 2013. Those battles, like so many union struggles throughout history, were won through worker solidarity. But Breiding says that has changed.
"The idea of solidarity is an idea that is really disappearing in America and among the work force," he says. While, historically, union members have voted Democratic, this election season saw coal-country voters backing Trump, even as Republicans blocked the Miners Protection Act, jeopardizing the health care and pensions of retired mine workers. Many felt they had little to lose by voting for Trump. But Breiding says that the fact that active workers are voting against the interests of retirees goes against the longstanding union principle that "an injury to one is an injury to all, where we all stand together we can get things done."
"I think that goes back to the decline of labor unions themselves," he says. "Many people just don't realize that they're just tying their own rope."
But, while there's plenty to be discouraged about, Breiding plans to continue devoting himself to using his art to strengthen the union. "I am a little bit optimistic, because you almost have to hit rock-bottom before you make a change," he says. "I think what a lot of my peers and fellow artists have seen is that we've hit rock-bottom. I know it's going to light a fire in a lot of other artists. With me personally, not much has changed. I'm still doing what I set out to do four years ago with the mine workers."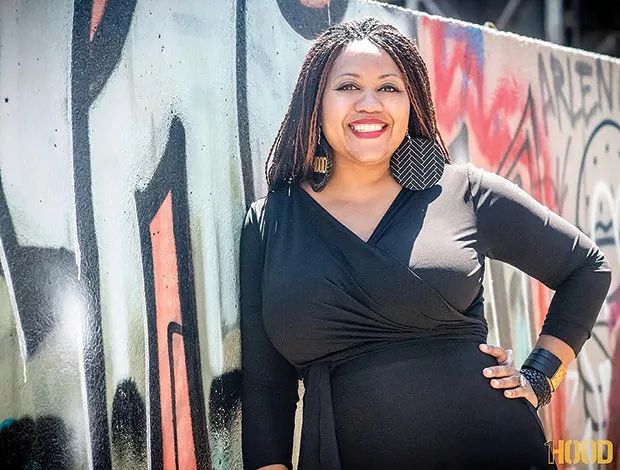 Photo courtesy of Leah John
Celeste Smith
Celeste Smith, CEO of hip-hop and activism collective 1Hood, has a similar mindset. "We do vote and encourage people to vote their own interests, but it's never been about an election," she says. "It's always been about the work." While many where shocked by Trump's rhetoric, it "was something that I was aware existed. When you're into activism, you see it," she says. For 1Hood, "it's still business as usual. We keep fighting because certain things have not changed."
Smith says artists need to "find their community," find their cause and focus on it. But it's not enough for the rest of us to simply offer fandom, or emotional support: Artists need help in more tangible and, specifically, financial, ways. "I think more artists need to band together, unify and believe in themselves. Otherwise, people aren't going to value what we do. Just like with activism: People don't mind activists taking to the front lines and risking their necks and going to jail. We cheer! But we won't support those same artists financially."
That's a philosophy that 1Hood in general, and Smith in particular, has championed for a long time. This coming year, the collective has plans for a new program that will help artist/activists learn how to make their art a sustainable livelihood — a concept that seems like a pipe dream for many artists, and isn't even on the radar of many who enjoy the artistic output of their neighbors. "The artist community isn't just performers; it's presenters, it's promoters, it's even people who own buildings," Smith says. "Artists … don't make a livable wage, so a lot of them have difficulty even paying rent." Now more than ever, in other words, it is the responsibility of all of us to stand up and take care of those who are speaking loudest against injustice.