CP photo by John Colombo
Lifting at Arsenal Strength
Ask people what they know about the fitness regimen known as CrossFit, and many will offer some variation of, "I've heard it's really hard," or "CrossFit is scary."
In the 17 years since its creation, the program has developed a reputation for being brutally tough due to its reputed intensity; CrossFitters practice some of the same lifts as Olympic weightlifters. But several studies have demonstrated there are real health benefits associated with the practice.
According to a study published in the American Journal of Physiology-Endocrinology and Metabolism in May, CrossFit can be beneficial for people with diabetes. Researchers followed 12 people with Type 2 diabetes who did CrossFit three days a week, to see what effect the exercise would have on insulin production. At the end of six weeks, insulin production and liver function were significantly improved.
CrossFit combines high-intensity interval and strength training. In addition to cardio activities, such as running and rowing, exercises often involve the use of barbells, dumbbells, medicine balls, kettlebells and gymnastic rings.
CrossFit gyms emphasize competition within group classes, and there are CrossFit competitions around the globe. And it's this competitive aspect of the fitness regime that has led many to be wary of it.
"It's an intimidating thing," says Brooks DiFiore, owner and head coach at Arsenal Strength, a CrossFit gym in Lawrenceville.
DiFiore and his colleagues are aware of the sport's reputation. In order to break down some of that intimidation factor, they launched the New You challenge in August. For six weeks, participants were tasked with attending one-hour group classes at the gym three days a week. The program was designed to take the guess work out of exercising.
"This is six weeks of people not having to think about their health and fitness," says DiFiore. "We've created a whole plan for you to follow, including a meal plan."
The challenge is geared toward beginners who haven't tried CrossFit before, which includes this reporter. Joining the challenge would be a great way to demystify an exercise routine that frightens so many.
Arsenal's staff recommends pairing the exercise regimen with a paleo diet and provides participants with a nutrition guide. Paleo is a mostly low-carb diet that emphasizes eating meat, seafood, eggs, fruits and vegetables. (Full disclosure: I had a hard time following the meal plan.)
On day one of the challenge, participants completed a routine combining cardio and strength training. On their last day of class, they'll complete that same routine to check their progress.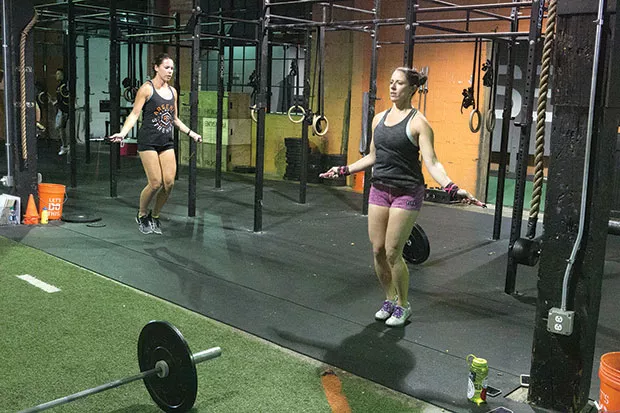 Each session starts with a warm-up, usually consisting of running or rowing. After that, classes went in a variety of directions — no two classes were ever the same — but during each class, participants either learned a new lift or built on one they had learned previously.
Weightlifting is a major component of CrossFit, but at Arsenal you don't start learning lifts with a barbell stacked with weights. Instead, instructors teach each lift using PVC pipes meant to simulate barbells. Form is important, so lifts are taught in steps. Only when your form has been perfected do you move on to a barbell with actual weights. This kind of gradual instruction makes weightlifting less intimidating.
Each class usually concluded with the high-intensity interval-training portion of the workout. Occasionally, this took the form of a competition, with teams racing to complete exercises. For example: 20 air squats, 500 meters of rowing, 20 sit-ups, followed by 10 pull-ups on the gymnastic rings. Other times, participants were given a routine to complete and told to see how many times they can complete the routine in a certain amount of time.
While the competitive aspect of these classes might seem daunting, it actually reinforces teamwork. Teammates often cheered each other on during workouts, and everyone pitched in to help clean up when the workout was completed.
To further put participants at ease, instructors at Arsenal don't pressure you into lifting more weight than you and they think you can handle, and they'll tell you to lower your weight if they see you straining too much.
Each class lets you see how you're progressing. For instance, you'll find that those warm-up runs have been getting easier as the weeks progress. And each time you practice a lift, you'll find you can add more weight to the barbell.
But if you aren't seeing such marked improvements, that's OK, too. After the six weeks are over, DiFiore hopes challenge graduates will continue to take classes and keep exercising at Arsenal.
"What makes people stick around," he says, "is the community you build."