Over droning guitars, strings and simple changes reminiscent of the Velvet Underground's "Heroin," vocalist Natalie Felker toys with a phrase: "So long as it all stays the same ..." It's tempting to think of that phrase as a mantra for her band, The Fervor, whose debut album, Bleeder, gains much of its resonance and poignancy from staying pretty much the same throughout.
The Fervor hails from Louisville, Ky., and released a self-titled EP in 2005. Originally the husband-and-wife duo of Natalie and guitarist Ben Felker, the band expanded to include drummer Mat Herron and bassist Michael Campbell -- the lineup that's on a tour stopping at Gooski's on Mon., April 7.
Bleeder is a gorgeous, slow-moving mess: perfect, lazy backbeats overlaid with keyboards, laconic vocals and washes of alternately chiming and fuzzed-out guitar. The album-opener, "Moment of Truth," had me from the first note. Over a droning organ intro, Natalie drops a dispassionate depth charge: "The moment of truth / of which no such words should pass those lips / sleepin' sound in the den of faithless whores / I realized my fate was settled at the foot of those doors." Drums build; guitars descend like birds of prey; the song lurches off toward the horizon.
It's intense and dramatic music, but so muted, so reined in, that it doesn't present an emotional landscape of peaks and valleys so much as a dreamscape where, as Bob Dylan sang, "everything stays down where it's wounded." Sure, there are a few changeups and surprises, such as when "Old State Road" turns on a dime from druggy and daydreaming to determined and driven. But for the most part, The Fervor "stays the same." And sometimes that's just perfect.
The Fervor with The Mack and The Chad Sipes Stereo. 9 p.m. Mon., April 7. Gooski's, 3117 Brereton St., Polish Hill. $5. 412-681-1658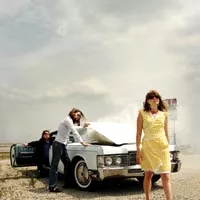 Courtesy Kriech-Higdon
Broken down: The Fervor