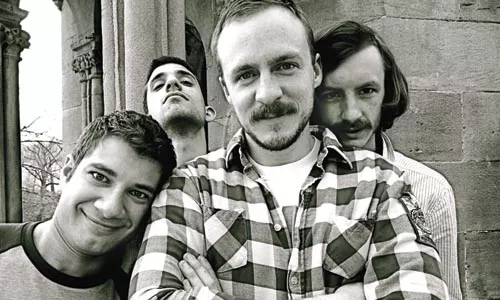 Beer for their horses: Horse or Cycle
The big front door at Espresso a Mano is open wide, letting in the sunny spring morning. Liam Cooney arrives via bicycle; he's headed to work afterward at Venture Outdoors, and is wearing one of the organization's shirts. We order coffee and talk about his band, Horse or Cycle -- a name he insists is nonsensical, with no bearing on his mode of transit.
"This is definitely my baby," says Cooney, and reveals that Horse or Cycle is the first time he's been the singer for a band. Starting with songs he'd written and recorded on his own, he gradually attracted a number of musicians already active in what he calls "the East End music scene" -- multi-instrumentalist Chris Ryan, drummer Steven Stens, bassist and guitarist Rick Moslen. "I basically bring folk songs and they make it interesting," he says. "Everyone has a different style of playing and musicianship."
"We all like the indie guitar-rock of the '90s," Cooney says, citing the likes of Dinosaur Jr., Built to Spill and Pavement. "Creatively, we've got something that's maybe a bit different, and we can add something to the scene."
After a few demos and live recordings, available on Horse or Cycle's MySpace page, the band began recording with Jake Hanner of local rock band Donora; now the group releasing its debut album, Flood Season, as a digital download and limited vinyl run.
Cooney says two of his favorite songs are "The Well" and "Two Hearts," songs that show the band's different emphases. "Two Hearts" is all big, triumphant guitars with minimal lyrics -- the most recent song, written by the full band. "The Well" is an acoustic number, with denser lyrics and a sparse musical atmosphere -- coincidentally, also one of the oldest songs.
"What Jake did [on "The Well"] production-wise adds to the effectiveness of the lyrics," says Cooney. Other flavors are periodically woven into the songs -- some country pickin' ("Oh Captain, My Captain), thunderous toms ("The Last Day on the Block"), a touch of Irish rock ("Pop Song").
One of the album's later tracks, "Dreaming About the Vinelands of New York," hits upon a great combination of propulsive groove, weird sounds and imagistic lyrics, with an unhinged guitar break in the middle. The drums and guitars remind me a bit of The Secret Machines, topped with lyrics of almost Van Morrison-esque mysticism: "The dry air of the west always lit her eyes / Like the morning moon up anchor still in the sky / Giving to the Sun its final test / Dissolving into blue to find its rest."
Horse or Cycle album release with Boca Chica and The Get Real Gang 9 p.m. Fri., May 14. Belvedere's, 4016 Butler St., Lawrenceville. $5. 412-687-2555