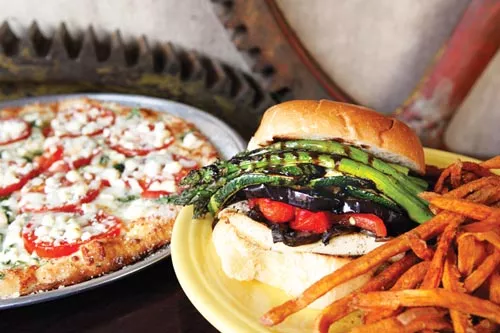 Local Bar and Restaurant
1515 E. Carson St., South Side. 412-431-1125
Hours: Mon.-Sun. 11 a.m.-2 a.m.
Prices: $5-13
Liquor: Full bar
In this era of farmers' markets and the 30-Mile Meal (one whose ingredients are gleaned from sources within 30 miles of where said meal is consumed), the word "local" has taken on a freighted significance, at least when it comes to food. But we're sure you'll excuse Local Bar and Kitchen, a new South Side drinking and casual-dining venue run by folks who bring you the nearby nightclub Diesel, if it doesn't mean it that way.
Rather than striving for locavore cred, Local invokes the more fundamental meaning of the word in much the way Philadelphians or Chicagoans do when they say they're heading "down to the local" -- i.e., the nearby pub for a drink and a chin-wag with friends. Though not particularly a Pittsburgh term, this use of "local" has a distinguished working-class pedigree that's a good match for our city, and particularly the South Side.
This Local has wide-open storefront windows right on East Carson Street and one of the sweetest roof decks in the city. These are the places to be; deeper inside the downstairs dining room, away from the open windows, the ambience can be a little dark and airless. But not unattractive: Local plays up the heritage of its neighborhood with oversized old industrial gears mounted on the walls and an aesthetic that's more exposed brick than clothed table. And to satisfy any grumbling about what "local" means, it's also stocked up on local beers and ingredients for the kitchen as well.
The menu doesn't stray too far from the pub-grub formula -- fried appetizers, sandwiches, pizza -- but quite a few dishes sport a gear icon beside them, indicating "signature recipes" that promise (or at least suggest) something out of the ordinary.
Fried zucchini, as a concept, is about as ordinary as it gets, and Local's rendition was, well, what it was -- ridged discs of squash, breaded and fried to a dark crisp. But the accompanying horseradish-cream sauce made for an excellent alternative to the traditional marinara (also available). And mild, freshly grated horseradish gave the sauce more zing and complexity than the jarred version can offer.
It was a promising start, as was the Plain Jane Street cheese pizza we ordered as kids' food. Even our kids agreed that the crust could have been crisper, but Angelique happily consumed their cast-offs. She loved that the dough was full of herbs and dusted with garlic and parmesan to make it as flavorful as the pizza toppings themselves. Sauce and cheese were applied judiciously, rather than in big sloppy slathers, which was good because beneath the toppings, the crust was thin. But generous margins at the pizza's edges made room for a big rise and created what effectively became tasty breadsticks along with the pie.
The grownup pizza we ordered looked just as good but failed to deliver. Dubbed "Spicy South of the Border," its combination of ancho-dusted steak tips, corn salsa and jalapeños sounded delicious, even if we had our doubts about fried tortillas on top. The tortillas never materialized, but the real disappointment was the steak, which was chewy and had an unpleasant double-cooked flavor; if it was to be seared first, then it should have been put on the pizza at the last moment, not at the start of baking. The corn salsa was also decimated by the oven's heat, becoming little more than a scattering of parched kernels across a faintly red crust. The utter failure of this dish made us wonder if the plain pizza and the horseradish cream were to be the high points of the night.
Fortunately, Local's kitchen knows its way around a sandwich -- for the most part. Jason ordered the Don't Be a Jerk Chicken (we admit to being suckers for menu puns). This combined jerk spices and roasted banana peppers to spicy, but not punishing, effect, assisted by the wise inclusion of sweet, roasted red peppers as a foil. The jerk flavor itself could have been a bit more prominent, but that's a minor quibble, especially since the grilled breast itself was so moist and flavorful.
The same adjectives could be applied to a dining companion's excellent pulled-pork sandwich. But Angelique's burger, which she ordered medium-rare, came out as charred tartare on a bun. Fortunately, she had filled up on pizza crusts, and so didn't mind when Jason took over. He found the burger's raw interior less off-putting and enjoyed the combination of piquant buffalo sauce and tangy blue cheese on top.
If our experience had its highs and lows, we admit it's possible that anything would taste good on Local's roof deck. Its view, of 16th Street climbing the South Side slopes to the summer sky, is local in the very best sense of the word.