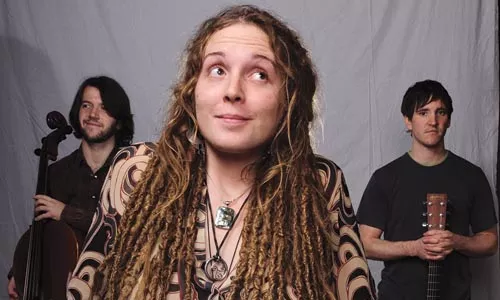 Release your paradigm: Between Liberties
It can take years for a band to find a memorable sonic signature, and most never really make it that far. But though it's just over a year old, local acoustic trio Between Liberties seems well on its way with its debut CD, From the Lamplight. Over eight songs, the group creates a consistent, burnished, autumnal sound out of simple materials: the subtle folk of Jason Buzon's guitar and harmonica, the sober tones of Wytold Lebing's cello, and the low, intimate vocals of Erika May.
May, or "EMay" as she's sometimes known, holds an art degree from Carnegie Mellon, and seems determined to apply her creativity to every available surface. She performs with Between Liberties and solo, bellydances at Ren Faires, does "fire-spinning," writing and visual art, as well as promoting events and blogging about the local music scene. (It's this constant bustle, I suspect, that got the fledgling Between Liberties out on the road for a short tour last spring.)
Yet rather than a hippie vibe, Between Liberties' songs can offer an almost Springsteenian obsession with down-and-outers and blue-collar workers. The album-opener, "Emily," tells of a woman who longs to escape "a job that / takes so much time from my life," while "In the City" describes the pricks of conscience that follow blowing off a man asking for money (and who inexplicably uses the word "paradigm" in his pitch).
Between Liberties seems at its best, though, on more personal themes, such as the breakup song "I Know Better," with its lovely extended outro, and the guarded utopian longing of "Evergreen." See for yourself at the group's CD-release show on Fri., Feb. 20, which also marks the debut of new percussionist Tom Pashby.
Between Liberties CD-release show with Chai Baba, Boca Chica, Machete and Zack Simmen. 8 p.m. Fri., Feb. 20. Club Café, 56-58 S. 12th St., South Side. $8 ($10 at the door). 412-431-4950 or www.clubcafelive.com