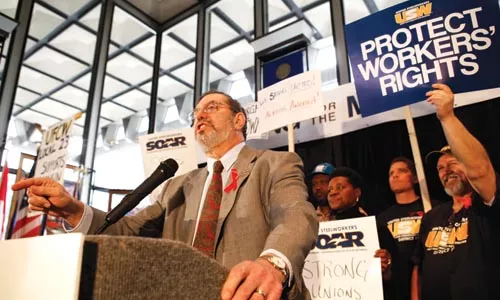 Leo Gerard, president of the United Steelworkers International, addresses the crowd at a union rally Feb. 24.
Wisconsin Republican Gov. Scott Walker may have drawn the most ire from state and local labor leaders during a Feb. 24 rally Downtown, but some Pennsylvania lawmakers may not be far behind.
Walker has proposed severely limiting collective-bargaining rights for most public employees in Wisconsin -- a move he says is needed to help fill a $137 million budget deficit this year, and a projected $3.6 billion deficit through 2013. Across Pennsylvania and the nation, meanwhile, labor groups and their supporters have rallied in support of Wisconsin workers.
Pennsylvania Republican Gov. Tom Corbett hasn't proposed anything like Walker's bill. But labor leaders like Jack Shea, president of the Allegheny County Labor Council, notes that there are some union foes in the state.
He points out that Rep. Mike Turzai (R-Bradford Woods) has proposed privatizing state wine and spirits stores, which are currently staffed by about 4,000 unionized state employees. Rep. Daryl Metcalfe (R-Cranberry) has previously introduced a "right-to-work bill," which would allow workers to opt out of joining a union -- something labor leaders fear would erode their bargaining power. Bolstered by statements that Corbett would sign a right-to-work bill if it were approved by the legislature, Metcalfe said in a Feb. 23 Pittsburgh Tribune-Review article that he plans re-introduce the bill within a month.
Shea says that in Pennsylvania, both parties have legislators "who understood our issues and didn't try to do away with the middle class."
"You've got guys like your Metcalfes and your Turzais that are trying to do away with the unions," Shea says. "But I don't believe it would ever get that far."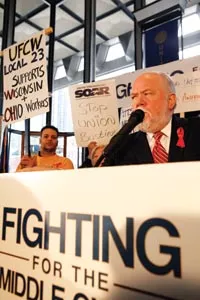 Jack Shea, president of the Allegheny County Labor Council, says he doesn't think Pa. legislators would attack unions like lawmakers have in Wisconsin.
Some labor leaders say they aren't sure where Corbett, for one, stands on plans for labor.
Frank Snyder, secretary-treasurer of the Pennsylvania American Federation of Labor and Congress of Industrial Organizations (AFL-CIO), says he "hasn't heard anything" from the administration. And Leo Gerard, President of the United Steelworkers International, closed the Feb. 24 event by shouting, "We'll have to wait and see if Corbett gets up here on stage with us in the next four years."
If Corbett has surprises in store, residents may not learn about them until his budget address, slated for March 8. But lawmakers like state Sen. Jim Ferlo, (D-Highland Park) and state Sen. Jay Costa (D-Forest Hills), aren't immediately concerned about Corbett's intentions. The governor's spokesman has said that the governor is not proposing changes to the state's collective-bargaining law.
Costa points out that "the rights of public employees to collectively bargain has strong bipartisan support here." And, he adds, during the economic downturn, organized labor has been a "responsible partner" by making concessions. In the 22 states that have right-to-work laws in place, Costa contends that "it has not been the panacea that folks portrayed it to be."
Ferlo agrees. "We have enough folks in the legislature on both sides of the aisle that aren't so hard-lined or myopic. And an awful lot of Democrats voted for Corbett, let's be honest. But he has to be sensitive to that broader constituency."
The 2010 midterm elections ushered in a sweep by the GOP nationally: Republicans like Walker won a majority of the available governors' seats, and the GOP also took control of the U.S. House. In Pennsylvania, Republicans gained control of the state House and maintained their majority in the Senate, while Corbett won the governor's mansion.
Ferlo cites a list of reasons for the swing nationally and in Pennsylvania: a bad economy, dissatisfaction with the party in power, an ongoing war overseas and a Wall Street bailout. "Throw in some racism, xenophobia, [FOX News host] Glenn Beck and 24/7 corporate media," Ferlo adds, and that's a recipe in which "Corbett, et al. win power."
Traditionally speaking, what's bad for the Democratic Party has been bad for unions.
Unions, after all, "are often the foot soldiers of the Democratic Party because they tend to represent our interests," says Tony Helfer, president of UFCW Local 23 in Canonsburg.
So where was all this energy six months ago, before the GOP wave struck in the November elections?
"The last election -- people got complacent and didn't go out and vote. When that happens, things like the Tea Party group get energized," Helfer says. "People sat out the election, and because of that, it's costing us dearly now."
Some of the current momentum also comes from what others in the labor movement call the Wisconsin governor's brazen attack on the middle class. "It's the boldness of Walker," says Kipp Dawson, a Pittsburgh Public Schools teacher and former coal miner. "It finally woke people up."
Walker's budget bill includes a measure that state and local employees -- except for police, fire and state patrol -- could only bargain for base pay and no other benefits.
In Wisconsin, it directly threatens the public-sector workforce, which has seemed to hold its own over the years even as union membership has generally declined.
According the Bureau of Labor Statistics, public-sector workers across the country had a substantially higher union membership rate of 36.2 percent, compared to just 6.9 percent of private sectors workers in 2010.
Overall, about 11.9 percent of the workforce belongs to unions nationwide. In 1983, according to the BLS, union membership was at 20.1 percent.
In Pennsylvania, according to the BLS, unionized employees accounted for 14.7 percent of the workforce in 2010.
Since Walker introduced his bill on Feb. 11, protestors have descended on Madison, Wisc. In Pennsylvania, the bill "really galvanized a movement," says Snyder, of the AFL-CIO. Walker, he says, "is going around like a dictator trying to strip people's rights away."
But Corporate America in general, and Wall Street in particular, were also big targets at the Feb. 24 rally.
"We're not the problem!" yelled Gerard of the Steelworkers. "The problem is the political system that's trying to divide us -- the political system that gives tax breaks to the rich and ultra rich that they don't damn well need."
Meanwhile, Ferlo believes the labor movement will be part of what provokes a progressive change, with efforts including the environment and women's rights.
"The legislature always wants to divide people," he says. "But I think the reality is 'all that glitters is not gold' in terms of the last election."