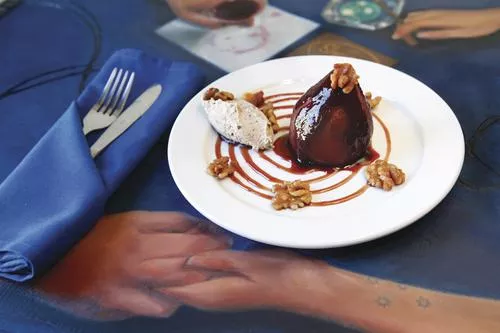 Poached pear with fig-rum mascarpone quenelle and sweetened walnut
108 43rd St., Lawrenceville. 412-683-4004
Hours: Tue.-Sat. 11 a.m.-10 p.m.
Prices: Soups, salads, burgers and sandwiches $3-8; entrees $10-30
Liquor: BYOB
Some seven years ago, Josephine LaRussa-Impola brought funky fine dining to a street corner in residential Lawrenceville, closer to the river than to Butler Street. Excellent and eclectic, her River Moon Café was the capstone to a lengthy career in the food industry. After a good, long run, LaRussa-Impola gave up the restaurant, passing along the space to another, younger veteran, Dan Robinson, formerly of Cafe du Jour.
In his new venture, Kaleidoscope Café, Robinson has maintained River Moon's sense of off-the-beaten-path funkiness. There's an exploding kaleidoscope of fabric-covered triangles on the walls, an actual handmade kaleidoscope on each table, and a menu that's black and white and interesting all over. In a sense, it's a throwback to an earlier wave of contemporary American cuisine, emphasizing unusual juxtapositions of ingredients, such as a lobster-and-white-bean purée alongside fish, or fig in a "rustic marsala sauce." But other dishes are clearly of the moment, with pistachio dust atop duck cannoli (that's right, cannoli, the cookie shell, not cannelloni, the pasta wrapper), and a sense of the seasons.
Deep-fried gnocchi, served with a marinara dipping sauce, sounds a bit like upscale bar food, but not even the fanciest bars have gnocchi this light and fluffy: Dusted with Parmesan, they were as irresistible as popcorn.
A sauté of chicken-apple sausage was prepared with more apple, red onion and walnut in a maple-rum sauce and finished with melted brie and a mixed berry coulis. This could have been a triumph of sweet and savory in balanced counterpoint to one another, but the sweetness of fruit, syrupy sauce and coulis tipped the balance, eclipsing much weaker notes of salt and spice.
Of the several promisingly conceived salads on Kaleidoscope's menu, the Farmhouse salad achieved what the chicken-apple appetizer did not: Its honey-roasted beets, pears, toasted walnuts, gorgonzola and balsamic vinaigrette created a dynamic interplay between sugary fruit, chewy nut-meat and tangy cheese, all against the leafy-fresh background of mixed greens.
Excess sweetness played an encore in Jason's pork chops, in which a habanero-apple compote proved to be all apple with hardly a touch of piquant pepper. Apple and pork is, of course, a venerable combination, but there was also a minted-lentil puree that was a much more interesting foil to the meat; this too was dominated by the compote, however. Still, the boneless pork chops -- often a tricky cut to keep moist -- were quite good: well seared, and cut to a medium thickness that made for a satisfying proportion of meat to other ingredients.
Basa -- a sweet, light white fish better known as Vietnamese catfish -- was succulently pan-seared, topped with just-wilted spinach and crisp slivers of bacon, and served alongside a winsome purée of lobster and white beans. With the texture of hummus and the luxurious flavor of lobster both muted and extended by the earthy beans, the purée was an unusual but excellent accompaniment to the fish's sweet savor.
On a menu of mostly simply named dishes with straightforward descriptions, one entrée, The Cow Jumped Over the Blue Moon Pasta, stood out for its poetic title that could not have been more aptly descriptive. This dish featured a creamy Alfredo sauce studded with blue-veined gorgonzola cheese, sliced beef and a cameo appearance by a sweet onion confit. In this case, the sweetness was a welcome counterpoint to the rich -- and delicious -- pasta. The menu didn't name the cut of beef, but the slices were tender but more flavorful than is typical of filet, adding a savory, umami layer to the velvety creaminess of the sauce.
Come dessert time, we splurged when two different cakes called our names. Though each featured just one flavor -- lemon and chocolate, respectively -- each layered various versions of it to build up its flavor. The lemon dessert combined cake, custard and icing to create a thoroughly lemony confection that was neither tart nor excessively sweet; the chocolate topped a fudgy brownie with strata of chocolate cake and ganache for an intense cocoa effect that retained a touch of lightness and plenty of moistness. The desserts were baked by LaRussa-Impola as a labor of love from semi-retirement; Robinson told us she wasn't sure how long she'd be able to continue to supply the restaurant, so you'd better hurry.
Kaleidoscope's intriguing menu refracts contemporary trends in sophisticated casual dining through the fond memory of River Moon Café, whose chef remains attached to the current venture. If some of the appetizers and entrees seemed better suited to the dessert menu, the desserts themselves were standouts, and the overall ambience is of a great place for a meal that feels intimate and a little bit special without being reserved for special occasions.