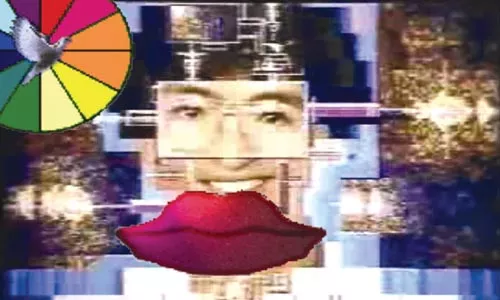 Video still from Paper Rad
Artist-in-residence Jacob Ciocci. In its 2-D work, the vaunted artist collective Paper Rad (whose members include Pittsburgh Filmmakers artist-in-resident Ciocci) can suggest Pokemon as drawn by Richard Scarry on shrooms: lurid primary and secondary colors and teeming simple shapes, a kid-friendly aesthetic here laced with deadpan, beyond-punchlines humor. A 10-minute preview of this 90-minute show of new Paper Rad work indicates that the group's appropriated-video ambitions embrace that approach and far more: It's a consciousness-stream of music-video mashup, Flash animation, YouTube weirdness, Nintendo psychedelia, the discreet charm of Donkey Kong, and bizarrely ecstatic children's television. Ciocci will also present cartoons, and film and video clips, that have influenced the group. Is Paper Rad knowingly childlike, or simply purveying eye-candy for the post-ironic? Either way, any audience ingestion of illegal substances will be entirely superfluous. 9 p.m. Sat., Nov. 3. Melwood
Pascua Lama: A Contemporary Quest for El Dorado. In some ways, this world premiere exceeds what you'd expect of a documentary about the economic and environmental impacts of a huge planned mine in Chile; in other ways, it falls short.
Pittsburgh-based, Chilean-born artist Carolina Loyola-Garcia and her sister, Gloria Loyola, take on Canadian-owned Barrick Gold Corp.'s scheme to claw gold and silver from a mountain. It's an operation whose preparatory phase alone has apparently polluted the water on whose purity the scantly populated, desert's-edge farmland of the Alto de Carmen valley depends; the company is even smashing the glaciers where the water originates (and which are already diminished by global warming). While Loyola-Garcia's video art is notable for its striking visuals, Pascua Lama consists mostly of talking heads: Interviews with farmers, other locals and environmental activists thoroughly assess the costs of dumping mine tailings in streams and trucking fuel, explosives and other toxins over mountain roads.
More ambitiously, Pascua Lama provides the big picture: Despite massive mineral wealth, Chile stands to realize little economic gain from such projects because neo-liberal economic policies permit foreign investors to reap profits (typically without even paying taxes) while leaving locals with a big poison hole in the ground. The film implicitly shames affluent consumers -- the gold market is driven by jewelry sales -- but the main point is clear: With lax enforcement of weak environmental laws and a blind embrace of globalization, Chile's leaders are literally selling their country downstream.
Unfortunately, in the 64-minute Pascua Lama you won't meet any of those leaders, nor any Barrick representatives. If the filmmakers tried to interview them, they don't say. We do hear two voices favoring the mine: One is identified as a "businessman," though we're not told what his business is; segments featuring a national-level chamber-of-commerce official provide the only real dialectical tension. The Barrick mine seems a thorough travesty. But to short viewers on a thorough airing of all points of view -- even (or especially) if some of them prove untrue -- disserves the voices of dissent as well. In English and Spanish, with subtitles. 7 p.m. Wed., Nov. 7. Melwood