Page 2 of 4
Lawrenceville sits along the Allegheny River, spanning from 34th to 62nd   streets. It was named after a War of 1812 veteran, and war catalyzed Lawrenceville's birth and became a theme in its tragedies and industry. It was the site of a 30-acre government-owned arsenal, which tragically exploded during the Civil War, killing about 80 workers, mostly young girls.
By mid-century, steel mills began to dot the riverfront, including McConway & Torley, established in 1868 by William McConway and John Torley. By the 1880s, Lawrenceville's river bank was lined with mills. A couple held on through the 1980s, but today, only McConway & Torley survives.
M&T's website boasts that it's "as old as the American Railroad industry." The foundry makes steel products for the rail industry, including its signature railcar coupler. Today, its parent company, Trinity Industries, which has owned it since 1998, touts it as the leading producer of railroad couplers in the U.S.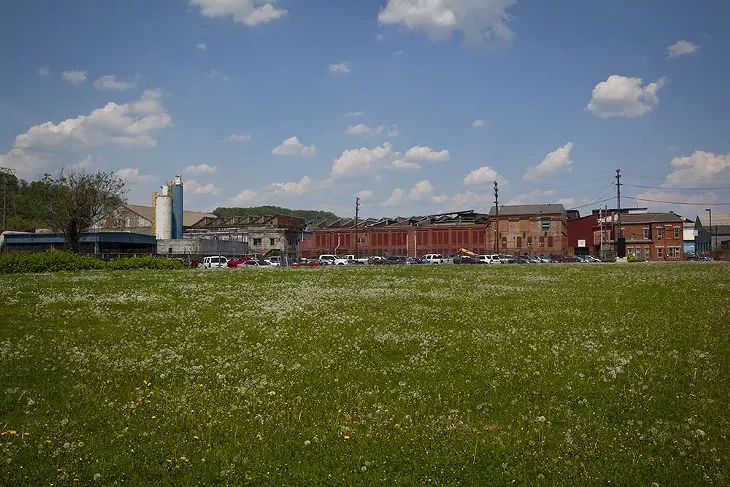 11 slides
"The manufacturing of a freight-car coupler is more sophisticated than people realize," says Russell Peterson, CEO of Carload Express, which owns and operates the railroad that runs through Lawrenceville and does business with McConway & Torley. "Consider the environment it is in. Some trains are pulling 18,000 tons. It must be an extraordinarily reliable device."
Today, the foundry employs 420 nonunion workers who start at $15/hour plus benefits but can average up to $20 — 88 percent of whom live in Allegheny County, according to the company. The company will not say how many live in Lawrenceville, nor would it grant City Paper an interview.
Trinity is based in Dallas, incorporated in Delaware, and in North America runs 18 facilities that manufacture tank barges, construction materials, containers, wind towers and railroad products. An April letter to investors put total revenues at $6.2 billion and net income at $678 million.
Back at the steel foundry along the Allegheny River, scrap metal continues to be melted and cast into railroad products. However, M&T has been operating without a federal air-emissions permit since the 1990s. The Group Against Smog and Pollution (GASP), a local air-quality watchdog, says that the Allegheny County Health Department missed its deadline for issuing that permit in the late 1990s. The health department disputes that deadline.
"Because M&T was engaged in many significant modifications/upgrades to the plant over the past several years, work on the operating permit was deferred," Jim Thomspon, deputy director, said in an email to City Paper.
In 2010, the company applied to the county for permits for new furnaces. And in a legal settlement with GASP, the company agreed to use filters to offset emissions from the new furnaces. In 2011, the ACHD instituted the first-ever limit on how much steel M&T could melt: 92,500 tons per year.
Last fall, GASP — whose offices are located in Garfield, just up the hill from Lawrenceville — wrote a letter to the health department, pointing out that the foundry had never been issued an operating permit under current EPA regulations, and followed that up with a 60-day warning that it would take legal action if ACHD didn't.