Parking is scarce along Lawrenceville's main artery, Butler Street, on a Friday night. Bars and restaurants are packed. Come Saturday morning, a line snakes out of a gourmet French bakery. Development in the neighborhood is booming.
"We're the only neighborhood I can think of that has a single-screen movie theater, a bowling alley and a pinball arcade within a block," says Matthew Galluzzo, of the Lawrenceville Corp., a neighborhood development group active since the 1980s.
The 2.5-square mile residential and commercial district boasts old and new, as illustrated in the corporation's logo — a World War I soldier signifies legacy, and a green vine represents growth. "History in the Remaking," reads the tagline below the image.
A look around the neighborhood reveals the new Children's Hospital towering over the historic Allegheny Cemetery and shiny, new condos built just across from riverfront industry. A banner hanging on a chain-link fence advertises "luxury urban living" in planned dwellings with rooftop decks.
It is a neighborhood of contradictions. While most housing stock was built before the 1940s, rents now average $734 a month, according to census data, nearly double what they were 15 years ago. The number of affordable housing units built since 2012 can be counted on two hands. Yet 14 percent of families earn below the poverty line and most kids enrolled in neighborhood schools qualify for free or reduced lunch.
Photo by Heather Mull
Tina Gaser, who lives near the foundry, says she doesn't want the facility to close but expects that the Allegheny County Health Department will ensure residents healthy air to breathe.
"The neighborhood is still in need," says Galluzzo. "That gets lost in gloss."
Cut through that gloss and head toward the river — down the street from the newly built condos — and you can see a huge remenant of what Lawrenceville once predominantly was: a riverfront industrial neighborhood.
At the end of 48th Street sits McConway & Torley, a 19th-century steel foundry, still operating today with hundreds of workers melting scrap metal and pouring steel castings. The hidden-away foundry supplies much of the U.S. rail industry with important parts that keep railcars safely connected.
But the needs of the neighborhood, residents say, include less noise, less truck traffic and less air pollution, part of which they attribute to the foundry.
"They've been a good neighbor except for smells and air pollution," says Tina Gaser, a resident who bought her home 10 years ago and rents part of her building to a small boutique toy shop.
Taking the company by surprise, the Allegheny County Health Department is just now investigating how much dust and particles from the steelmaker end up in the air and, presumably, in the lungs of Lawrenceville residents. The agency has proposed to drastically cut what the foundry is allowed to produce, which the company says could result in fewer jobs at the plant.
M&T is at the heart of a debate in a changing neighborhood — a complex examination of health and air, abundant and stretched resources, and socioeconomics. And the question that everyone is trying to answer is whether this urban growth and successful industry can co-exist.
"It's our job to make sure there's a community conversation around it," Galluzzo says.
Lawrenceville sits along the Allegheny River, spanning from 34th to 62nd   streets. It was named after a War of 1812 veteran, and war catalyzed Lawrenceville's birth and became a theme in its tragedies and industry. It was the site of a 30-acre government-owned arsenal, which tragically exploded during the Civil War, killing about 80 workers, mostly young girls.
By mid-century, steel mills began to dot the riverfront, including McConway & Torley, established in 1868 by William McConway and John Torley. By the 1880s, Lawrenceville's river bank was lined with mills. A couple held on through the 1980s, but today, only McConway & Torley survives.
M&T's website boasts that it's "as old as the American Railroad industry." The foundry makes steel products for the rail industry, including its signature railcar coupler. Today, its parent company, Trinity Industries, which has owned it since 1998, touts it as the leading producer of railroad couplers in the U.S.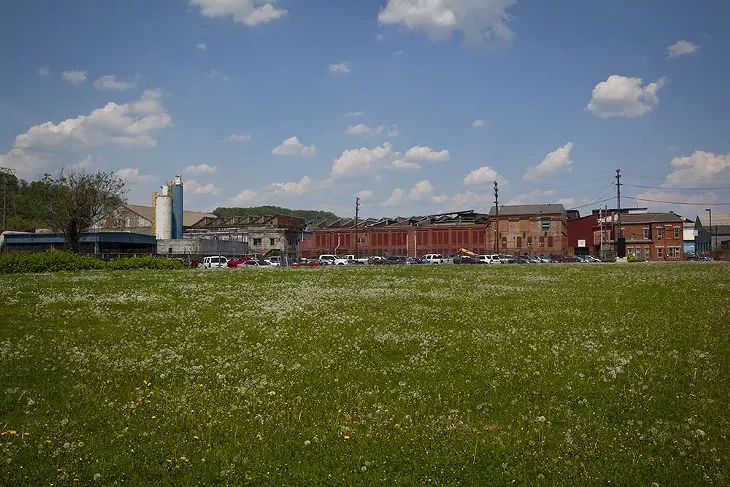 11 slides
"The manufacturing of a freight-car coupler is more sophisticated than people realize," says Russell Peterson, CEO of Carload Express, which owns and operates the railroad that runs through Lawrenceville and does business with McConway & Torley. "Consider the environment it is in. Some trains are pulling 18,000 tons. It must be an extraordinarily reliable device."
Today, the foundry employs 420 nonunion workers who start at $15/hour plus benefits but can average up to $20 — 88 percent of whom live in Allegheny County, according to the company. The company will not say how many live in Lawrenceville, nor would it grant City Paper an interview.
Trinity is based in Dallas, incorporated in Delaware, and in North America runs 18 facilities that manufacture tank barges, construction materials, containers, wind towers and railroad products. An April letter to investors put total revenues at $6.2 billion and net income at $678 million.
Back at the steel foundry along the Allegheny River, scrap metal continues to be melted and cast into railroad products. However, M&T has been operating without a federal air-emissions permit since the 1990s. The Group Against Smog and Pollution (GASP), a local air-quality watchdog, says that the Allegheny County Health Department missed its deadline for issuing that permit in the late 1990s. The health department disputes that deadline.
"Because M&T was engaged in many significant modifications/upgrades to the plant over the past several years, work on the operating permit was deferred," Jim Thomspon, deputy director, said in an email to City Paper.
In 2010, the company applied to the county for permits for new furnaces. And in a legal settlement with GASP, the company agreed to use filters to offset emissions from the new furnaces. In 2011, the ACHD instituted the first-ever limit on how much steel M&T could melt: 92,500 tons per year.
Last fall, GASP — whose offices are located in Garfield, just up the hill from Lawrenceville — wrote a letter to the health department, pointing out that the foundry had never been issued an operating permit under current EPA regulations, and followed that up with a 60-day warning that it would take legal action if ACHD didn't.
What the health department did next is now the source of controversy. In a January review of McConway & Torley's operations, the health department stated that it would no longer accept as an emissions control a condition the foundry had been reporting for years — that the walls of its building had been keeping 50 percent of its dust and particles away from the community. "The Department no longer allows for use of buildings as a control device for particulate matter," ACHD stated.
"In the draft permit, we assumed no building efficiency," says Jim Thompson, deputy director of the health department. "If more is leaking out, then they can't operate as much."
Now, says the health department, if McConway & Torley wants to remain in its current permit category — as a minor source of synthetic pollution — its permitted production must drop from 92,500 tons of melted steel per year to just 21,250. Last year, the foundry melted twice that, according to a public statement by Harry Klodowski, the company's environmental legal counsel, at the health department's hearing on the foundry's permit last month. Jumping into the major-pollution permit category would mean more fees and regulations for the foundry.
As to actual emissions, however, the health department doesn't know how much particulate matter is wafting out of McConway & Torley. It says it will take the next several months to monitor testing conducted by an independent company.
The threat of production loss, along with the fresh scrutiny of an industrial facility operating without the proper permits has roused public debate. In an editorial last week, for instance, the Pittsburgh Tribune Review called GASP a "rabble-rouser," saying that "eco-wackos and hipsters" started this fight.
"Some interest groups are throwing out words like 'benzene,' 'particulate matter' and 'manganese' as a scare tactic," Klodowski said in his public hearing testimony. McConway & Torley executives held their ground the entire night at the front of the room, lining the space behind the podium. "We agree that safeguards should be in place to protect those that live and work in the facility and the neighborhood."
"My understanding is that [the health department] changed the formula [to calculate emissions] without warning. That goes beyond rude," said Carload Express' Peterson in a phone interview. He also testified at April's public hearing about the importance of McConway & Torley to the railroad industry.
Workers and their family members expressed concern for the more than 400 jobs at the foundry. Though the foundry didn't melt its full allowance last year, they said production cuts would cost jobs.
"I want you to go and ask the people in Homestead and Duquesne if they would like the mills back," said Russell Lange in his testimony. He identified himself as a Lawrenceville resident and foundry employee, who also had time under his belt at U.S. Steel. "I bet you they would trade the low-paying, dead-end jobs and high crime in a heartbeat for good days ... knowing you had a good job."
Tina Gaser, the woman who lives near the foundry and rents her building's storefront, painted a different picture at the meeting.
"In October 2013, 911 received a call about a carbon-monoxide detector blaring. My husband made that call. He and I both felt nauseous and light-headed, and the Pittsburgh Fire Department arrived. They tested all sources in our home and found no internal leak ... they determined that it came from outside, possibly from the plant down the street," Gaser said in her testimony.
In her testimony, she said that last summer her husband had a stroke caused by a heart rhythm that developed a blood clot, which traveled to his brain. "[It] was attributed directly to environmental causes," she told the crowd.
A monitor along the chain-link fence surrounding the facility has been measuring heavy-metal particulate matter since spring 2011. Results published on the health department's website show manganese levels averaging 50 percent above U.S. Environmental Protection Agency limits. The EPA cites studies indicating a "consistent pattern" of neurotoxicity from exposure.
The health department's Thompson says the EPA told him that the measurement was no longer valid, and to use a different guideline developed by the Centers for Disease Control, which is more lax. The filter has recorded manganese levels above that CDC limit nine times over the last three years.
"Given the proximity of the industry to the community ... and ACHD's established policy on sources of chemical-toxicity information, the more protective [EPA] value is the one that ought to be used," Rachel Filippini, executive director of GASP, said in an email to CP.
The EPA says when choosing benchmarks for cancer and noncancer risks, it uses its own guidelines first, which were developed in 1993, and then looks to other benchmarking guidelines that have since been developed in the same way — using peer reviewed processes that are supported by the Scientific Advisory Board. It says the CDC's guidelines, finalized in 2012, updated the EPA's original standards with new findings for manganese and other similar metals.
"Years of data from an upwind monitor indicating excessive levels of pollutants raises concerns of what is really coming off of the plant and into the neighborhood," said Mark Dowiak, who lives in Beaver County but is remodeling a Lawrenceville house he recently purchased near the foundry.
If steel production took a plunge at the foundry, it's doubtful that Lawrenceville would follow the trajectory of places like Homestead. While some workers there might be relying on jobs, the local economy is not relying on the foundry. Just in the past two years, 36 new businesses have opened. The highest list price for a residential property on the market right now is $748,000. The crime rate has decreased significantly over the past decade, according to Lawrenceville United.
"The challenge is figuring out if those things can co-exist and under what conditions," Galluzzo says. "It's really the charge of the ACHD to default to protecting community health."
Joel Haight, director of the University of Pittsburgh's Safety Engineering program, says there are several things the health department needs to consider. One is whether the filters on the foundry's furnaces are the right size and maintained properly.
"One of the things with heavy metals is that when you melt them, they actually will evaporate, but they condense really quickly to a very, very small particulate size," Haight says. Small particles can be more dangerous because they can be inhaled deeply into the lungs. "There are a lot of questions that would need to be answered before major changes are made. I think the health department should be responsible enough to ask the correct questions."
Could M&T maintain current production levels but simply install better emission controls?
"Certainly the technology exists," says Anthony Deardo of Pitt's Mechanical Engineering & Materials Science department. "It's a pretty small operation. Usually we're talking about millions of tons per year."
M&T has had residential neighbors since its inception. If air quality has been in the public's consciousness since the 1970s, and permits for minor sources were due in the 1990s, why target the foundry now?
"Permitted facilities in Allegheny County [are] competing for attention [and] ... the ones classified as major sources tend to get more attention," said Joe Osbourne, legal director for GASP. "Ideally, we or ACHD would have become aware of the issue sooner, but hindsight is 20/20."
Asked why the ACHD didn't address M&T's missing permit sooner, Sandra Etzel, chief engineer at the ACHD, said that perhaps the department was short-staffed. Seven people in the health department's air-quality program are in charge of permitting 410 facilities in the county. Of those, 31 are classified as major sources.
Meanwhile, among Lawrenceville residents who've spoken publicly about the issue, several say they don't want the foundry to shut down. They just want to know they are safe.
M&T's closure "is certainly not my wish," Gaser says. "But we do expect clean air to breathe."
GASP agrees. "This isn't an issue of jobs versus the environment or old Pittsburgh versus new Pittsburgh," Osbourne says. "Whether this facility was located in trendy Lawrenceville or somewhere not so trendy, GASP's concerns would be the same."
EDITOR'S NOTE: An earlier version of this report appeared on the website and in print. The updated version includes a response from the EPA.