Earlier this month, newly elected Western Pennsylvania Congressman Keith Rothfus took his first substantive vote — by opposing $9 billion in flood insurance for victims of Superstorm Sandy. Only a small number of hardline conservatives opposed the bill; even local Republicans Tim Murphy and Mike Kelly supported the aid. Rothfus explained that while his "thoughts and prayers go out" to storm victims, disaster aid should be paid for with cuts elsewhere in the budget. 
Many Pennsylvanians may have been surprised by Rothfus' vote. Last year, he campaigned as a "Regular Guy" — a concerned dad who worried about deficits, but was still an actual human being. What about those ads showing him mowing the lawn and fixing his kids' bicycles? 
City Paper has learned that the Rothfus team is already working on his 2014 re-election bid.  And we've gotten an advance copy of a Rothfus TV ad, which suggests how he'll reconcile his family-guy persona with his extremist beliefs. Here's a preview.
"I'm Congressman Keith Rothfus. And I believe that governments — just like families — need to have a budget and stick with it. And in the Rothfus family, that means making some tough choices."
"Sure, I know how to fix things, honey. But only in ways that are revenue-neutral. That's why I'm taking parts from your bike to fix your sister's."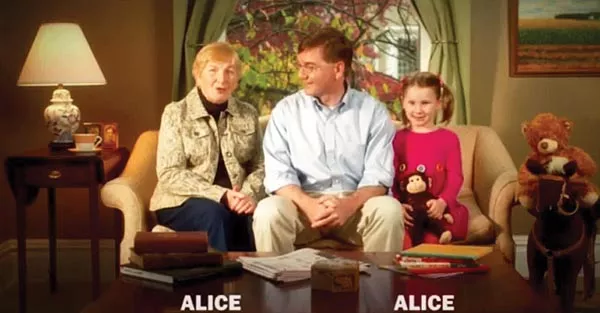 "Our basement flooded last week, doing $20,000 of damage. But I refuse to go into debt to pay for it. Which means that having two Alices in the family is a luxury we can no longer afford."
"I can't kick out my mother, because that would alienate seniors — and I won my first election by pretending Democrats endangered Medicare. But Little Alice here ain't creating any jobs, and we're wasting a lot of money on education and other 'social services.' So ..."
"Alice, my thoughts and prayers go out to you. Now get the hell out of the car, and don't come back until you've found a job of your own."
"Now that we no longer have to listen to your little sister whining, there'll be more capital-gains revenue for the rest of us!"