The current manifestation of the "Gestures" series at the Mattress Factory, intriguingly titled Illustrations of Catastrophe and Remote Times, includes artworks and installations by 21 participants, not all of whom (as per the series' premise) were trained as visual artists. They include a graphic designer, a robotics researcher, a musician, a window designer and a doll maker.
An exhibition of artworks by such an assortment of individuals ought to generate interest through sheer variety. Guest curator Heather Pesanti, who's assistant curator of contemporary art at the Carnegie Museum of Art, raised the conceptual bar by asking each participant to read a passage from "The Domain of the Great Bear," by the illustrious artists Mel Bochner and Robert Smithson, published in 1966 in the periodical Art Voices and premised on the theory that a magazine offers an alternative place for the display of artwork.
The exhibition's title refers to a page of the article. Bochner and Smithson were inspired by a conversation in a diner near New York's Museum of Natural History and Hayden Planetarium, during which Bochner and Smithson complained of the difficulty of having art dealers visit their studio. (Apparently, all the dealers ever told them at that early stage of their careers was, "Send me some slides!") Why, they wondered, was it necessary to make original works of art at all? Why not just make the reproduction, and forgo the original altogether?
They presented the idea for their article to the editor of Art Voices under the guise of a serious article about the Hayden Planetarium. As published, the text/article/art work makes visible the relationships between the sublime and the ridiculous, and the contrast between the universe and the banality of earth. For example, there are reproductions of a sign depicting a hand pointing to "Solar System and Rest Room," and a shot of the planetarium's grand entrance hall highlights the IBM logo above the "Astronomia Corridor."
Pesanti asked the Illustrations of Catastrophe artists to read and respond to the essay, with site-specific installations, however they might choose. What makes this show in the Mattress Factory annex worth at least one, if not two or three visits, is speculating on how much the ideas in Bochner and Smithson's article influenced the participants, if at all: The artist might have chosen to completely disregard the text. For viewers, this suggests an interesting game of interpretation.
Graffiti artist Danny Montano (who was arrested, two days before the show's opening, for tagging city and private properties) installs his bed, dresser, stereo, drawings and other objects in the gallery, creating a new "site" for art: his own bedroom. This idea is inspired by another work by Robert Smithson, in which he installed rocks and dirt from specific (non-art) sites in the gallery as sculpture.
Among other exciting works is Michael Ferrucci's "...and I feel fine." A vintage-clothing-store proprietor and window dresser, he utilizes mannequins and props to create a tableau inspired by an R.E.M. song suggesting an apocalypse. This is fittingly displayed nearby John Carson's prints of dents and scratches on cars, cropped to become completely abstracted, suggesting the beauty in destruction -- much like Lauri Mancuso's painterly installation, "Aging a Decaying Mill Town," in an adjacent room.
Meanwhile, David Wettergreen, an associate research professor at Carnegie Mellon's Robotics Institute, exhibits a video installation on the floor of a small, surreptitious closet space that features footage taken by robots exploring the Atacama Desert in Chile, the driest climate on earth. Wettergreen again imports science into the realm of art and, like Bochner and Smithson, asks us to question what constitutes the identity, and locale, of art.
Illustrations of Catastrophe and Remote Times continues through May 11. Mattress Factory, 1414 Monterey St., North Side. 412-231-3169 or www.mattress.org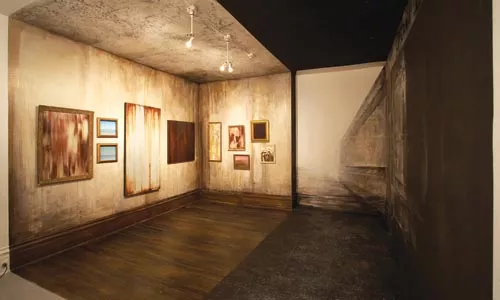 Catastrophes illustrated: Lauri Mancuso's "Aging a Decaying Mill Town."