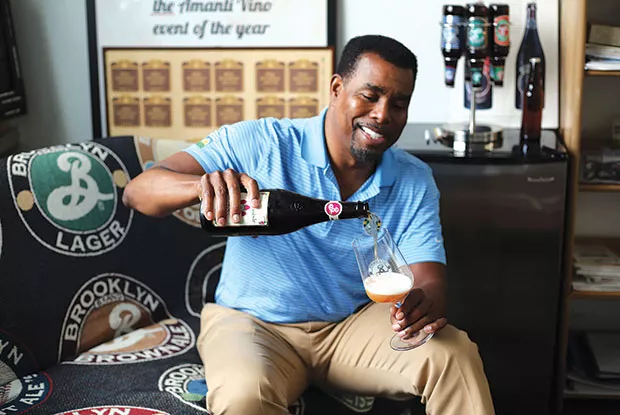 CP photo courtesy of Hop Culture
Garrett Oliver, brewmaster at Brooklyn Brewery, pours a beer during an interview with Hop Culture.
The popularity of craft beer is rising more swiftly than ever, with about 5,000 breweries across the United States. Pittsburgh, the original home of the boilermaker, has embraced the trend wholeheartedly, with new breweries opening seemingly every week. Kenny Gould, editor-in-chief of newly launched Pittsburgh-based online magazine Hop Culture, saw a need for broader and more diverse coverage of the beer industry.
Gould, a Pittsburgh native, and managing editor Travis Smith met at Gear Patrol, a men's-lifestyle magazine in Manhattan, where both worked as writers. Gould had been writing about beer after he finished his assignments. "I thought, 'This is fun. I get to write about something delicious,'" he says. His interest in beer developed in college, when he'd joined some friends in their "beer of the month club," which he took over when the organizer graduated. Now, a few years and jobs and a master's of fine arts from Chatham University later, Smith and Gould have teamed up to produce Hop Culture.
After living in Pittsburgh for a year and freelancing for magazines like Craft Pittsburgh and TABLE, Gould was surprised to still be discovering breweries he hadn't heard of. "I thought, 'Why aren't there more resources for [local craft beer],' and that's when I realized I should probably create that," he says. "Fifty-seven percent of beer drinkers are millennials, according to the Brewer's Association," Gould says, "We're a daily online lifestyle magazine for the newest generation of drinkers."
The magazine, though based locally, has a national footprint and means to focus on what Gould calls "second wave" beer writing. This means focusing on profiles and more in-depth analysis of beer and the beer industry. "A lot of the writing we were seeing was more subjective than objective: reviews, opinions and thoughts. We're more interested in stories," says Gould. Hop Culture is also looking to expand the audience for beer writing. "Historically, beer has been written about for a very specific audience, typically white men," says Gould. The publication plans to focus on inclusivity for groups that might not normally feel welcome in the craft-beer world and offer new perspectives. For instance, a post published three days after the soft launch details writer Caroline Southern's experience with being pregnant and a beer-lover. This will be a 10-part series and ultimately Southern's master's thesis.
Other coverage from Hop Culture includes a daily piece on what's happening in the craft-beer industry; beer travel guides; and "beer gear" like books and the latest tech. (Editor's note: Hop Culture's copy editor is On The Rocks columnist Drew Cranisky.) Gould and his team are excited to be based in Pittsburgh and to write about the local scene as well. "I wouldn't have started this magazine in a different city," he says.