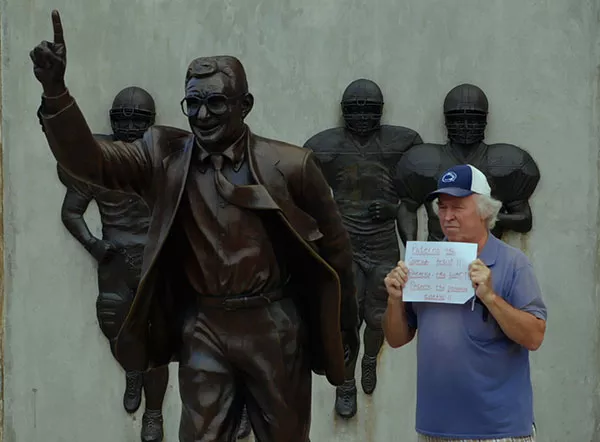 Photo courtesy of Music Box Films
Bernie McCue protests next to the Joe Paterno statue in Happy Valley
Amir Bar-Lev's new documentary examines how football-crazed State College, home of Penn State, reacted in the wake of the Jerry Sandusky child-rape scandal. Bar-Lev posits, as many have, that blind adoration of the football program allowed former defensive coordinator Sandusky to commit his crimes for decades. After the program was tarnished, the community was left confused and defensive. Among those interviewed are family members of late head coach Joe Paterno, and Matt Sandusky, Sandusky's adopted son, who said he had also been molested. Bar-Lev's film is well shot, and he does a great job of building tension in this chronological tale, with the best scenes — those featuring the riots that followed Paterno's firing — coming in the film's first 20 minutes. But even if you're tired of everything related to the Penn State scandal, Bar-Lev's film is worth the time for the questions it raises about the limits and perils of our excessive fandom.