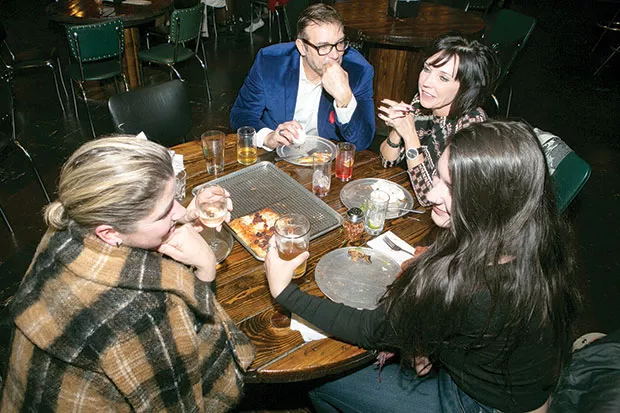 CP photo by John Colombo
Happy hour at Spirit
Happy hour doesn't necessarily have to be cocktail hour. With lots of great local breweries popping up, and wall upon wall of taps to try, it's easy to get a hankering for a beer to shake off the stress of the day. But where can craft-beer lovers go in Pittsburgh to crack a cold one once the day is done? Here are a couple of suggestions to make you hoppy.
Beerhead Bar Pittsburgh. This is one of the longer happy hours on our list. You have three hours to capitalize on getting $1 off of all Pennsylvania drafts, 15 percent off large-format bottles and 25 percent off beer flights. Try a few new beers on the cheap, or that special big bottle you've been eyeing. 4-7 p.m. Mon.-Thu., and 5-7 p.m. Friday, North Side

Butterjoint. A seat here snags you $4 craft beers. The draft offerings change frequently and pull unique brews from all over the country, covering multiple styles and ABVs. Grab a snack from the superb Legume kitchen from the comfort of your bar seat. 4:30-6:30 p.m. Mon.-Fri., Oakland
Full Pint. Only a handful of local breweries play the happy-hour game. Full Pint is one of them. Stop in for a half-priced pint or two. 5-6:30 p.m. Tue.-Sat., Lawrenceville
Grist House. Grab your pooch and head to this Millvale brewery to get $1 off pints. You and Fido can have a blissful few hours of companionship and a few beers. 5-7 p.m. Wed.-Fri., Millvale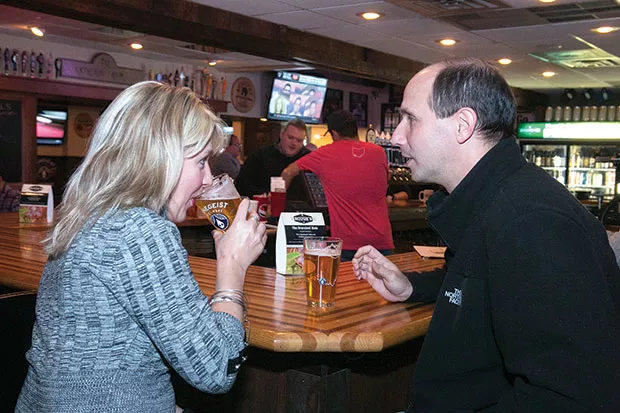 CP photo by John Colombo
Happy Hour at Houghs
Houghs. It's Pittsburgh, so we know that potatoes go great with everything. Happy hour at Hough's means $5 giant spuds (potatoes loaded with things like brisket, pulled pork and veggies) and $4 drafts to wash them down. With 73 taps, you're sure to find a winner. 4-6 p.m. Mon.-Fri., Greenfield
Independent Brewing. This cozy place, with a frequently rotating draft list, likes to keep it mostly local while throwing the spotlight on two or three "inspirational non-local" brews. Take $2 off all drafts. 5-6 p.m. Mon.-Thu., and 4-6 p.m. Fri.-Sun., Squirrel Hill
Sharp Edge. This bar has long been a haven for Pittsburgh beer drinkers. Swing by for half off Belgian and craft drafts and $1 off imported drafts during happy hour. Look for food specials — Monday night is wing night. 4:30-6:30 p.m. Mon.-Fri., multiple locations
Smallman Galley. This restaurant incubator is a great choice for curious eaters and drinkers. The bar menus always have a fun theme (right now it's Pulp Novels) and you can snack while taking half off of all beers, cocktails and wines. All the drafts are from Pennsylvania. 5-7 p.m. Tue.-Fri., Strip District
Spirit. Find a ton of local beers on the menu, and chow down on some pizza to boot. All of the drafts are half off, and ordering a pizza gets you a bonus salad and garlic knots. 5-8 p.m. Tue.-Fri., Lawrenceville