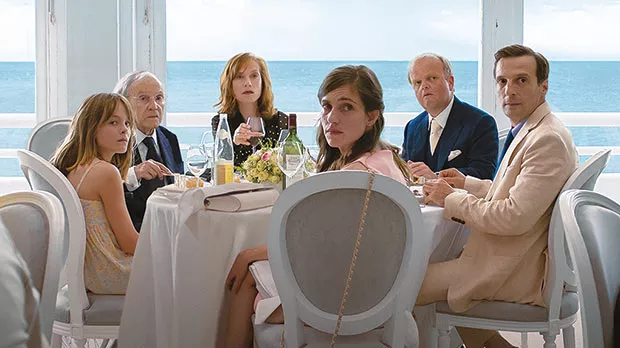 In an echo of his penetrating thriller Caché, the director Michael Haneke (Amour) often keeps his voyeuristic camera at a distance from his characters in Happy End. This technique eschews intimacy in a disquieting drama, as we watch the members of a wealthy family enact and endure (or not) the tedious-to-toxic exigencies of everyday life.
There is a plot of sorts — an accident at the family business' construction site — but it doesn't matter much: Happy End is another familiar Haneke treatise about the decay of heart and soul, and I'm pretty sure a hamster died in the making of the film. It also suggests the loss of self in our age of social media, which this old director shrewdly employs to contemporize his themes.
The cast — the immutable Isabelle Huppert, Mathieu Kassovitz, a tranquil Jean-Louis Trintignant, and young Fantine Harduin, an Huppert heir — is the best French cinema has to offer, and they perform with natural ease through many long takes in Haneke's eerily unnatural film. The title, of course, is ironic, like his brutal Funny Games, and it's always absorbing to watch this chilly director at work, although there's nothing remarkably new here in his redoubtable canon.
In French, with subtitles. Starts Fri., Feb. 23. AMC Loews Waterfront