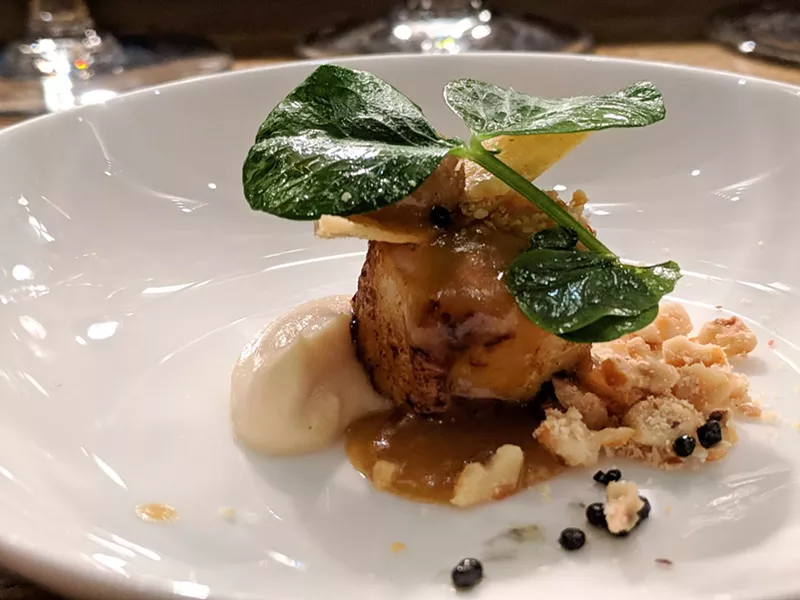 CP photo: Maggie Weaver
Balotine of Amish chicken paired with celeriac puree
For one night, Chef Julio Peraza opened his kitchen to three renowned Pittsburgh chefs. The results were stunning, each course was an exceptional display of culinary expertise.
As head chef at Fl. 2, the restaurant inside the Fairmont hotel in Downtown, Peraza welcomed chef Justin Severino (Morcilla and Cure), chef Roger Li, (Umami, Ki Pollo, and Ki Ramen), and chef Sam DiBattista (Vivo Kitchen) to the second installment of his Guest Chef Dinner Series.
Peraza's kitchen was a stage. The dinner was a performance from talented chefs, a show of exquisite plates. The evening was a delight, as the chefs joked, chatted, and embraced; it offered a glimpse into the not-so-cutthroat side of a kitchen. Peraza's six-course event featured one dish by each chef, including the sous chef and pastry chef from Fl. 2, chef Adam Reson and chef Dwight Penney, respectively. Every plate brought new flavors to the palate yet stayed cohesive.
Amuse Bouche: Chef Adam Reson
Reson opened with an amuse bouche, a snack-size preview into the evening's flavors. A balotine (roasted and stuffed chicken) of Amish chicken was paired with celeriac puree, charred apple sauce, and a Wonderbread crisp. The chicken (pictured above) was beautifully prepared, mingling with the bitter puree and sweet applesauce for a perfectly balanced bite.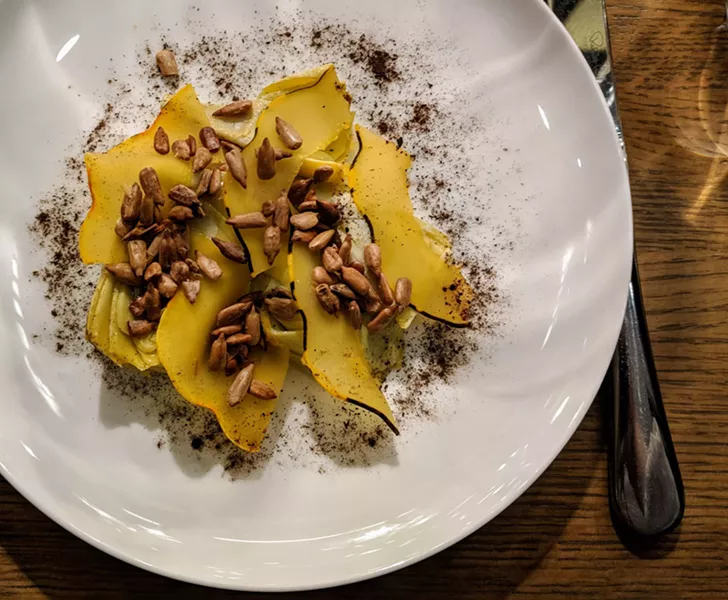 CP photo: Maggie Weaver
Artichoke topped with sunflower seeds, smoked brined carnival squash, and a dusting of vegetable ash
Course 1: Chef Justin Severino
Severino followed Reson with a course of artichoke topped with sunflower seeds, apple cider, smoked brined carnival squash, and a dusting of vegetable ash. All of the components added distinct flavor. The sourness from the artichoke played with the ashy, salty flavor of the carnival squash. The bitter vegetable ash complemented the acidic apple cider. If the dish was deconstructed, each element could stand alone. But together it was pure bliss.


CP photo: Maggie Weaver
Wild suzuki fish, ginger, cilantro, and fermented black beans
Course 2: Chef Roger Li
Watching Li plate the second course was hypnotic. The plate, wild suzuki fish, ginger, scallion, nikiri sauce, olive oil, cilantro, and fermented black beans, was doused in hot oil before service. It sizzled and steamed, barely wilting the fresh herbs. The fish was tender and light, its mild flavor enhanced by fresh, spicy ginger and crispy scallion. The fermented black beans exploded with flavor, salty and sharp, giving the fish a punch.


CP photo: Maggie Weaver
Lamb loin paired with baby gem lettuce and pearl onion
Course 3: Chef Julio Peraza
For his course, Peraza prepared a lamb loin and paired it with baby gem lettuce, pearl onion, goat's curd, mint infused lamb jus, and a light shaving of white truffle. The lamb was like butter, no steak knife needed. The charred, mellow onion added a light sharpness to the plate's earthiness, softening with the velvety goat's curd. Flavors were subtle and allowed the components to shine equally.

Course 4: Chef Sam Dibattista
Dibattista offered a dish that screamed comfort. Braised beef, so delicate it fell apart with the slightest tap of a fork, was set over creamy, herbed polenta and finished with a charred onion ring. It was gorgeous, the beef's red sauce spilling into the luscious polenta. The onion was crisp, and cut through the plate's creamy base with a sharp crunch.

CP photo: Maggie Weaver
White chocolate mousse with lemon curd and raspberry jam
Course 5: Chef Dwight Penney
Penney, the new pastry head at Fl. 2, led the dinner from savory to sweet. His plate was a white chocolate mousse with lemon curd and raspberry jam finished with a shard of lemon meringue. The dessert was whimsical. Dots of curd and jam held tiny, edible flowers that stood out next to the pale, rich mousse. The meringue topped Penney's creation. It was crunchy and light, melted in the mouth, and left with the zing of fresh lemon.

The Guest Chef Dinner was six courses of pure satisfaction, each plate a testament to the city's talented chefs.
Overall, the night was the type of all-encompassing culinary exploration you would expect from some of the city's most-talented chefs. Look out for what the dinner serves up next time.