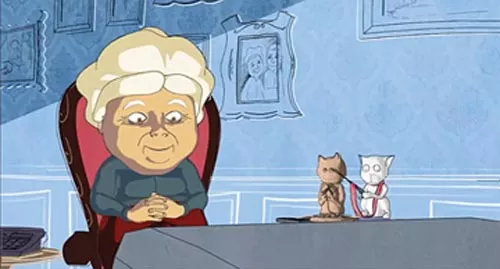 Mike Honeck's "Collectible"
Rats are represented by "Rat Stories," an engaging 28-minute essay by University of Toledo instructor Holly Hey, who says she wanted "to take on a subject that made me really uncomfortable." The video -- a version of which has screened on PBS affiliates nationally -- is built around the time Hey and her partner trapped a wild rat in their yard. In interviews and documentary episodes, it also covers the rodent's natural history, symbolic function in Camus' The Plague and use as a totem for some Burning Man-style revelers, and appears both in 1940 laboratory footage and in the flesh at a show for rat-fanciers. (Hey will attend the screening.)
"Rat Stories," incidentally, features animation by Jo Dery, who contributes two shorts of her own. The Chicago-based animator's "Echoes of Bats and Men" uses gorgeous stop-motion-animated paper cutouts to evoke her former hometown of Providence, R.I., from its pre- to post-industrial eras in what she calls "a fantasy about these buildings being occupied by bats." The film, with its whimsical original music, has screened at festivals including the International Film Festival Rotterdam. Also screening is Dery's "The Great Exodus," which consists of unadorned 16 mm footage of bats in Texas and New Mexico leaving their caves for a twilit sky, complete with chirp-filled soundtrack.
The program's feline-themed films include two shorts by Pittsburgh-based filmmakers. Jim Mueller's "Lamb to the Slaughter" uses a voyeuristic camera set-up to observe two masked figures and a hapless feline -- very Halloween. And Mike Honeck's "Collectible" is a skillfully made digital animation, suggesting Pixar with a dark side, about an old woman with an obsession. Honeck made the short while a student at Carnegie Mellon's Entertainment Technology Center, where he's now a staffer. It won four 2011 Silver Telly awards against national competition. 8 p.m. Tue., Oct. 11 (7 p.m. reception). Melwood Screening Room, 477 Melwood Ave., N. Oakland. $5. 412-681-9500