Without question, fall is the most exciting time of year for cinema-goers. Forget all the artificial thrills of summer's fading blockbusters: Autumn's slate of festivals, special events and yes, even Tinseltown's Oscar-bait is what sets area film enthusiasts a-tingle.
The first of the 'Burgh's two long-running festivals to return is the Pittsburgh International Lesbian and Gay Film Festival (www.plgfs.org), now in its 23rd year. The fest runs Oct. 17-26, at SouthSide Works, and offers 47 full-length and short films, with an emphasis on gay issues and relationships. Program highlights include: the steamy Steam, starring Ally Sheedy and Ruby Dee; the gritty Argentine drama XXY; and Were the World Mine, a contemporary musical riff on A Midsummer Night's Dream.
Cineastes barely get a week's respite before the 27th annual Three Rivers Film Festival (www.3rff.com). The Pittsburgh Filmmakers affair runs Nov. 7-22, with more than 40 films screening at the Harris, Regent Square and Melwood theaters. As always, variety is key, with short features, documentaries, indies, international cinema (including a brace of Polish films) and the ever-popular restored silent classic, presented with live musical accompaniment. (This year, it's Joseph von Sternberg's 1928 drama The Last Command.) Also of note this year: "Pittsburgh Reframed (at 250)," a program of short films, in which local filmmakers incorporate footage from a seldom-seen, long-shelved 1958 Pittsburgh promotional film.
The Andy Warhol Museum (www.warhol.org) gets into the act with one collaborative film event and a four-pack of rare silent and early sound Hollywood features. 13 Most Beautiful ... Songs for Andy Warhol's Screen Tests combines the pop-artist's silent-film portraits with live commissioned music from duo Dean & Britta, formerly of Luna. Part of the Pittsburgh International Festival of Firsts, and jointly presented by The Warhol, the Pittsburgh Cultural Trust and the Lesbian and Gay Film Festival, it all happens at the Byham Oct. 24 and 25.
Fans of really freaky film won't want to miss The Warhol's presentation on Oct. 31 of 1930's The Unholy Three, starring Lon Chaney in drag. The other Unseen Treasures scheduled include: I Kiss Your Hand, Madame (Oct. 4); King Vidor's 1925 WWI masterpiece The Big Parade (Nov. 28); and Prix de Beauté (Dec. 12), a 1930 French film starring Louise Brooks.
Outside the established festivals, plenty of foreign film is available for hungry eyes this season, including the ongoing Global Lens series. This 10-film series of international film continues weekly at Harris and Regent Square through Nov. 1 (www.pghfilmmakers.org).
Tucked inside the Oakland university zone, meanwhile, are three international film series that offer both unique fare and free admission. Carnegie Mellon and Pitt combine forces to present the Japanese Film Series, three recent film adaptations of popular manga novels, screening Sept. 26, Oct. 3 and Oct. 10, at CMU's McConomy Hall (www.ucis.pitt.edu/asc/). Amigos del Cine Latinoamericano is a weekly Wednesday-night screening at the Frick Fine Arts Auditorium, with a focus on recent Latin American and Latino films (amigosdelcinelatinoamericano2008.blogspot.com); the program runs through Dec. 10. Beginning Sept. 26, Pitt offers Beur Is Beautiful: Maghrebi-French Filmmaking, a six-film weekly series highlighting issues of French descendants of North African immigrants (www.ucis.pitt.edu).
In addition, Pittsburgh gets its close-up this fall. Greetings From Pittsburgh: Neighborhood Narratives is a collection of nine short films, each set in a different part of the city (www.pghneighborhoodnarratives.com). The project debuts at the Regent Square on Sept. 25, with eight additional screenings at venues throughout the city through Nov. 8. And on Nov. 28, Carl Kurlander's My Tale of Two Cities, his account of leaving Hollywood to return to his hometown of Pittsburgh, has its local premiere at the Byham.
And we're representing at the megaplex this fall, too. Our fair town stands in for The End of the World As We Know It in the much-anticipated adaptation of Cormac McCarthy's post-apocalyptic downer The Road, due out Nov. 26. On the lighter side, Zack and Miri Make a Porno (Oct. 31), the latest comedy from Kevin Smith, was also shot here (discreetly, we hope).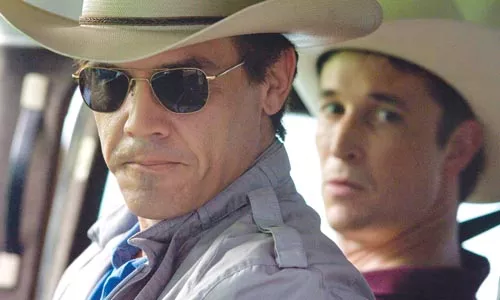 Smith probably shouldn't expect a call from the Academy, but film fans will want to mark their calendars for these more weighty features: sci-fi-ish thriller Blindness (Oct. 3); Oliver Stone's George Bush bio-pic, W (Oct. 17); and cop drama Pride and Glory (Oct. 24). And if you must have explosions, reserve Nov. 14: Daniel Craig will bring the noise as James Bond in Quantum of Solace. Fall, at least, truly offers something for everybody.