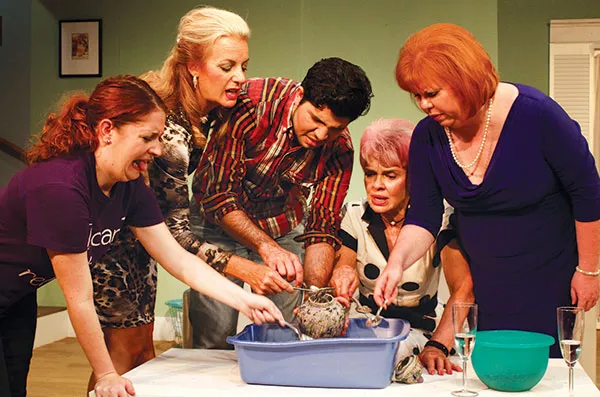 Photo courtesy of Josh Reardon of Scorpio Entertainment
Left to right: Katy Grant, Renée Ruzzi-Kern, Noah Zamamiri, Lynne Martin-Huber and Mary Quinlan in Exit Laughing, at South Park Theatre.
When one happens to run a summer "straw hat" theater, one is always on the look-out for the dream play. It should be a light comedy taking place on one set with a small cast featuring roles for women of, um, a certain age. Given those prerequisites, it would appear that South Park Theatre has hit the jackpot with Exit Laughing, a light comedy by Paul Elliott which takes place in a living room where three women, members of a weekly bridge club, come together to memorialize a fourth.
With South Park having come so close to achieving theatrical nirvana, it seems churlish of me to say that Exit Laughing isn't a particularly good play. I don't want to sound too harsh, since Exit Laughing has no intent but to charm and entertain you … and maybe send you home with a little life lesson: The women have arrived at middle age, and only through the death of their friend do they understand the importance of living life as much as possible.
Even these modest goals, however, seem to be just out of Elliott's reach. There's a general comedy feel to the evening, he does manage to land a few big jokes, and his great affection for the three women comes across forcefully. But the whole thing plays like a worn sitcom episode on one of the less-than-premium cable stations. Elliott attempts to inject some drama into the piece with a subplot about one woman's daughter and an errant boyfriend, but it's so hokey as to strain credulity.
But then again, why on earth should you listen to me? The audience was having a great time, lapping up the obvious humor and mindless sentimentality. So maybe the powers-that-be at South Park know more than me.
I do know that director Helga Terre and her cast — Mary Quinlan, Renée Ruzzi-Kern and Lynne Martin-Huber — share the playwright's great abiding love for these characters and their stories, and infuse the women with plenty of humanity. I also know, however, that no one would complain if maybe the energy were higher and the pace faster. Katy Grant and Noah Zamamiri have the thankless roles of daughter and boyfriend, and almost make them work.
Exit Laughing comes so close to fitting the bill.