Two things unavoidable this fall are the presidential election and the flu. You can improve your odds against the flu with a vaccine — unless, of course, you have issues with "big" government agencies like the FDA, CDC and WHO — but the only cure for politics is to stay informed.
A number of new exhibitions just might help you do that. And, by the way, you can get a flu shot at Carnegie Mellon's Miller Gallery, on Sept. 20, in conjunction with Imperfect Health: The Medicalization of Architecture (Sept. 14-Feb. 24). Organized by the Canadian Centre for Architecture, in Montreal, the exhibition presents projects for buildings, interiors and open spaces that address medical issues and that respond to our fears about things like environmental toxins. While this exhibition takes a global perspective, more specific to Pennsylvania is the Marcellus Shale Documentary Project, at Pittsburgh Filmmakers Galleries (Oct. 11-Jan. 6), a photographic exploration of the environmental, social and economic impact of the Marcellus Shale gas industry.
Cory Arcangel: Masters at the Carnegie, Nov. 3-Jan. 27
No Job No Home No Peace No Rest: An Installation by Will Steacy, at Silver Eye Center for Photography (Sept. 14-Dec. 15), is described as "both a chronicle and critique" of American policies and politics that uses thousands of newspaper clippings as well as photographs. Two other shows exploring politics and war are Incredible Grace: One People, Two Continents, Three Centuries of War (Sept. 28-Oct. 6) and The Nazi Olympics: Berlin 1936 (Oct. 15-February), both at the August Wilson Center for African American Culture. The former will explore African-American and African involvement in wars over the past three centuries, while the latter will present a portrait of the athletes who boycotted, participated in or were barred from the 1936 Summer Olympics.
Media and propaganda are powerful tools, particularly during elections. One key group of voters is women, and so it is appropriate that Feminist and ... at the Mattress Factory (through May 26) is presenting new work that demonstrates how feminism is "multi-vocal, multi-generational and multi-cultural." Another show that focuses on women's perspectives is First Fruit XVI: Tending Our Mothers' Gardens (Sept. 21-Nov. 2), at Sweetwater Center for the Arts, which shows work by African-American women artists that is influenced by Alice Walker's "Womanist" aesthetic.
Deborah Kass: Before and Happily Ever After at the Warhol, Oct. 27-Jan. 6
If you'd rather just escape from politics this season, there are other options. The Carnegie Museum of Art will show White Cube, Green Maze: New Art Landscapes (Sept. 22–Jan. 13); Inventing the Modern World: Decorative Arts at the World's Fairs, 1851-1939 (Oct. 13-Feb. 24); and Cory Arcangel: Masters (Nov. 3-Jan. 27). The last surveys work by an artist who often appropriates digital technology. Another exhibit showcasing digital media is Circles of Commotion and Moving Pauses (through Nov. 18) at Space Gallery. Wood Street Galleries will show The City & the City: Artwork by London Writers (Sept. 28–Dec. 31). And the Frick Art & Historical Center will show Impressions of Interiors: Gilded Age Paintings of Walter Gay (Oct. 5-Jan. 6).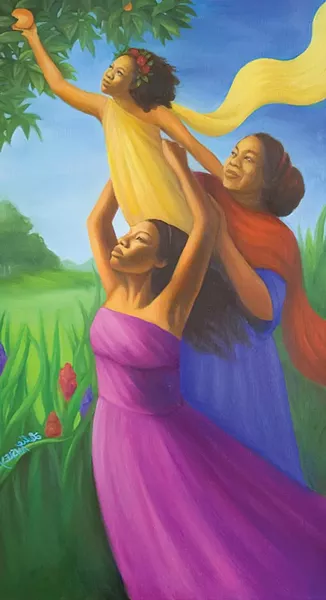 Art by Leslie Ansley.
First Fruit XVI: Tending Our Mothers' Gardens, Sept. 21-Nov. 2, at Sweetwater Center for the Arts.
Finally, lest we forget, there is always Warhol. The ToonSeum will put a spin on Warhol's friend and collaborator Keith Haring with Haring Inspired Animation Art (Oct. 22–Feb. 26). The Andy Warhol Museum will show Warhol Headlines (Oct. 14–Jan. 6) as well as Deborah Kass: Before and Happily Ever After (Oct. 27-Jan. 6), a mid-career retrospective of an artist who often appropriates the work of the king of pop. However, Kass' work addresses history, power, gender and ethnicity, so maybe you just can't escape politics after all.
Photo by Noah Addis.
Marcellus Shale Documentary Project, Oct. 11-Jan. 6, at Pittsburgh Filmmakers Galleries.
Click here to return to the Fall Arts Preview main page