CP illustration by Jim Rugg
It started with too much pride and too much booze. This summer, in Washington, D.C., reporters from Pittsburgh City Paper and Cleveland Scene bickered about whose town was better. The conversation was friendly, but combative, as any good rivalry should be, and focused on which city had better food, infrastructure, people, education, etc. Both papers know the football rivalry between the Browns and Steelers started the intercity feud, but that contest isn't as contentious as it used to be. (Go Steelers!)
However, that doesn't mean the rivalry should die. There are too many similarities between Pittsburgh and Cleveland to let that happen. The metro areas of Cleveland and Pittsburgh are almost identical (see sidebar), and culturally, we are equally obsessed with sports and nostalgia. Our pasts and presents are similar too. Both cities had huge economic collapses linked to the fall of heavy industry; both are staging comebacks tied to innovative fields like medicine and tech. Residents in each town deeply love their cities despite being ridiculed by the national media for decades.
This week, CP and our friends at Scene are combining forces to bring Rust Belt readers a battle pitting our two great cities against each other. Who's got a better signature sandwich? Whose regional accent is better? Whose local booze is best? Whose music is superior? Which city's attractions are tops? Each paper's writers have made their case; it's up to you to decide.
So, check out the stories in our news, food, drink, and sports sections about the Steel City's supremacy over the Mistake on the Lake. And make sure to cut out the Scene's contributions for lining your cat's litter box. (Ryan Deto)
Accents
Pittsburgh
If hearing the way Pittsburghers say "out" as "aht," or "you all" as "yinz," doesn't bring a smile to your face, then you're not human. Our accent is so distinct and beloved that regional grocery-store chain, Giant Eagle, used to have video-rental stores called "Iggle Video," corresponding to our phonetic pronunciation of "eagle." Elocution is for suckers. Pittsburghers embrace efficiency when speaking; no one can talk more and speak faster than Yinzers. Why say three syllables in "slippery" when "slippy" will do? "Bologna" is unphonetic, so just say "jumbo." If you want to talk proper and precise, you're probably a jagoff from Cleveland. (RD)
Cleveland
No one in Cleveland believes that we have an accent, though we'll quietly admit that we each have a great-aunt who pronounces "off" like "ahf." It's cute, and we're all in on the gag. Plus it's always a fun bar debate, because we're lighthearted and easily understood people. Yinz over in Pittsburgh may as well be speaking a drunken form of Orcish. Readers: We had to hire a very expensive translator for our calls with the City Paper staff, and we're still not sure if they're a legit paper or some sort of 1-900 outfit with a lust for writers. (Eric Sandy)
Amusement Parks
Kennywood
No matter how old you are, every Pittsburgher knows the feeling you get when you're on your way to Kennywood, and you see the tips of the highest roller coasters. It's a thing of beauty. We don't need chrome coasters. Nothing beats the old-timey charm of the classic wooden coasters such as the Jack Rabbit, Racer and Thunderbolt. And a great amusement park is about more than just the rides. The food at Kennywood is where it's at. Around Pittsburgh, Potato Patch fries, with a healthy serving of cheese and bacon on top, are the stuff of legend. We spend the whole winter salivating over them. (Rebecca Addison)
Cedar Point
When the esteemed Golden Ticket awards debuted its 2016 list of best wood and steel coasters in the world, you all probably felt tickled to see four of Kennywood's rides on the list. How utterly and adorably cute. The kind of accolades usually reserved for kiddie parks. Maybe a town whose idea of thrills is avoiding Jeff Reed in a Sheetz bathroom thinks that's fun. Cedar Point, meanwhile, clocked in with seven nods from the Golden Ticket voters who probably didn't bestow more awards for the king of all amusement parks, because they still couldn't feel their brains or hands after getting off the iconic Millennium Force. (Vince Grzegorek)
Architecture
CP photo by Mike Schwarz
The Allegheny County Courthouse
Pittsburgh
If we're talking sports metaphors, sure, Cleveland might take a couple of games in a best of seven series. Frank Gehry's Peter B. Lewis building at Case Western edges out Scogin and Elam's Gates Center at CMU for best 21st-century building. And Koning Eizenberg's Children's Museum of Pittsburgh versus Farshid Moussavi's Museum of Contemporary Art in Cleveland could come down to a call at the plate. But Pittsburgh's turn-of-the-20th-century buildings, such as the Carnegie Museum of Art and the Frick Building, surpass Cleveland comparables, and our vernacular housing in the picturesque landscape is unmatched. Most importantly, the Allegheny County Courthouse and Jail is our series-ending, walk-off home run. (Charles Rosenblum)
Cleveland photo by Erik Drost
The Terminal Tower looms alongside Key Tower in downtown Cleveland.
Cleveland
Listen: The Terminal Tower is one of the most iconic buildings between Willard and Empire. It's a near-perfect representation of all a metropolis can be. Then — then! — we built a modern rendition on the design with Key Tower. We Googled "Pittsburgh skyline" and just got some images of an old Tower of London LEGO set strewn across a kitchen floor. We've got so much choice architecture in Cleveland that we literally let it sit unused, like The Arcade, a relic only to aesthetic grandeur and food-court dining. Goodness gracious, even our downtown grocery story is the stuff of Instagram architecture porn. It's hard to match that when everything is painted black and yellow; it's OK. (ES)
Bike Lanes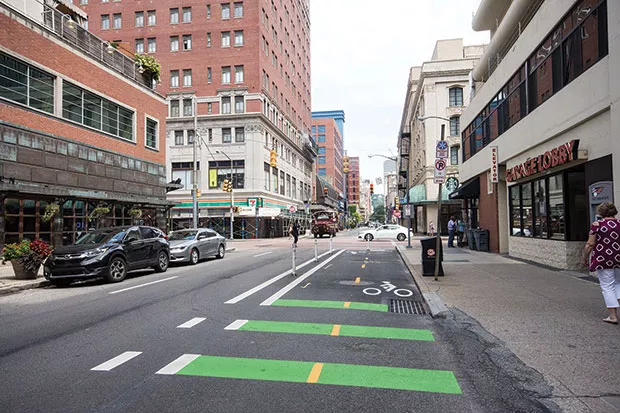 CP photo by Jake Mysliwczyk
Bike lane on Penn Avenue in Downtown Pittsburgh
Pittsburgh
It may seem like Pittsburghers hate bike lanes, but they don't. Mayor Bill Peduto's 2017 mayoral campaign opponents basically argued bike lanes were responsible for Pittsburgh's troubles, but Peduto won the primary in a landslide. Pittsburgh now has about 45 miles of bike lanes, including more than 4 miles of protected lanes. Penn Avenue's protected lane in Downtown sometimes gets more than 1,000 riders a day. And our Great Allegheny Passage trail provides 335 miles of car-free travel from Downtown Pittsburgh to Washington, D.C. All Clevelanders can do is loop the half-mile around Public Square on their training wheels. (RD)
Cleveland
Cleveland has a national reputation for imbecilic traffic engineers — one in particular — so do consider our handicap at a maximum. That said, we've got something called "guerilla stripers," local transit activists appareled a la cat burglars, who paint bike lanes on streets in the dead of night to force the city's hand. What a cool, participatory citizenry! That's way cooler than anything Pittsburgh's got, which as far as we can tell is just a responsive, compassionate city government that prioritizes things like sustainability and transit equity. What a bunch of squares. (Sam Allard)
Bridges
CP photo by Jake Mysliwczyk
Pittsburgh's Fort Pitt Bridge
Pittsburgh
According to a 2006 study, Pittsburgh has 446 bridges. How do you even compete with that? But we don't just top Cleveland in number alone. Our bridges are also really cool. The Roberto Clemente Bridge isn't just named for a baseball great. On big game days, we shut it down so baseball fans can get to the ballpark. We also host entire festivals on our bridges, like the annual Picklesburgh. And currently, the Rachel Carson Bridge is home to 27,000 multicolored LED lights as part of a temporary light display run by wind turbines. That's right — our bridges also generate energy. (RA)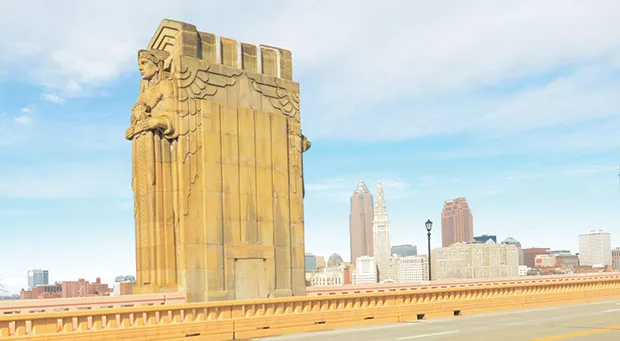 Cleveland photo by Erik Drost
The Guardians of Traffic stand on the Lorain-Carnegie bridge in Cleveland.
Cleveland
Sure, you guys have some impressive bridges. But where's the imagination? Where's the panache? They're all thematically colored to match your teams, but we'll overlook that flaw for now. Here in Cleveland, we put up mighty statues to technological wonder on our bridges. We house old streetcar rails under ours and provide the city's wonderful residents annual tours thereof. We honor guys like Bob Hope with our bridges, American icons who brought joy to untold scores of the Greatest Generation. And when the Public Works crew isn't looking, we paint lovely elegies to friendship on the sides of those bridges. (ES)
Celebrities
Pittsburgh
Producing such treasures as Mister Rogers' Neighborhood is just the tip of Pittsburgh's celebrity iceberg. Fred Rogers, from nearby Latrobe, Pa., produced his childrens' show at Pittsburgh's WQED television station for 35 years. Film-and-dance icon Gene Kelly (Singin' in the Rain) was born and raised in Pittsburgh. In Cleveland, getting your face onto a Chef Boyardee can of shitty pasta is enough to be a celebrity. Pittsburgh can also claim a Batman (Michael Keaton), a dinosaur wrangler (Jeff Goldblum), a pop diva (Christina Aguilera), a Mr. Spock (Zachary Quinto) and one of the county's most-well known billionaires, Mark Cuban. (RD)
Cleveland
Hey, is anyone on your list named Harvey Pekar? No? OK. Celebrities come from all over, their geographical origins irrelevant to their rise, really, since it's their talent and ego that propel them on their path to stardom. Paul Newman wasn't a better actor or more marketable because he grew up in Northeast Ohio, anymore than Gene Kelly could credit his ascension to the A-list to his origins in Pittsburgh. Ah, but Harvey Pekar, the man who drew fans worldwide, through his comic books and frequent appearances on David Letterman. The man who was famous because of, and whose talent resided in, his city. It made him, and he made it. (VG)