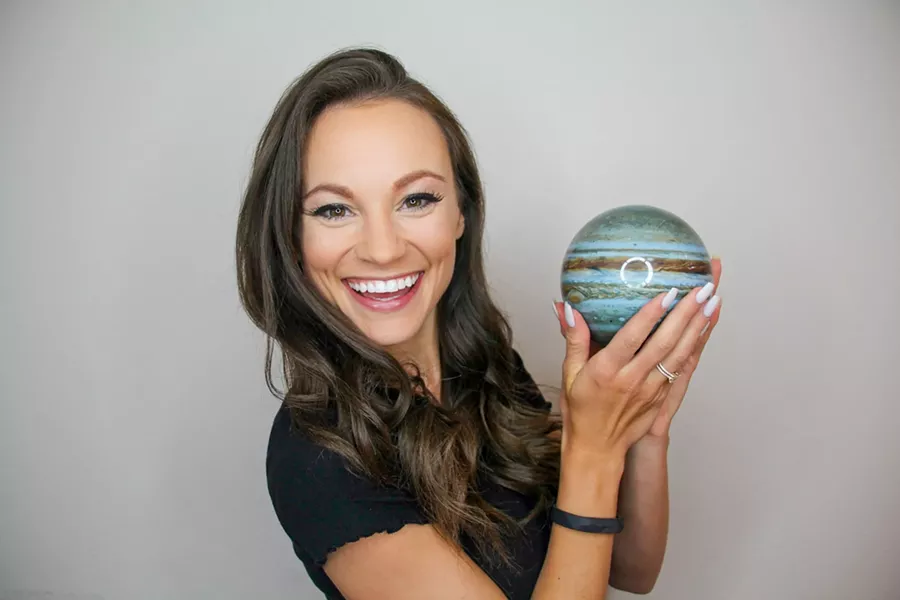 Emily Calandrelli and Jupiter
Emily Calandrelli is a scientist, an Emmy-nominated television host, a children's author; she appears regularly on
Bill Nye Saves the World
and lectures professionally on science literacy; she's a Truman scholar and has a master's degree in aeronautics and astronautics from MIT. People call her the "Space Gal." She's 31. It's a crazy impressive resume, but when Calandrelli spoke to
Pittsburgh City Paper,
she seemed much more focused on her work rather than her accolades. In fact, the most frequent topic was something called a Vomit Comet.
Better known more soberly as a "reduced gravity aircraft," a Vomit Comet is an airplane that flies in a parabolic arc to simulate a gravity-free environment. There are couple ways to land a seat on the Vomit Comet: pay a lot of money, be a professional astronaut, play one in a movie, or do what Calandrelli did and design an experiment for NASA as a student at West Virginia University and get a ride for free. Calandrelli has actually ridden it more than once; through her show
Xploration Outer Space
, she awarded a winner of a student astronaut contest with a ride on the Vomit Comet. It's important to her to pass on these experiences, because she knows firsthand how pivotal they can be in directing a person with a passion for science into the right field.
On Sun., Feb. 24, Mystery Lovers Bookshop hosts Calandrelli at a STEM Fair at Riverview High School in Oakmont, from 10 a.m. to 2 p.m. Students and attendees will have the opportunity to meet Calandrelli, and there will be a book-signing for her latest installation of her Ada Lace series,
Ada Lace and The Suspicious Artist
.
Ahead of her appearance,
CP
spoke with Calandrelli about science denial, making science nicer, and of course, the Vomit Comet.
You gave a TEDx at your alma mater, WVU, titled "Making science nicer, stupid." What was the primary message you wanted to communicate there?
That whole talk and message is about how to communicate science in the most effective way. Because right now there are a lot of people in different pockets of the country who deny science, whether it be the science of evolution or the science of climate change or the science of a round earth — there are people who deny them for all different reasons. I think we sometimes lump all of these science deniers into one category and assume that they don't believe in the science because they don't have the education, but that's not the case.
There's much more nuance behind why certain types of people deny science and for me, being from West Virginia, I've learned that there are a whole slew of reasons why people in West Virginia deny that global warming is happening. West Virginia is the No. 1 state when it comes to the fewest percentage of constituents that believe global warming is happening. Because I'm from West Virginia and because I love the people of West Virginia, but I also love science communication, I had to learn about why this was the case and how I can best try to fix it. So, it's basically just being empathetic when it comes to why people believe what they believe, trying to understand the root of the issue, and not assuming that people are stupid. It's all about how we can best communicate science to everyone.
What was your personal experience with STEM (science, technology, engineering, and math) subjects growing up?
For me, it started in high school with the robotics club. Something we're seeing today, is a lot of STEM-focused activates that are geared toward girls and geared toward making women and minorities feel more welcome in this field. Girls don't really have an excitement problem when it comes to STEM. All little kids, boys and girls, are excited about science. There's more of a welcoming problem when it comes to STEM. A lot of these activities and extracurriculars that you'll see at school are completely filled with only boys, so it feels very much like a boys club. So, having these clubs geared toward women can go a long way.
What made you want to join the robotics club?
I really loved math, math was kind of my jam. Science was less so, because I thought it was a bit messier and uncertain. Math was very concrete and for me, there was always a right answer and a wrong answer, and I loved that certainty. So, because I liked math so much, the other kids in my class who were really good at math, they were joining the robotics club. It's a lot like the dynamics of high school. Your friends do something and you feel like you want to do it too. That was the impetus for that decision and I discovered that I liked it.
Was it a welcoming experience for you?
It was, actually. I was lucky because I went to a high school that a lot of the students who had parents who were professors at WVU, and because of that, the robotics club was equal parts girls and boys. A lot of the girls in my high school had parents who were engineering professors at the university and they encouraged their daughters just as much as their sons to pursue science. So for me, it didn't feel like a boys club.
Tell me about your newest book. Who is the "suspicious artist?"
This is the fifth book in the Ada Lace adventures [series]. Ada is a third grader who loves science and technology and goes on adventures to solve mysteries with tech and gadgets that she builds herself. The fifth book,
The Suspicious Artist
, is all about her friend Nina, who is a good contrast to Ada because while Ada is really smart at science and technology, her friend Nina is really smart in different ways. She's very smart artistically and she has this kind of creative genius about her. So Nina has a new line of artwork that she wants to display on a website and Ada is helping her build that website from scratch and then there's a new artist who comes to town and he's hosting his artwork in the gallery that Ada's mom is the curator for, and it comes to Ada and Nina's knowledge that it appears that this new artist has stolen one of Nina's new art pieces. The whole book is about how they try to figure out whether or not that artwork was stolen and if it was, how did he do it, and they have to have some tech savviness to learn why it is the case and to be able to prove it to Ada's mom. It's a really interesting story about how these two girls combine the way that they're smart in order to solve problems together.
What field of science have you gotten into recently, later in your career?
I'm really interested in the commercial flight industry. This is something that I continue to learn about more and more through my job as a TV show host [for
Xploration Outer Space
], because I get to interview all the people in the space industry and talk about what they're currently doing. But the thing that I'm most excited about right now is that there are more people exploring space than we've ever had in history. There's a number of reasons why that is, mostly because the cost of exploring space has gone down significantly. More people can afford to do it. When more people can afford to do something, you're going to see more diversity. So right now we have so many people exploring space in new and different ways, there is something for everyone to get excited about.
What's your favorite segment from Xploration Outer Space?
My favorite thing that we've done with the show is a special episode that we do every year called the student astronaut contest. Each year, we hold this nationwide contest to find one student in college and give them an experience of a lifetime that will help them launch their career in the space industry. I wanted to do that because I found that when I was in engineering there were certain key experiences for me, that once I had them, I was like "Oh my god, the space industry is for me, this is the coolest thing I've ever done." Not a lot of students get to have those experiences.
For example, probably my favorite prize that we gave away was a ride on the Vomit Comet. That's a really cool prize, because if you just want to fly on the Vomit Comet —which is a plane that is basically a 8,000-foot roller coaster in the sky, people do it to feel like they're floating like astronauts. It's how they shot movies like
Apollo 13
, and it's how astronauts prepare for the weightlessness they'll feel when they get to outer space — but if you want to fly on it and pay for a ticket, it's $6,000, $7,000 per ticket. It's not something that's affordable for the everyday person. But if you design an experiment for NASA that's good enough, which is what I did in college at West Virginia University, NASA will allow you to fly on their Vomit Comet basically for free. It's a really cool experience and that experience for me is what sealed the deal for me and my love for the space industry. So I wanted to give that experience to another student, so one year for the student astronaut contest, we were able to give a free ride on the Vomit Comet to another student. That was probably my favorite episode.