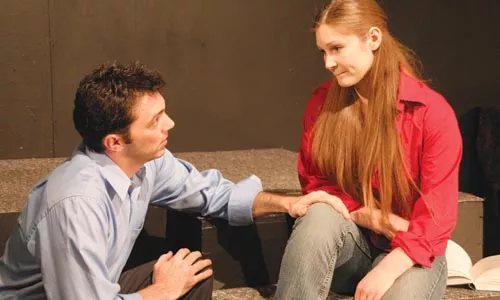 All in the family: Tony Bingham and Sara Manganello in LTD Productions' Eighteen
Every now and again a gaggle of local theater artists forms a new company and opens with a theatrical hit of yesteryear ... forcing me to wonder why anybody would go to the considerable trouble of starting a new company to stage a show which has been seen a gazillion times before.
But this is not, I'm happy to say, the case with Pittsburgh's newest theater company. LTD Productions debuts with the East Coast premiere of Eighteen, by Texas playwright Allison Moore. Because Pittsburgh doesn't exactly welcome new work with open arms (hmmm, maybe I just answered my own question), Eighteen, from jump, is already a gamble.
It's 80 intermissionless minutes of short black-out scenes about a husband and wife, Dan and Marie, who take in Dan's niece Christine after her mother dies and father moves out of the country. But there's trouble a-brewing: Christine, as the title says, is 18 years old, and her budding nubility is raising some, uh, flags.
But it's not what you think ... sort of. Truth to tell, for a lot of the time you're never really sure what's going on -- if, indeed, anything is. The most interesting aspect of Eighteen is that for 75 of its 80 minutes, almost nothing happens. Were it not for Lisa Ann Goldsmith's directorial addition of menacing tableaux at the beginning of each scene, there'd be no tension on stage at all.
Which, let me rush to say, is probably just what Moore intends. Eighteen is meant, I think, as a small show about ordinary people who, without realizing it, make a series of tiny choices ultimately leading to big trouble. In practice, however, it doesn't play out that way. Scenes of domestic life come and go, but the drama doesn't really gain any traction. So when Moore, finally, moves in for the kill, it feels unsupported and, in fact, at odds with the relentless quotidian scenes coming before.
But even having said all that, I will add that Moore writes with an incredible, laser-like precision; there's no fat in the play, and each scene does what it does with a wonderful economy and purpose. It's Moore's "macro" view that gave me trouble; on a micro view, there's nothing wrong here.
"Precise" is also the precise word to describe this production. Goldsmith's direction is all about small, intimate moments and a pace that drives us forward but allows maximum breathing space for the bits of conflict Moore does provide.
Tony Bingham and Dana Hardy play the husband and wife with a very real sense of honesty -- these quasi-yuppie characters could have been painfully precious in less talented hands. And Sarah Manganello plays Christine with the perfect blend of childhood misery and emerging maturity.
I can't say that Eighteen will go down as one of my favorite plays, but I do look forward to whatever difficult choice LTD Productions makes next.
Eighteen continues through Aug. 26. Pittsburgh Playwrights Theatre, 542 Penn Ave., Downtown. 412-521-1325 x2.