Perhaps the best way to introduce artist Edwin van der Heide is to note that his academic focus while at the Royal Conservatory was "Sonology." Fifteen years since his school days in the Netherlands, van der Heide remains entranced by the physical properties of sound, and his work on display at Wood Street Galleries is a result of his attempts to create experiences for an audience based on creative applications of his theoretical and philosophical interests.
While van der Heide's show is titled Laser Sound Performance, an eponymous piece is actually one of three installations on display: Occupying Wood Street's top floor are "Sound Modulated Light" and "A World Beyond the Loudspeaker."
"Laser Sound Performance" is driven by the observation that sine waves can produce both visual and sonic modulations -- that is, both images and sounds. The resulting experience is a scored laser show that's cinematic and hypnotic. The work is unfortunately incomplete, as logistics prevented the accompanying fog from entering the Wood Street space, an element intended to give the laser projections a volumetric presence (and thus to reflect the physical nature of sound more closely). But the lasers and the throbbing, mutating sonics make for an impressive experience in their own right. The entire sequence of motion is based on two lasers, a formal constraint that allows the viewer some sense of orientation among the more abstract and frenetic moments. The effect is almost trance-inducing, a kind of reset button for the brain.
"Sound Modulated Light," meanwhile, renders van der Heide's fascination with sound even clearer. In a bare gallery space, he has positioned a sequence of identical bulbs emitting slightly different amounts of light; in certain bulbs there is a visible strobing. Viewers are encouraged to pick up headphones and a dense metal box that contains (among its numerous mysterious components) light sensors. When the box is pointed at one of the bulbs, the modulating light is transformed into a soundscape in the headphones. Moving the box closer to the light source increases the volume and distorts the sound. As the user walks through the space, the soundtrack of each light spills into the others, allowing "mixing" of the compositions. What was a rather drab, empty space is suddenly infused with life, and each user becomes a DJ of sorts for his or her personal soundtrack. Some lights produce calming, ambient sound while others produce more aggressive, discordant compositions.
"A World Beyond the Loudspeaker" is perhaps the least technically abstruse of the three works, in that it employs technologies with which most viewers are familiar. It consists of a matrix of 40 speakers, presented as a large, single-surface construction. Each speaker plays a half-hour composition of concrete sounds recorded by an individual microphone. (It took a similar grid of 40 microphones to record the piece.) The meta-speaker stands tucked away in its own room, lit by programmed lights that modulate with the sound.
At first, the effect of the 40 mics and 40 speakers is not immediately evident; it is difficult to detect what makes this object a "spatial wavefront generator," as the artist proclaims from his theoretical perch. With time, however, the installation's intrigue grows, as the nature of the cumulative sound (heard from a distance) and that of the individual speakers becomes difficult to integrate.
Van der Heide's brilliance lies in his ability to emerge from his theoretical inquiry with tangible objects and experiences that do justice to his abstract investigations. Laser Sound Performance is imminently accessible, each piece bringing some perplexing quality of our sensory experience to the surface without being overbearing or dry. Technical inquiry and artistic exploration do cross paths, after all, and in van der Heide's case, the intersection is so effortless that it dissolves the difference between them.
Laser Sound Performance continues through June 2. Wood Street Galleries, 601 Wood St., Downtown. 412-471-5605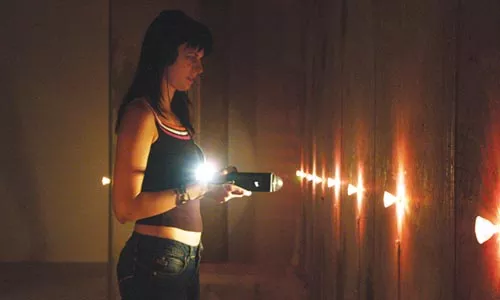 Heard mentality: A visitor uses Edwin van der Heide's "Sound Modulated Light."